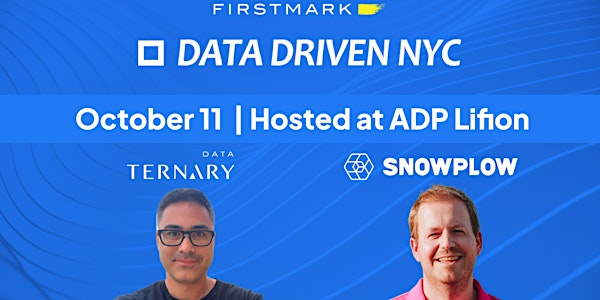 Data Driven NYC with Ternary Data & Snowplow
Data Driven NYC is a community to learn from the founders, companies, and trends shaping AI, Machine Learning, and Data.
When and where
Location
Lifion by ADP 135 West 18th Street #4th floor New York, NY 10011
About this event
Data Driven NYC is a community that gives you the opportunity to learn from the founders, companies, and trends that are shaping the Artificial Intelligence, Machine Learning, and Big Data landscape. Join us and grow your network across the tech ecosystem. Follow FirstMark here to get all event announcements.
Data Driven NYC returns for another live, in-person event on October 11th at ADP Lifion. We welcome:
Joe Reis, CEO of Ternary Data and Author: Fundamentals of Data Engineering (2022) - Joe will walk us through some of the key ideas in his new book - how to understand the data engineering lifecycle and stitch together a variety of cloud technologies to serve the needs of downstream data consumers.
Alex Dean, CEO & Co-Founder , Snowplow Analytics - Snowplow is a behavioral data platform, built to empower data teams and solve today's most complex data challenges. Snowplow enables you to create, consume, and govern an end-to-end data language across your business, with a common data schema that can be modeled for BI and AI, streamed for real-time applications, and enriched with third-party data and systems.
Attendee Entrance Requirements (PLEASE READ!)
IMPORTANT: Please try to arrive as close to 5:45pm as possible as the venue will not permit more guests once we reach capacity (100 people).
All attendees must be fully vaccinated.
All guests will need to bring a signed copy of this form and present it to security upon arrival. NOTE: Digital copies will not be accepted!
All guests must present a valid ID to security. (Please make sure your name on Meetup matches your government-issued full name or share that name via the additional question when RSVP'ing here.
Walk-ins are *NOT* permitted under any circumstances.