DASER Experiments: Studio K.O.S. in Conversation with Janelle Wellons
About this event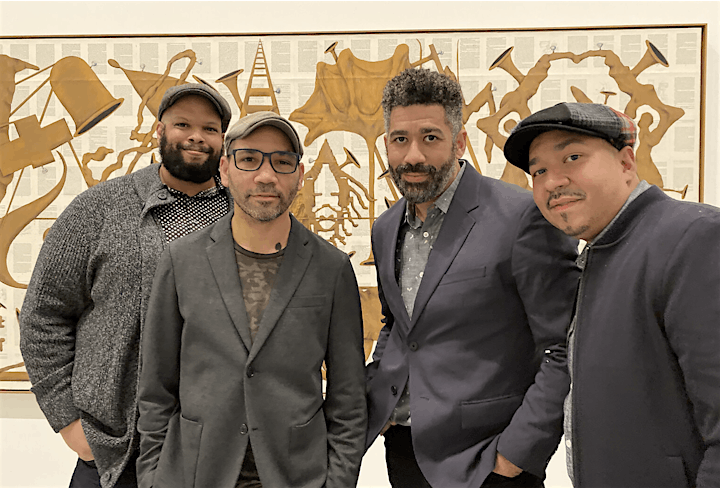 Join us for a conversation about the intersection of aerospace engineering and art. Four members of the art collective Studio K.O.S. (Kids of Survival) engage in a conversation with Janelle Wellons, instrument operations engineer, NASA Jet Propulsion Lab, Pasadena, CA. This is the last in a three-part series of conversations with Studio K.O.S.
Studio K.O.S. is a collective of artists who are continuing the legacy of the late Tim Rollins and the K.O.S., whose collaborative approach to making art began in the Bronx in the 1980s. The artwork that resulted from their collaborations can be seen today in over 120 museums and public collections worldwide including the National Academy of Science, the Museum of Modern Art, The Tate Modern, and the Smithsonian's Hirshhorn Museum and Sculpture Garden. Studio K.O.S. consists of Angel Abreu, Jorge Abreu, Robert Branch, and Nelson Ricardo Savinon, original members who have remained active for more than 30 years. They are dedicated to the mission of empowering young people through exposure to art and literature.
Janelle Wellons is an instrument operations systems engineer at the NASA Jet Propulsion Laboratory, Pasadena, CA. She grew up in New Jersey and graduated from the Massachusetts Institute of Technology (MIT) with a Bachelor's degree in Aerospace Engineering. Her first job at JPL was on the Cassini mission at Saturn, taking images using the Imaging Science Subsystem and Visible and Infrared Mapping Spectrometer instruments. Her current projects include the Multi-Angle Imager for Aerosols, Sentinel-6, SWOT, and the Lunar Reconnaissance Orbiter. Wellons serves on the board of the YWCA Glendale and Pasadena and is additionally its STEAM advisor for the TechGYRLS program which encourages girls to dream, explore new ideas, learn new skills, and be creative through STEAM activities. When she isn't working, you can find her scuba diving, cosplaying, traveling, playing video games, enjoying the outdoors, and doing outreach for communities traditionally underrepresented in STEM.
About DASER
Launched in 2011, D.C. Art Science Evening Rendezvous is a discussion forum series providing a snapshot of multidisciplinary projects and fostering networking across disciplines. We have moved DASER online where we are experimenting with different formats and meeting on the third Thursday of the month.
DASER is co-sponsored by Cultural Programs of the National Academy of Sciences (CPNAS) and Leonardo, the International Society for the Arts, Sciences, and Technology. DASER fosters community and discussion around the intersection of art and science. The thoughts and opinions expressed in the DASER events are those of the speakers and do not necessarily reflect the positions of the National Academy of Sciences or of Leonardo.