E4TT's 2020/21 commissions concert, exploring outer and terrestrial space musically
About this event
Hybrid concert: Free in-person attendance at the Jewel Box Recital Hall (RSVP recommended) OR online on YouTube (RSVP requested)
Space is, as the saying goes, the final frontier. For E4TT's commissions concert in 2022, the group will turn to both outer and terrestrial space: whether considering outer space—with explorations and discoveries from the Mars rover, Perseverance—inner biological space with COVID and CRISPR DNA research, or the unfathomable depths of the earth's oceans, recent history has shown us that we have much to discover and unravel in order to ensure the survival of our planet and our species. These mysteries are the inspiration for E4TT's 2022 commissions concert, performed in collaboration with the San Francisco Conservatory of Music's Technical and Applied Composition Department:
WORLD PREMIERES:
"Shimmer" for percussion by Vivian Fung (b. 1975);
"Four-Vectors" by E4TT co-founder David Garner (b. 1954), for vibraphone, cello, and double bass;
Hydrocosmic Echoes for fixed media, cello, double bass, percussion, and piano by emerging Mills College graduate Stephanie Neumann (b. 1989);
"Where the Sun Blazes Like an Immortal Being" for solo cello by Korean-American GLFCAM alumna Seo Yoon Soyoona Kim;
"Umbra" for fixed media and double bass by Andrew Harlan (b. 1995);
"A Mind in the Branches" for soprano, cello, double bass, vibraphone, and piano by Canadian composer Nicholas Denton Protsack (b.1994).
AND:
"Mystery" (2020) for solo cello by Afghanistan refugee Milad Yousufi (b. 1995)
"a bridge between starshine and clay" (2018) for solo piano by two-spirit Quechua-Latinx composer inti figgis-vizueta (b. 1993);
"Where Branched Thoughts Murmur in the Wind" (2000) for solo piano by Eric Moe (b. 1954).
PLUS:
The winner of the multimedia student composition competition, in collaboration with the SF Conservatory of Music Technical and Applied Composition Department.
Performers: E4TT soprano Nanette McGuinness, cellist Abigail Monroe, and pianist Margaret Halbig will be joined by special guests percussionist Mika Nakamura and double bassist Yuchen Liu
The concert will be performed at the Chi Cha Ming Hall, Bowes Center, SF Conservatory of Music, for attendance in person by socially distanced, vaccinated, masked attendees. For those who are more distant, prefer not to attend in person or are unvaccinated, the concert will be live-streamed on YouTube.
This concert is supported in part by a grant from The Phyllis C. Wattis Foundation. E4TT's 2021/22 home season is supported by a grant from the San Francisco Arts Commission, and sponsored, in part, by a grant from The Ross McKee Foundation. This activity is supported in part by the California Arts Council, a state agency. Learn more at www.arts.ca.gov.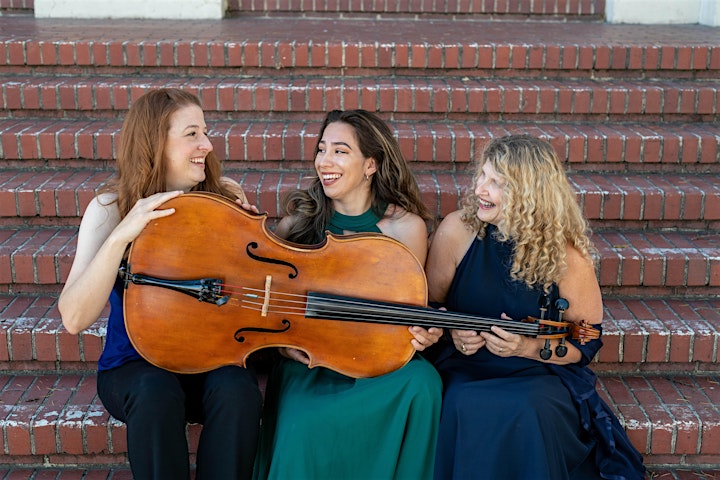 Organizer of Dark Universe/ Mysterious Spaces
Awarded Second Prize in 2018/9 for The American Prize in Chamber Music Performance, as well as currently Semi-Finalists in the Ernst Bacon Memorial Award for the Performance of American Music, Ensemble for These Times (E4TT.org) performs 20th and 21st century music that is relevant, engaging, original and compelling—that resonates today and will speak to tomorrow—and we strongly believe in the power of artistic beauty, intelligence, wit, lyricism, and irony to create a deep understanding of our times and the human condition.
E4TT's second recording The Hungarians: From Rozsa to Justus (Centaur CRC 3660) won a Gold Medal in the 2018 Global Music Awards in three categories, chamber music, ensemble, and album.
E4TT's debut CD Surviving: Women's Words (Centaur Rec. CRC) won a Silver Medal in the 2016 Global Music Awards and  was reviewed at Examiner.com as "...four passionate meditations on the Holocaust experience delivered through a unique and highly compelling pair of voices, those of both composer and singer" and at American Record Guide as "fascinating," with music that is "...compelling, varied and harmonically interesting" and "creates a dark, contemplative atmosphere."