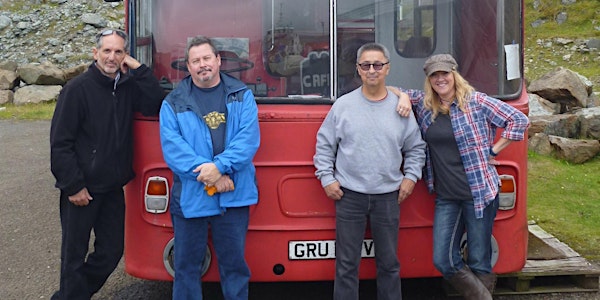 Dakota Blonde
ALL AGES
Presented by Swallow Hill, Four Mile Historic Park, and The Colorado Sound
Join us on Thursday evenings throughout the summer at Four Mile Historic Park!
When and where
Location
Swallow Hill Music - Four Mile Historic Park 715 S Forest St. Denver, CO 80246
About this event
Dakota Blonde
"Soulful, delicate, powerful, insightful… all that and more," are the words Michael Johnson (International recording artist/song-writer) uses to describe Dakota Blonde. "Highly addictive & absolutely contagious" is how their loyal & captivated audiences describe them! Any way you put it, Dakota Blonde, made up of Mary Huckins, Don Pinnella & Tony Raddell have certainly played and sung their way into countless hearts & souls around the globe! They met through their careers in Music Therapy, working with children and adolescents who are emotionally troubled.
Therapy… yes… they have a special knack for including audiences in their music and finding the heart strings that music plays in all of us. This special capacity for empathy could explain the titanium bond the band quickly forms with their audiences. "Wonderful souls on and off the stage!"
Performing originals and covers with their unique blend of heart, humor, authenticity and spirit, Dakota Blonde has had overwhelming success with all of their CD releases! … and they just keep 'em coming! The group has received top honors for their song-writing, CD projects and performances across the country, and even internationally. You certainly won't want to miss the opportunity to become a Blonde-Head!

Shady Grove Summer Concert Series FAQs
We will follow local, state, and national health directives to ensure a safe environment for concert attendees, performers, and event staff. In the meantime, we want people to look forward to the summer so plan on packing a picnic dinner and settling into the Colorado summer to once more enjoy live music from Swallow Hill.
What time do the concerts start?
Doors open at 5:30 pm. Music starts at 6:30.
We recommend buying your tickets in advance, online at https://swallowhillmusic.eventbrite.com. We may have walk-up tickets available at the door.
Are there tickets available to members?
Yes. There is a $5 discount to members of both Swallow Hill Music and Four Mile Historic Park. When purchasing tickets, please enter your promo code to unlock these discounted tickets.
Are the concerts outside?
Yes. Four Mile Historic Park's Shady Grove is a General Admission lawn, with plenty of room to spread your picnic blanket!
It is a rain or shine venue, and the show will go on unless there is a threat to anyone's safety. Feel free to bring an umbrella just in case!
Yes!
Can I bring my own alcohol?
Yes! As long as it is in an aluminum or plastic container--glass containers are not permitted in the park. Non-alcoholic drinks, including water, are for sale in the Gift Shop!
Only ADA-defined service dogs are permitted at Four Mile Historic Park. All other pets and animals are prohibited in order to preserve and protect the ecosystem and resident animals of the Park.
Yes. Bring a chair or blanket!
Is Four Mile Historic Park ADA accessible?
Yes, though the terrain of the Park is rugged and may require heavy-duty wheelchairs or strollers for easier mobility. Please call us in advance at 303-777-1003 so we can accommodate your needs to the best of our abilities. For more information about the facility, please click here.
Are there restrooms available?
Rest rooms are located in the Grant Family Education Center and Gate House at Four Mile Historic Park. All of these locations are wheelchair accessible. Rest rooms within the Grant Family Education Center have baby changing stations.
What other shows are part of the series?
The 2021 lineup includes:
6/3 - Hal Aqua and The Lost Tribe
6/10 - Dakota Blonde
6/17 - Cary Morin & Ghost Dog
6/24 - Extra Gold
7/1 - Shakedown Street
7/8 - Possessed by Paul James
7/15 - Harry Tuft
7/22 - Perpetual Motion
7/29 - Clay Kirkland: Beat the Reaper XV
8/5 - Eilen Jewell
8/12 - Eef & The Blues Express
8/19 - TBD
8/26 - TBD
To purchase tickets, please click the artist name above, or visit https://swallowhillmusic.eventbrite.com to check out our other upcoming shows!