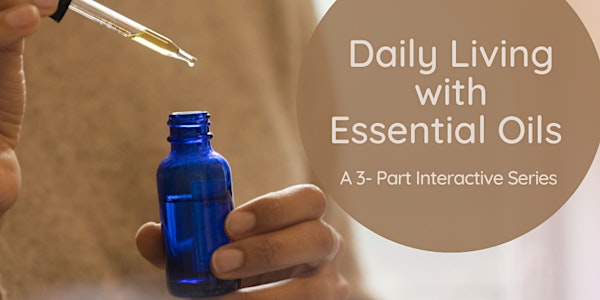 Daily Living with Essential Oils-3 Part Series
Feel empowered using essential oils. 3 sessions $45. Karla & Jess have been using oils for over 25 years in daily and seasonal living
Refund Policy
Contact the organizer to request a refund.
About this event
Karla and Jess have been using oils creatively and intuitively for over 25 years now.
With a passion for self-care and family wellness, Karla and Jess draw from decades of experience using essential oils, parenting, teaching yoga and Ayurvedic Living, and navigating life transitions.
In this 3-part series we'll share how we use essential oils in our daily rituals.
If you would rather purchase just 1 or 2 sessions separately at $19, go to this event link: https://www.eventbrite.com/e/daily-living-with-oils-winter-evenings-and-mornings-tickets-138344017681
This is an invitation to feel empowered in using oils playfully as part of your self-care and wellness. You're invited to take an inventory of what essential oils you have at home already and bring them to our events with your questions.
You'll be mentored in how to use your oils safely with ease, joy, curiosity and confidence.
We intend this experience to be practical, experiential and to set you up with ideas you can incorporate easefully into your daily living.
We'll meet LIVE 3 times in zoom. (recordings if you can't make it live)
Mondays 12:30pm - 1:30pm Eastern Time
Feb. 1: Oils for Winter health
Feb. 15: Evening routines w/ oils
March 1: Intentional Mornings w/oils
**If you join after one or more events have passed, we'll send you the recordings.
For more about Karla go to https://www.discoveryourcenter.com
For more about Jessika go to https://jessikamikol.com