Location
3LD Art & Technology Center (Studio B)
80 Greenwich Street
New York, NY 10006
Description
Following our April 2016 event at Harvestworks (NY), DACC is excited to invite you to come back, continue our discussion about digital art in architecture on June 18 (Saturday) 2016 @ 3LD Art & Technology Center in Finance District, New York.
Programs and schedule
---
04:00pm
EMERGENCE Group Exhibition Opening
Special Program for Digital Art in Architecture [Part Two]
EMERGENCE group exhibition interpreting the notion of Space is a special program that reflects the theme of our June event, "Digital Art in Architecture." The exhibition is hosted in the Studio B of 3LD Art & Technology Center, a 1700-square-foot (62' x 27.5') flexible production space that can be configured in various ways from a black box or an open installation space. Six artists from New York, China Mainland, and Taiwan are invited to create an immersive environment with colors, forms, structures, patterns, symbols, movements, and images that keep emerging and growing with subtlety. The visitors will experience some moments of deep relaxation, fascination, and joy by contemplating and traveling into the unknown universe beyond the physical space.
Participating artists and works:

Yuxi James Cao (artist and coder, New York | Beijing), Ink, computer processing, 2015
David Galbraith (artist and composer, Brooklyn, NY), Trio, digital video from custom software, 2014 | A 2016 version will be shown at our June event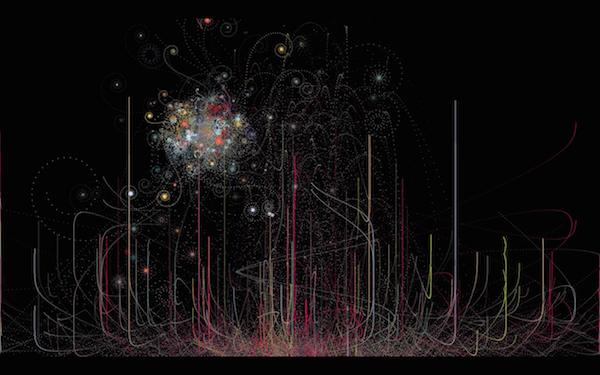 Carter Hodgkin (artist, New York), Irises on a Rock, computer algorithm-based HD movie, 2012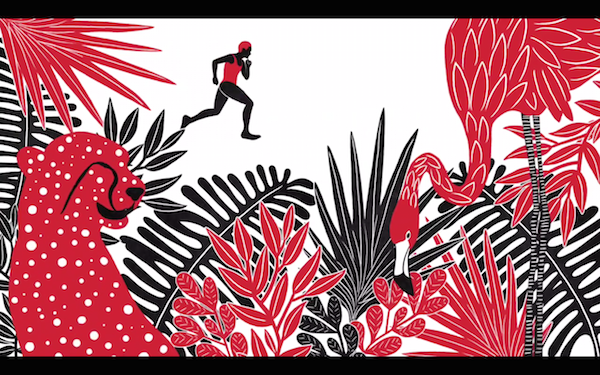 Min Liu (artist and animator, New York | Taipei), A love like Pie - Wide Awake, Animation, 2015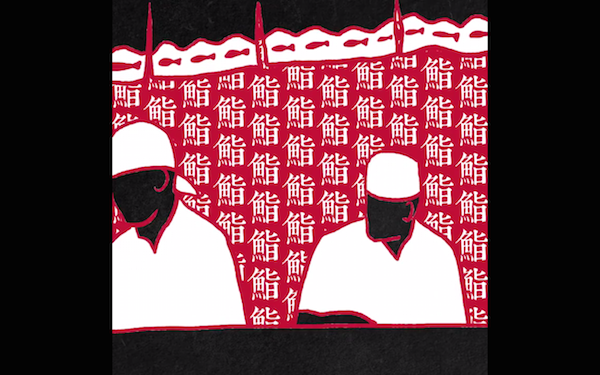 Min Liu (artist and animator, New York | Taipei), Bloody Dairy, A 100-day animation project, 2015

Shaun Irons & Lauren Petty (media artists and performers, Brooklyn, NY), Atmospheres & Accidental Ghosts, two channel, self-processing video installation, 2012-15


04:30pm
Live Performance
Created and performed by renown New York-based media artists, Shaun Irons & Lauren Petty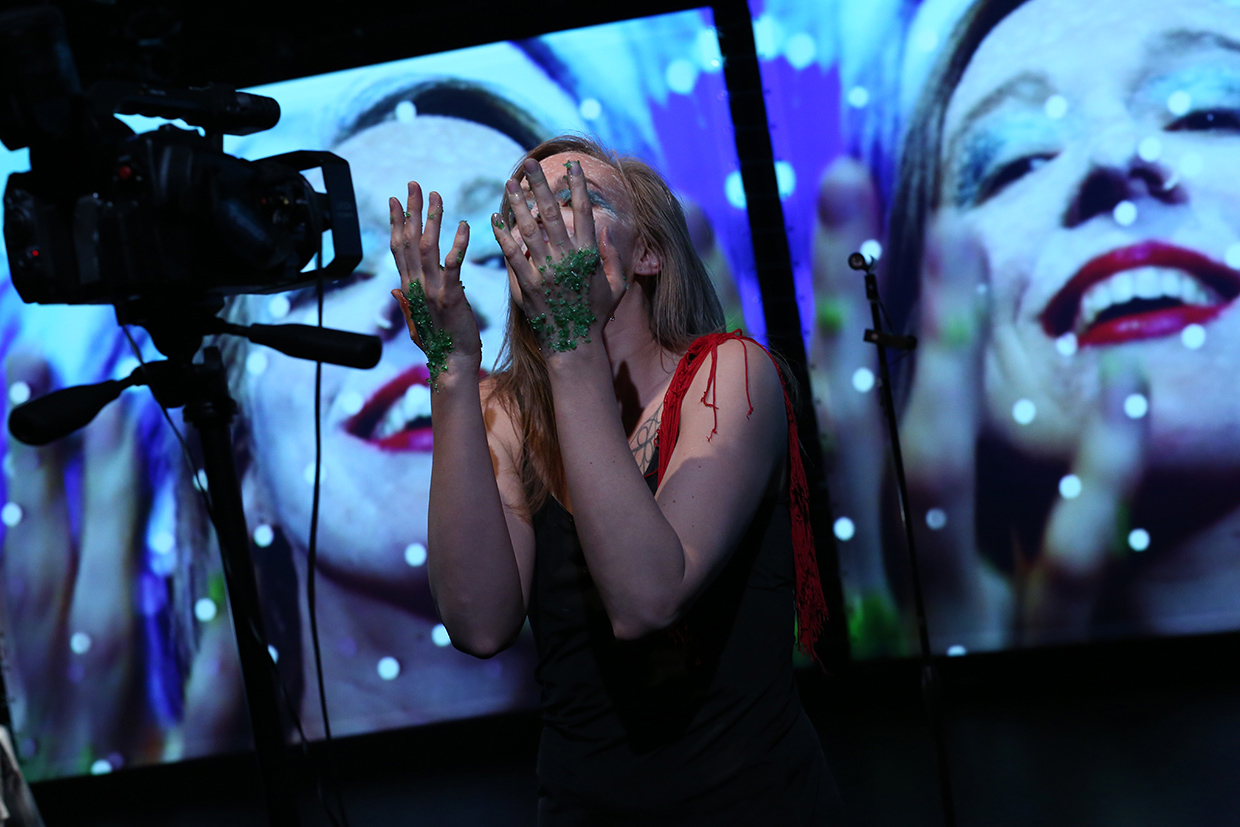 [Previous performance still images ] Shaun Irons & Lauren Petty, Keep Your Electric Eye on Me, multimedia live performance, 2014 | Image courtesy of Shaun Irons & Lauren Petty
For over a decade, Shaun Irons and Lauren Petty have been working collaboratively, seeking evocative and poetic combinations of video, film, audio, sculptural objects, and performance. Shaun and Lauren are Brooklyn-based media artists who make multi-disciplinary performances, multiple-screen media installations, single-channel works, documentaries and interactive video scores for live performance.
Their provocative, hybrid work has been exhibited in diverse locations in New York and internationally and was recently seen at BAM's Next Wave Festival (in collaboration with Phantom Limb Company), the Abrons Arts Center, The Chocolate Factory, Governors Island Arts Fair, and Anthology Film Archives in NYC, and the Center for Contemporary Art, Santa Fe, NM. Recently, they created a new dance and multi-media installation called Keep Your Electric Eye One Me, which was commissioned by HERE through their Artist Residency Program (HARP). In addition, they are also developing an impressionistic, backstage documentary portrait of ERS's acclaimed 8-hour theatrical event Gatz as well as a self-generating, video/sound installation called Atmospheres & Accidental Ghosts.
05:00pm
DACC INTERVIEW
A one-hour long interview moderated by Xiaoying Juliette Yuan, the Founder of DACC, with:
Thomas Leeser, Founder and Principal Architect, Leeser Architecture (Brooklyn, NY)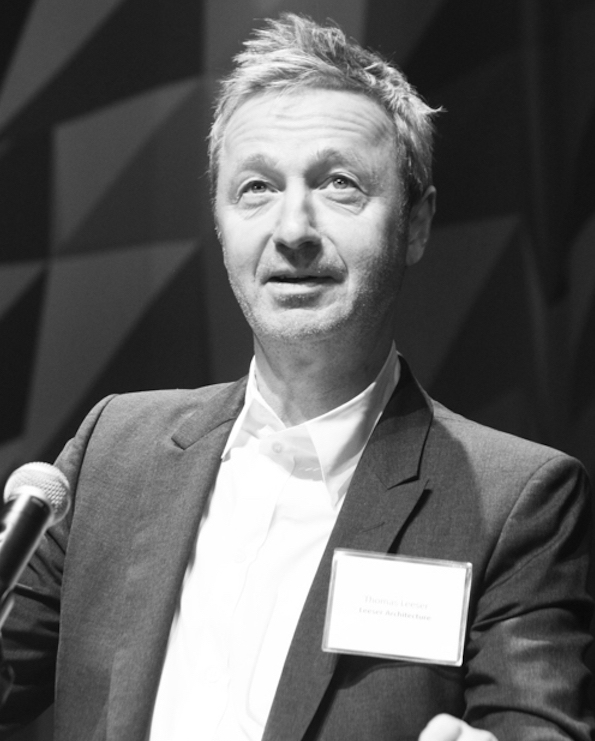 Thomas Leeser is internationally known for his iconic architectural designs at all scales. As principal of his own firm for the past twenty-five years, his passion for the fusion of emerging technologies and architecture has driven many of the firm's award-winning designs. Thomas's commitment to architecture extends beyond practicing in the field. For the past twenty-five years, he has been an architecture professor at nine different universities. He is currently teaching at Cornell University and Pratt Institute. In his teaching and professional work, Thomas explores his commitment to innovation and the advancement of the field of architecture. Thomas specializes in museums, theaters, broadcast and educational facilities.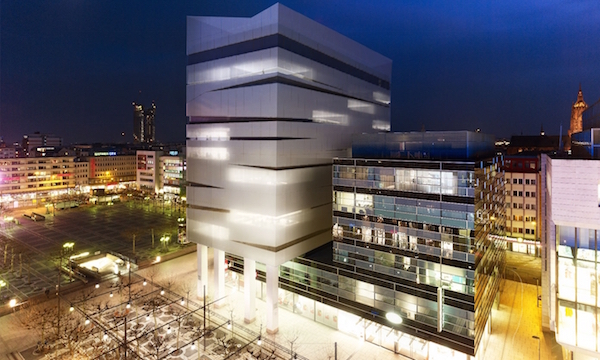 Leeser Architecture, Haus Bienenkorb Frankfurt, Frankfurt, Germany, 2013 | Image courtesy of Leeser Architecture
LEESER Architecture is an internationally acclaimed studio, known as a pioneer in design that specializes in the inclusion of new media and digital technologies in architecture.
06:15pm
DACC YOUR ATTENTION MOMENT
CHiKA, a Japanese-born, New York-based New Media Artist.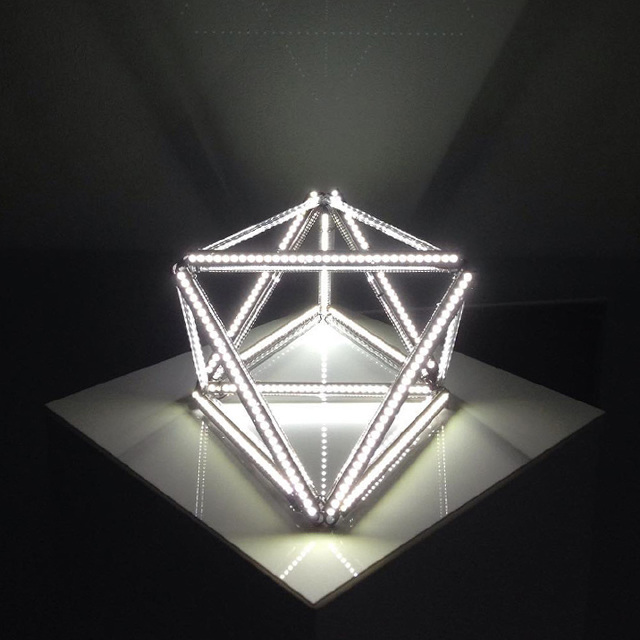 Copyright 2015 SEI02 | Image courtesy of CHiKA | IMAGIMA
CHiKA's work creates what she describes as the symphony of light: creating minimalist geometric shapes and visuals through the relationship between objects and images. Light and sound are the main elements she uses in her installations, which are ultimately a visual performance that experimenting improvisational communication and immediate interaction with the audience in real time.
CHiKA's work has shown in numerous international venues and festivals, including the American Museum of Natural History, the Museum of Art and Design, NY Hall of Science, Eyebeam, Harvestworks, the Hammer Museum, San Francisco Art Institute, Center d'Art Contemporain, Museo Regional de Guadalajara, Matadero Madrid, and International Biennial Contemporary Art ULA-2-10, Mapping Festival, Mutek, Dumbo Art Festival and among others.


07:00pm
END