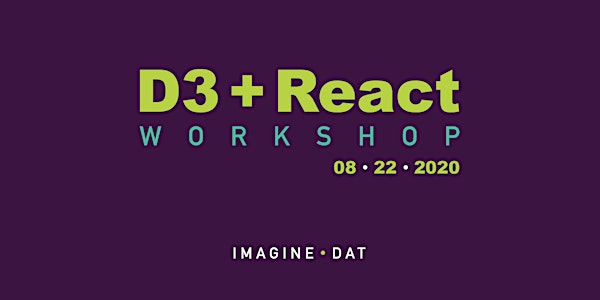 Imagine Dat is hosting a free, online workshop covering the use of D3 with React.
About this event
Learn how to use D3 with React to build impressive data representations.
Data visualization is not just a graph or a chart, but the experimentation of different media to curate and display a collection of data. D3 is a powerful and flexible tool that allows you to create complex and imaginative representations. React, on the other hand, is a JavaScript library that helps you build user interfaces. D3 combined with React opens a lot of possibilities when creating an interactive web application, however, these two technologies are not easily combined as they both handle the DOM.
This two-hour workshop will give you all the tools to start creating your own data visualizations using D3 with React in very simple terms and with examples!
We will run this workshop assuming attendees are familiar with React, as we will be focusing mostly on the use of D3.
About Imagine Dat
We are a group of creative visualizers of collected data! If you enjoy presenting data in a creative and impassioned way, you are in the right place. We host community events to share our work, discuss our ideas, teach others new skills, and network with other members of the tech community.
Learn more about Imagine Dat and follow us on Twitter to keep up with future events and blog posts!

Join the Party!
Register and get access to a free two-hour workshop where you will learn how to use D3, one of the most complex data visualization libraries, in your React app.
We will send links to access the workshop closer to the event date.