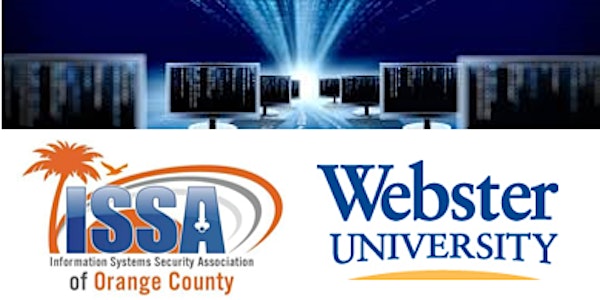 Cybersecurity Seminar Series: WANTED – People Committed to Solving our Information Security Language Problem
When and where
Location
Webster University Irvine Campus 32 Discovery Suite 250 Irvine, CA 92618
Description
Join ISSA-OC and SecurityStudio's Evan Francen for "

WANTED – People Committed to Solving our Information Security Language Problem
"
This presentation borrows from chapter one of Evan's book "Unsecurity: Information security is failing. Breaches are epidemic. How can we fix this broken industry?", where he addresses the fundamental language problems in the information security industry. There are three fundamental language problems that we must address; the language we use between practitioners, the language between us and "normal" people, and the language used between companies. An agreed upon language allows for more effective security programs with solid foundations and less wasted time on translation. Take what's learned in this presentation and apply it immediately to make security better for yourself, your organization, and your family.
---
Doors open at 6PM
Food and beverages provided.
No recruiters please.
---
Presented by Evan Francen, CISSP & CISM, CEO & Co-Founder of SecurityStudio and
CEO & Co-Founder of FRSecure (2008). He is the author of "The Information Security Industry is Broken" (June 2018). Evan is an information security expert and evangelist, with more than 25 years of "practical" information security experience, and a

thought leader and specialist in advising Boards of Directors, legal counsel, and executive management. His keen ability to explain technical information to non-technical personnel in all levels throughout an organization, his unique sense of humor, and his "tell it like it is" demeanor, gets the point across and produces results for all audiences.

He has an ambitious mission; fix the broken industry.
---
The Cybersecurity Seminar Series is a partnership of ISSA-OC, IEEE Cybersecurity SIG, ISACA, and
OWASP
with Webster Irvine.
Links available at Cybersecurity Seminar Series Eventbrite page.