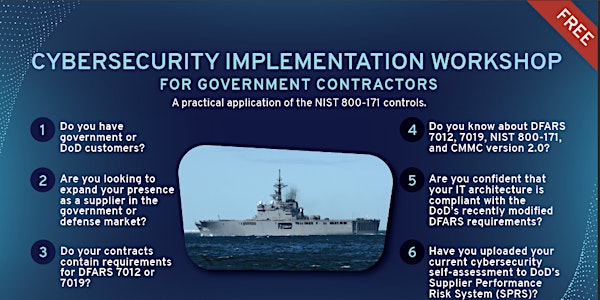 Cybersecurity Implementation Workshop
Free, hands-on Cybersecurity Implementation Workshop for small business government contractors in Richmond, VA with lunch provided.
When and where
Location
Richmond Marriott 500 East Broad Street Richmond, VA 23219
About this event
Iviry, LLC is hosting a free, interactive, hands-on Cybersecurity Implementation Workshop for CIOs, CISOs, IT Directors, and System Administrators of small business government contractors in Richmond, VA on Thursday, December 9th, 2021, 8:30 AM – 3 PM with lunch provided.
At this free workshop, CMMC Registered Practitioner (RP) Matt Christmann will walk you through:
How to interpret the NIST 800-171 security controls and apply them to your IT infrastructure.
Specific options for designing architectures that are compliant yet more affordable.
How to define your data boundary more effectively.
How NIST 800-171 relates to the new CMMC version 2.0.
This is not a high-level overview for executives. In this workshop, you will roll your sleeves up and get started using the DoD and DHS funded Cyber Secure Dashboard. Feel free to bring your 3rd party Managed IT Service Provider (MSP) to ensure you get the most of this workshop.
Agenda
8:30 am – 9:00 am Check-in and Opening Remarks
9:00 AM – 12:00 PM Session One: Requirements, Process, and Intro to GAP Analysis
12:00 PM – 12:30 PM Lunch
12:30 PM – 3:00 PM Session Two: Tool Overview and Specific Controls
Meet The Presenters:
Matt Christmann, Iviry System Analyst and Cyber Compliance Specialist
Matt has over 15 years USMC experience working in intelligence fields. He has been certified as a CMMC Registered Practitioner (RP) and has a Security+ CE certification. Matt has spent the last several years providing guided gap analysis sessions to contractor organizations to identify current states of compliance. He also provides detailed planning and project management support for remediation actions and develops tailored policy and plan documentation in support of NIST and CMMC requirements.
Zach Godfrey, Iviry Senior Architect and Director of Cyber Security
Zach has over 20 years of IT and cyber security related experience designing, implementing, and maintaining IT architectures for commercial and government systems. He is one of 200 individuals that were selected to earn a CMMC Provisional Assessor (PA) certification.
Workshop Sponsors