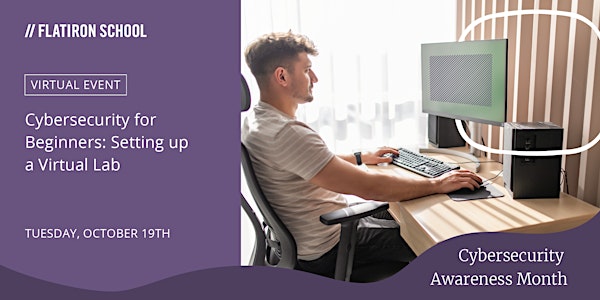 Cybersecurity for Beginners: Setting up a Virtual Lab: Workshop | Online
Interested in cybersecurity, but don't know where to start? Let Flatiron School and SecureSet Academy introduce you to the basics.
About this event
If you're interested in getting hands-on with cybersecurity, setting up your virtual lab is a great place to start.
Virtual machines (VMs) provide a safe sandboxed environment for you to tinker, test, and try your hand at new hacking skills, without fear of damaging your system.
In this beginner-friendly workshop hosted by Flatiron School, you'll learn about the benefits of virtualization technology and follow along as we set up Ubuntu Linux. No experience is required — just show up, and learn something new!
We'll cover:
The benefits of virtualization vs. bare metal systems
Types of virtualization
How to install and set up Ubuntu Linux
Whether you're curious about a career in cybersecurity or just interested in learning how to protect yourself, our Cybersecurity for Beginners series is the perfect place for cyber n00bs to get familiar with the basics.
Please plan to log in promptly, and come ready with questions!
About the Hosts
Flatiron School and SecureSet Academy have joined forces to address the worldwide cybersecurity skills gap. Better together, we are able to provide access to immersive cybersecurity education for students all over the world, as well as the career coaching people need to succeed in the cybersecurity industry.