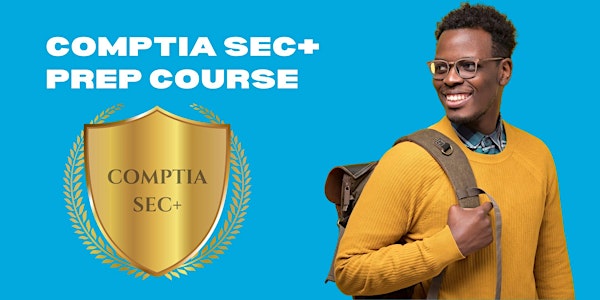 Cybersecurity Certification Course: COMPTIA Sec+ Prep
Take the Next Step in Your Cybersecurity Career with COMPTIA Sec+ Certification. Enroll Now and Secure Your Cybersecurity Future!
By Beaufort Digital Corridor
About this event
Are you interested in entering a career in the cybersecurity field? Our Cybersecurity Certificate prep course for COMPTIA Sec+ is the perfect next step. Our comprehensive course covers all the topics required for the Sec+ certification exam, including network security, compliance and operational security, and threats and vulnerabilities.
Our course is designed to be accessible to students of all levels, from beginners to experienced professionals. With our expert instructors and flexible online format, you can learn at your own pace and get the support you need to succeed.
Through our bootcamp-style course, you'll learn about network security, threat intelligence, risk management, and much more. Our online course allows you to complete the curriculum at your own pace, with weekly office hours available for additional support.
Don't wait to take the next step in your cybersecurity career. Enroll in our Cybersecurity Certificate prep course for COMPTIA Sec+ today!
Enroll Now and Secure Your Future in Cybersecurity!
Meet Your Advisor:
Fombe Fombe is the Cyber Program Manager at the Beaufort Digital Corridor. Before stepping into this position, he previously served in the U.S. Navy for over eight years. A proud veteran, he valued his time in the military as an X-Ray Technician, but is making a long-awaited shift into the field of cybersecurity analysis. Fombe is COMPTIA Sec+ and CEH Certified, with an ultimate goal of becoming a CISO (Chief Information Security Officer) or CISM (Certified Information Security Manager). His passion for helping other transitioning service members complements his duties at the Beaufort Digital Corridor. Fombe is also an automobile enthusiast, and spends time learning and helping at Safehands Discount Tires when not at the BDC.
Frequently asked questions
What is the COMPTIA Sec+ certification?
What topics will be covered in this course?
Do I need any prior experience in IT or cybersecurity to take this course?
How long does the course take to complete?
What resources are available to help me prepare for the exam?
What if I have questions or need help during the course?
Is this course suitable for beginners?
What is the cost of the course?
When / How will I receive access into the online course?
Still have questions? Contact us!
About the organizer
The Beaufort Digital Corridor is a creative effort to attract, nurture and promote Beaufort's technology entrepreneurs through a combination of technology-enabled initiatives and business incentives, private business support and member-driven programming.