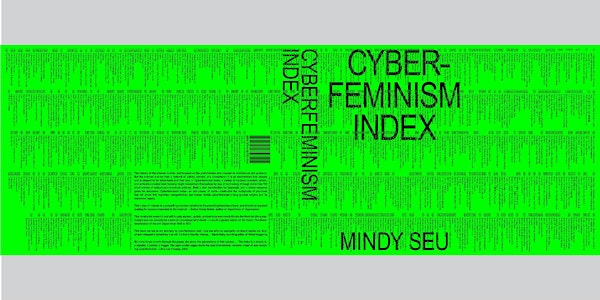 Cyberfeminism Index Book Launch
Practice Makes Practice & O MediaLab host Mindy Seu as we take a look into the vision, process and future of the Cyberfeminism Index.
By Practise Makes Practice
Date and time
Wednesday, December 14, 2022 · 7 - 9pm EST
Location
910 Barton Woods Rd NE 910 Barton Woods Road Northeast Atlanta, GA 30307
Refund Policy
Contact the organizer to request a refund.
Eventbrite's fee is nonrefundable.
About this event
Cyberfeminism Index Book Launch
Talk + Panel with Mindy Seu and Panelists Ellex Swavoni, Brittany Bosco, Fotini Markopoulou. Moderated by Stefania Antonucci.
December 10th 7-9PM
At O Media Lab (910 Barton Woods Rd NE)
Event Description
Practice Makes Practice & O MediaLab host Mindy Seu as we take a look into the vision, process and future of the Cyberfeminism Index.
Mindy will be joined by artist Ellex Swavoni, multidisciplinary creative Brittany Bosco and Fotini Markopoulou, theoretical physicist and design engineer developing empathic technologies.
We'll explore their respective work, discuss topics related to cyberfeminism, and the evolution of our relationship with technology & culture from the perspective of these thought leaders.
Mindy Seu
Mindy Seu is a designer and technologist based in New York City. Her expanded practice involves archival projects, techno-critical writing, performative lectures, design commissions, sharing—typically in the form of lists and spreadsheets—and close collaborations. Her latest writing surveys historical precursors of the metaverse and reveals the materiality of the internet. Mindy's ongoing Cyberfeminism Index, which gathers three decades of online activism and net art, was commissioned by Rhizome and presented at the New Museum in its online form, and its print form is a recipient of a Graham Foundation Grant. She has lectured internationally at cultural institutions (Barbican Centre, New Museum), academic institutions (Columbia University, Central Saint Martins), and mainstream platforms (Pornhub, SSENSE, Google), among many others, and has been a resident at MacDowell, Sitterwerk Foundation, Pioneer Works, and Internet Archive. Mindy holds an M.Des. from Harvard's Graduate School of Design and a B.A. in Design Media Arts from the University of California, Los Angeles. She is currently Assistant Professor at Rutgers Mason Gross School of the Arts and Critic at Yale School of Art.
Ellex Swavoni
Ellex Swavoni is a multi-disciplinary, contemporary artist hailing from Louisville, Ky. As a child, she became enchanted by art toy design and the onslaught of information the internet brought. Throughout her formative years, she taught herself the art of sculpting, mold making, and other home manufacturing techniques.
She uses her love for toy design, sculpting, ancient spirituality, and graphic design, to create sobering works that speak on her view of the world around her. She captures and translates her experiences into future ancient symbols, music, and minimal abstract works.
Her philosophy: It is the responsibility of artists to translate the human experience into things that the senses can accept even if the mind can't comprehend. This viewpoint informs her spiritual imagery and Future Ancient style. The Future Ancient style utilizes the visual language from religions across the diaspora to project modern ideologies into the realm of divinity.
She is currently based in Atlanta, where she is developing a series that proposes the importance of empower ourselves by creating the conditions of love, using fantasy, design, and music. She will continue to cross-reference the modern ideas and techniques with ancient symbology in her new works, as well as advancing her Fine Art and Industrial Design education.
Brittany Bosco
Born in Savannah, GA, Bosco has a background in not just music, but fashion. She studied fashion design at Savannah College of Art and Design but decided to leave during her senior year to, instead, concentrate on her burgeoning career as an R&B artist. Her first EP, released after signing a deal with the label Fool's Gold, BOY, came out in 2015 and she followed it up soon after with Girls in the Yard. As she worked as a musician, she also took the sum of her experience, and interest in creative exploration, to create Slug Global in 2016.
Slug Global has partnered with brands to tell stories from unique viewpoints in the black and female community — all in service of making sure that narratives, that are often swept under the rug, are front and center of the world's eyes. Through its work in art and culture provided through its services, Slug Global has established itself as a premiere agency with the power to continue shaping culture as we see it.
Fotini Markopoulou
Fotini G. Markopoulou-Kalamara is a Greek theoretical physicist interested in quantum gravity, foundational mathematics, quantum mechanics and a design engineer working on embodied cognition technologies. Markopoulou is co-founder and CEO of Empathic Technologies.[3] She was a founding faculty member at Perimeter Institute for Theoretical Physics and was an adjunct professor at the University of Waterloo.
Stefania Antonucci
Stefania Antonucci is a Colombian-Venezuelan film photographer based out of Atlanta, GA. Self-taught, she began photographing in her early teens. As an immigrant being brought up during the 2000s recession era, her work showcased the abrupt decline in industrialization and surge in suburban poverty. Later on, her focus shifted into capturing moments behind the scenes of production and portraiture of young creatives in the South.
About the organizer
Events for Practise Makes Practice