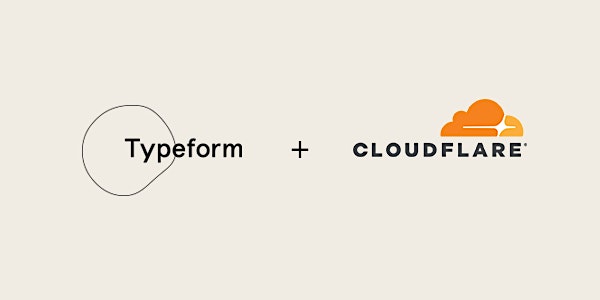 Cyber Security & Web Performance: The New Landscape
When and where
Location
Typeform Carrer de Bac de Roda, 163 08018 Barcelona Spain
Description
Cyber Security & Web Performance: The New Landscape
Learn about the technologies behind cutting-edge performance, security, and edge development solutions. Typeform's Chief of Platform Jason Harmon will speak first, followed by Connor Peshek and Jade Wang from Cloudflare.
Opening keynote: Typeform's Platform Strategy: from API to Beautiful HX
Typeform launched their Developer Platform last September. The aim? To empower the community of developers by bridging the gap between data collection and customer interaction. In this talk, you'll learn what took to make it a reality, and why it's key to the future of Typeform as a universal conversational data collection tool.
About the speaker: Jason Harmon is Chief Platform Officer at Typeform. He's currently helping to shape the product for developers. He's passionate about educating developers and business folks about APIs, as well as developer experience. He's known for blogs at apiux.com and pragmaticapi.com, and is a member of the OpenAPI technical community and oversight committees.
Talk 1: The Cloudflare network and its place in the Internet
Cloudflare has an infrastructure of 134 data centers, sitting within 10ms of 90% of devices on the Internet, but how do they connect to each other? In order to understand the power of massive networks, it helps to understand networks themselves. Join us in talking about how the Cloudflare network works and how the Internet functions.
About the speaker: Connor Peshek works in Developer Relations at Cloudflare. He started his career in tech at Eager, an apps platform that was later acquired by Cloudflare and transformed into Cloudflare Apps. After his Eager internship, he went on to do front-end web development for two years, working at companies like Kroger. For fun, Connor does death metal singing. You should ask him about that.
Talk 2: Better, faster, stronger: web acceleration, mobile network optimization, and adding features on the edge
About 10% of all Internet requests flow through Cloudflare's network. In addition to providing performance and security for over 7 million websites, Cloudflare exposes our entire infrastructure via a standard programmatic interface.
In this talk, we'll cover:
Improving mobile app performance, especially over spotty network connections (mobile SDK)

Access control at the edge (Cloudflare Access)

How to write JavaScript that runs on Cloudflare's edge (Cloudflare Workers)

Write plugins that other people can install onto their websites (Cloudflare Apps)

If you could leverage 134 data centers worldwide, what would you build?
About the speaker: Jade Wang is Head of Developer Relations at Cloudflare. Previously, she co-founded Sandstorm.io, and was employee #5 at Meteor. Her Ph.D. is in neuroscience, and she had been a post doctoral researcher at NASA Ames Research Center. In a past life, she's also a classically trained musician, poet, and martial artist.
Agenda:
6:00pm: Doors open, snacks & networking
6:30pm: Opening keynote
7:00pm: Talk 1 kickoff
7:30pm: Talk 2 kickoff
8:00pm: Talk conclusion - Post event discussion & networking
8:30pm: Event conclusion
About Typeform:
We are pleased to be working with our partner and host, Typeform, for this event. Typeform is the versatile conversational data collection tool for professionals. Typeform makes asking easy & answering refreshing. Their developers wrote an app on Cloudflare apps, which is one of our favorite and most popular apps.