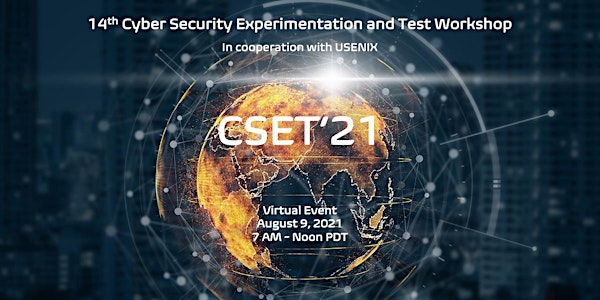 Cyber Security Experimentation and Test Workshop (CSET) 2021 Registration
Sales Have Ended
Registrations are closed
Registration for the CSET'21 Workshop has concluded.
14th Cyber Security Experimentation and Test Virtual Workshop
About this event
CSET'21
For 13 years, the Workshop on Cyber Security Experimentation and Test (CSET) has been an important and lively space for presenting research on and discussing "meta" cybersecurity topics related to reliability, validity, reproducibility, transferability, ethics, and scalability—in practice, in research, and in education. Submissions are particularly encouraged to employ a scientific approach to cybersecurity and/or demonstrably grow community resources.
CSET was traditionally sponsored by USENIX. In 2020, USENIX Association decided to discontinue their support of all workshops (including CSET) due to pandemic effects on USENIX financial revenue. We are committed to continuing the CSET Workshop independently for 2021 and hope that we may rejoin USENIX in the future. We plan to hold the workshop virtually at the time when it would originally have been held—on Monday, August 9, preceding USENIX Security Symposium 2021.
Workshop Organizers
Tamara Denning - University of Utah, Conference Co-Chair
Tyler Moore - University of Tulsa, Conference Co-Chair
Workshop Registration coordinated by: USC Information Sciences Institute
Workshop Program: https://cset21.isi.edu/program.html
CSET'21 Website: https://cset21.isi.edu
Virtual Event ZOOM Link: Once registered, a ZOOM link will be emailed to your registration email address on file when the link is available. This will be approximately one week prior to the event.