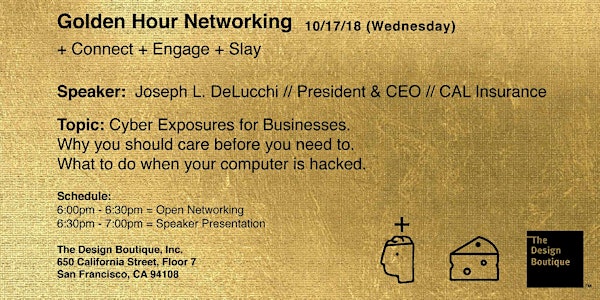 Cyber Exposures for Businesses // What to do when your computer is hacked.
When and where
Location
The Design Boutique, Inc. 650 California Street 7th Floor San Francisco, CA 94108
Description
Cyber Exposures for Businesses… Who cares?!?!? Why care?!?!?
Key Learning points
Ever wondered if you should pay that ransom when your computers are locked out by a hacker? Have you ever been "socially engineered"?

Do you know that savvy businesses hire IT consultancies to "test" the vulnerability of their systems which are managed by a different IT consultancy?

Do these three questions even make sense to you? If you are interested in hearing the latest & greatest as pertains to cyber exposures please come as Joe DeLucchi will lead a lively discussion. You just might even learn a few points and maybe, just maybe, become a cyber exposure buff by the end!
Takeaways:
This can seem scary but this is definitely manageable.

Not all cyber policies are created the same (at all!!!).
Schedule:
6:00pm - 6:30pm = Open Networking (nibbles will be served)
6:30pm - 7:00 pm = Speaker Presentation
Golden Hour Networking is a monthly networking event held on the 3rd Wednesday of every month. RSVP required to gain access to the building. You must be on the list to attend. Bring valid ID to gain access to the building.