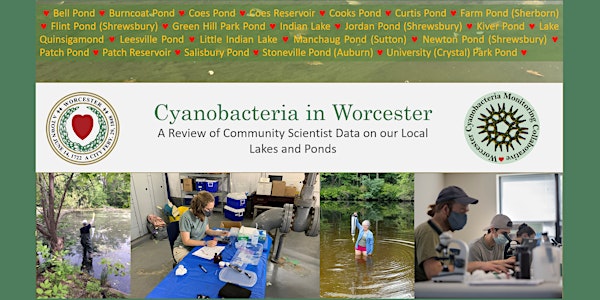 Cyanobacteria in Worcester Lakes: Community Science Results for 2021
Come see what your neighbors have discovered at our lakes about blue green algae (cyanobacteria)!
About this event
This past year, over 30 of our friends and neighbors sampled our local lakes and ponds, analyzing them for signs of harmful algae. Come learn what we have found, and how we are using this data to make our recreational spaces safer!
Lakes included in this report include:
 Bell Pond
 Burncoat Pond
 Coes Pond
 Coes Reservoir
 Cooks Pond
 Curtis Pond
 Farm Pond (Sherborn)
 Flint Pond (Shrewsbury)
 Green Hill Park Pond
 Indian Lake
 Jordan Pond (Shrewsbury)
 Kiver Pond
 Lake Quinsigamond
 Leesville Pond
 Little Indian Lake
 Manchaug Pond (Sutton)
 Newton Pond (Shrewsbury)
 Patch Pond  Patch Reservoir
 Salisbury Pond
 Stoneville Pond (Auburn)
 University (Crystal) Park Pond