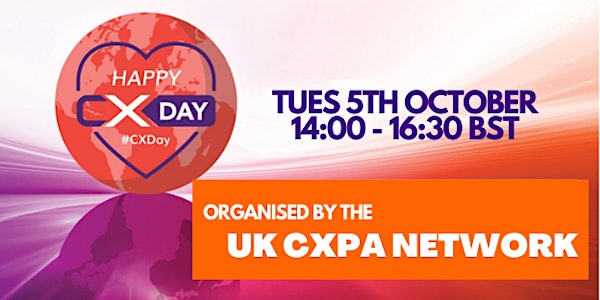 CX Day _ UK CXPA networks
CX day 2021: Join the entire UK CXPA network as we celebrate all things Customer Experience
About this event
Each year on the first Tuesday in October, the worldwide Customer Experience community celebrates the importance of customers, customer experience, and customer experience professionals. While we are not able to come together in person this year, The Midlands and London networks have joined forces to bring UK CX professionals an exciting opportunity to learn from each other on CX Day. Everyone is welcome to participate.
We are delighted to announce two inspiring guest speakers who are going to offer you an insight into their own experiences developing CX.
Sarah Corney of the Chartered Institute of Personnel and Development, will share her thoughts on two topics: The reality of embedding a CX culture into an organisation, including practical hints and tips and lessons learned; The use of service design and design thinking to maintain innovation momentum.
Alec Dalton ,Sr. Manager of Global Quality for Marriott International and Partner of the Hospitality Leadership Academy, previously at The Ritz Carlton Hotel Company and Walt Disney Parks and Resorts, will share his experience of developing exceptional customer experiences in the hospitality industry.
Additionally, we will be running small breakout groups to allow you to discuss burning CX issues, seek advice and share learnings with each other on hot topics. During the course of the event, we will be running some prize draws where you have the chance to win some exciting CX reading material.