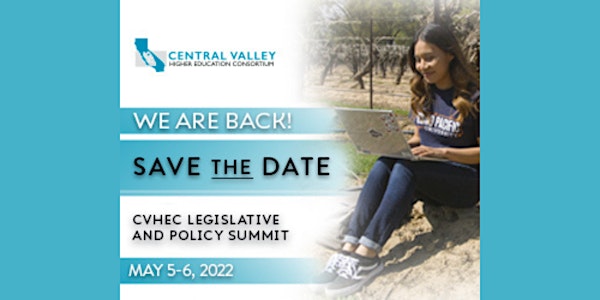 CVHEC Summit - Recovering with Equity and Inclusion in the Central Valley
Location
DoubleTree by Hilton Hotel Fresno Convention Center
2233 Ventura Street
Fresno, CA 93721
Sales Have Ended
Registrations are closed
Thank you for registering for CVHEC's 2022 Higher Education Policy and Legislative Summit.
CVHEC is delighted to announce the return of our annual Higher Education Legislative and Policy Summit.
About this event
The Presidents and Chancellors of the Central Valley's 29 colleges, universities, and community college districts invite you to their first live Legislative and Policy Summit since the pandemic-shutdown two years ago and invite you to celebrate the 20th anniversary of the founding of the Consortium.
This year's summit with the theme, "Post Pandemic World: Recovering with Equity and Inclusion in the Central Valley," will focus on the good work the members of the consortium have been doing on their campus in spite of the limitations imposed on us all by the pandemic.
As the theme indicates, the conditions brought on by the shutdown of campuses due to the COVID19 virus highlighted some inequalities on our campuses that demanded attention. In the post pandemic world, our college and university campuses will be much more attentive and responsive to creating environments that take into account, equity, inclusion, diversity and social justice. If you will be joining us, we know you will find value in the panels on the program.
We also invite you to join us as we celebrate the 20th anniversary of the founding of CVHEC in 2022. A special bonus for the day is the attendance of Dr. John Welty, President-Emeritus of California State University, Fresno and the founder of the Consortium. He will be joined by a couple of other founding members to discuss the origins and the issues that led to the establishment of CVHEC.
We look forward to seeing those of you who are able to join us at the summit (do come in for our Cinco de Mayo Reception at 5:30 p.m. on Thursday).
Registration for our free event is open through May 2.
Agenda
8:00 a.m. – 9:00 a.m.
Registration and Breakfast
9:00 a.m. – 9:15 a.m.
Welcome on behalf of CVHEC Board of Directors
Kristin Clark, Chancellor, West Hills Community College District
Introductions and Review of Agenda
Benjamin Duran, Executive Director, CVHEC
9:15 a.m. – 9:35 a.m.
CVHEC Equity, Race, and Social Justice Task Force Update
Francine Oputa, Former Director of the Cross Cultural and Gender Center, Fresno State
Onar Primitivo, Director of Office of Social Justice Initiatives & Identity Programs, UC Merced
Raymond Ramirez, Director, Student Equity and Success, Educational Services and Institutional Effectiveness, Fresno City College
Facilitated By Virginia Madrid-Salazar, Dependency Attorney, Fitzgerald, Alvarez & Ciummo
9:35 a.m. – 10:25 a.m.
Student Voices: The Student Experience with Dual Enrollment, Broadband Access, and the Transfer Process
Nataly Frias, Student, Fresno State
Alicia Bias, Student, Washington Union High School & Fresno City College
Isaac Bates, Student, Corcoran High School & College of Sequoia
Stephen Kodur, Class of 2021, Reedley College
Veronica Mendez Garcia, Student, Fresno Pacific University
Brianna Zatarain, Student, CSU Bakersfield
Facilitated By Chris Vitelli, Superintendent/President, Merced College
10:25 a.m. – 11:10 a.m.
Creating the Central Valley Transfer Model
James Zimmerman, Senior Associate Vice Provost and Dean for Undergraduate Education, UC Merced
Craig Hayward, Dean of Institutional Effectiveness, Bakersfield College
Kris Grappendorf, Lecturer of Kinesiology, CSU Bakersfield
Facilitated By Claudia Habib, President, Porterville College
11:10 a.m. – 11:25 a.m.
Federal Legislative Update
Jim Costa, 16th Congressional District Representative, U.S. House of Representatives
11:25 a.m. – 12:10 p.m.
Broadband for All
Jim Costa, 16th Congressional District Representative, U.S. House of Representatives
Stan Santos, Legislative Chair, Communications Workers of America - Coastal Valley Council
Lisa Lawrenson, Acting Superintendent/President, San Joaquin Delta College
Facilitated By Frank Gornick, Project Manager, #SanJoaquinValleyNetwork
12:10 p.m.
Lunch
12:45 p.m. – 1:30 p.m.
Equitable Dual Enrollment - Leveling the Playing Field
CCC Apply, MA Upskilling & Dual Enrollment Pathways with Purpose
Brandon Hildreth, Academic Dean, Los Angeles Valley College
Victoria Martinez, Dual Enrollment Program Coordinator, Fresno City College
John Spevak, Regional Coordinator, CVHEC
Martín Macías, Superintendent, Golden Plains Unified School District
Bethany Azevedo-Matos, Dean, West Hills-Firebaugh Center
Richard Aguilar III, Director of Dual Enrollment, West Hills College Coalinga
Facilitator – Benjamin Duran, Executive Director, CVHEC
1:30 p.m. – 2:00 p.m.
Celebrating 20 years of CVHEC in the Valley
Benjamin Duran, President Emeritus, Merced Community College
John Welty, President Emeritus, Fresno State
Frank Gornick, Chancellor Emeritus, West Hills Community College District
2:00 p.m.
Adjourn