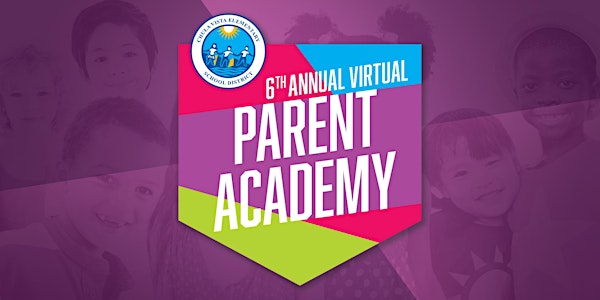 CVESD 6th Annual VIRTUAL Parent Academy 2021
For more information contact: Angelica Maldonado, Parent Engagement Liaison: (619) 425-9600 Ext 1465
About this event
POSITIVE PARENTING IN TODAY'S CHANGING WORLD
La crianza positiva en un mundo de cambio constante
Join us for informational and educational presentations relevant for today's parents. Topics to be covered include social-emotional learning, managing tech, assisting multilingual learners, building positive relationships and more!
Acompáñenos para unos talleres informativos y educativos que son relevantes para los padres de hoy. Los temas que serán presentados incluyen la enseñanza social emocional, el manejo de la tecnología, apoyo para los aprendices multilingües, cómo fomentar relaciones positivas ¡y más!
Keynote Speaker:
Todd Tibbits, President & CEO YMCA
Featured Presenters:
Larry Alvarado - "When Did Being a 5 and 6 Year Old Get So Difficult?"
¿Cuándo se volvió tan difícil tener 5 y 6 años?
Angie Amador & Reina Galvez - "Teamwork: You and Your Dual Language Learner"
"Colaboración: Usted y su aprendiz de doble inmersión"
Dr. Morgan Appel - "Brain-Compatible Perspectives on Socioemotional Well-Being and Social Media in the Age of COVID-19"
"Perspectivas compatibles con el cerebro sobre el bienestar socioemocional y las redes sociales en la era de COVID-19"
Jennifer Vermillion - "Restorative Parenting: Building Positive Relationships and Healthy Families"
"Crianza Restaurativa: Construyendo relaciones positivas y familias sanas"
Elizabeth Gianulis - "The Power of Presence: Showing Up for Ourselves and Our Children so We Can Be Better"
"El poder de estar presente: Estar para nosotros mismos y nuestros hijos para poder despempeñarnos mejor"
Chelsea Gould - "Effective Discipline: Positive Ways to Change Your Child's Behaviors"
"Disciplina efectiva: Un enfoque positivo para manejar los comportamientos de su hijo"
Hector Meza - "Apoyo Emocional Para Los Hijos "
" Emotional Support for Our Children"
Lalaine Perez, Patricia Pimentel, and Nancy Rojas - "Nurturing my Child's Superpower: How to Help my Multilingual Learner"
"Nutriendo el superpoder de mi hijo: Cómo ayudar a mi alumno multilingüe"
Arlene Pellicane - "Screen Kids: Managing Tech Better at Home"
"La pantalla y los niños: Manejando mejor la technología en casa"