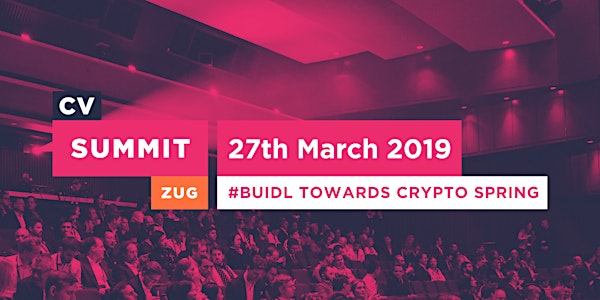 CV Summit 2019: BUIDL towards Crypto Spring
When and where
Location
Zug Artherstrasse 2 6300 Zug Switzerland
Description
// MAIN EVENT, 27th of March 2019
The CV Summit's 4th edition on March 27th will revolve around #BUIDL: focusing on the development of the industry instead of crypto speculations.
The welcome address will be held by the President of the Swiss Confederation and Finance Minister Ueli Maurer, who is a strong advocate of the blockchain technology and the Blockchain Nation Switzerland.
Speakers on stage will include representatives from Alethena, Cardano, Coreledger, Forctis.io, Bank Frick, Generali, IOHK, inacta, KuCoin, Lamassu, Mt. Pelerin, PwC & strategy&, Lykke, SwissRe, Sygnum, ZBX, Konfidio, Huawei, CV VC, Crypto Valley Association, Silicon Valley Blockchain Society Bitcoin Suisse, Turicum Private Bank, Falcon Private Bank, smartmo, Metaco, Bitcoin Association Switzerland, Custodigit, Swiss Crypto Vault, Crypto Storage, Elevated Returns, Daily Fintech Advisors, Brickmark, IBC Group Limited, Holland Contech & Proptech, European Blockchain Hub, Swiss Fintech Ladies, European Blockchain Partnership, UNECE, Zulu Republic, Gentwo Digital, SEBA, flov technologies, Coineal / Coineal Labs, University of Basel, Transfero Swiss, Swiss Crypto Tokens, Stablecoin Foundation.


// SIDE EVENTS
26TH MARCH, 08:30 - 01:00 PM
KuCoin Blockchain Day Switzerland 2019
provides a platform of communication for different parties in the field including projects, capitals, exchanges, research organisations as well as key opinion leaders.
Free Sign-Up via meetup
26TH OF MARCH, 01:00 - 05:00 PM
CV Competition for Real Estate Final and CV Labs Open House
The Final TOP 10 Pitches of the CV Competition will take place during the CV Labs Open House on the 26th March. Blockchain startups have the amazing opportunity to bring their rollups and to pitch their vision of innovation to you.
Free Sign-Up via meetup
26TH MARCH, 06:00 - 22:00 PM
CV Summit Pre-Party: Swiss Night @ CV Labs
Join us for dinner and have a glass of wine! You will have the chance to meet the industry representatives, startups and investors in the heart of Crypto Valley.
Sign-UP (Entrance only with valid CV Summit Ticket)


// SUPPORTED BY: