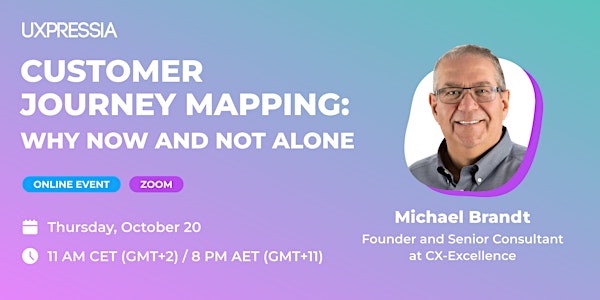 Customer Journey Mapping: Why Now and Not Alone
Learn about the importance of journey mapping and why it's better to map in teams.
About this event
Customer journey mapping continues to be a critical part of customer experience management. However, the practice has gotten increasingly complex as the technology used to create customer journey maps has evolved and the use cases for them have grown.
A lot of research, planning, brainstorming and analysis are involved in it. As a result, mapping journeys is no longer the sole responsibility of a single person. To effectively create customer journey maps, organizations need to engage an entire team of skilled professionals from across the organization.

📄 In this event, Michael will cover:
Why Customer Journey Mapping is still so important today;
Why it is imperative that the exercise be carried out by teams, rather than individuals alone, and how these teams should work together to improve business outcomes;
And, finally, how to get prepared and started on your Journey Mapping exercise.
The session will be followed up with the Q&A, so make sure to join live 😉
👥 Who is it for?
This event will be useful for people already building journey maps with their teams or clients, and those who don't know where to start.
🎤 About the speaker
Michael Brandt, Founder and Senior Consultant at CX-Excellence
Michael is a CX Strategist with many years' experience implementing CX programs in global multi-cultural organizations. From 2012-2020 he was responsible for Process Excellence in Customer Care across the ABB Group's worldwide network. Apart from being a Certified Customer Experience Professional, Michael also has qualifications in Lean 6 Sigma, Quality Management, NPS 2, and Risk Management. He founded CX-Excellence.com in 2020. His main focus now is Customer Journey Mapping, VOC and Complaint Management.
About organizers
UXPressia is an all-in-one cloud solution for understanding customer, user, and buyer experience, engaging teams, and driving successful digital transformation. Visualize your customers' journeys, create personas and impact maps, analyze touchpoints in multi-channel interactions, and invite teammates to collaborate in real time. Export designer-quality maps and personas and present them right from your browser online.
🎥 The event is going to be recorded.