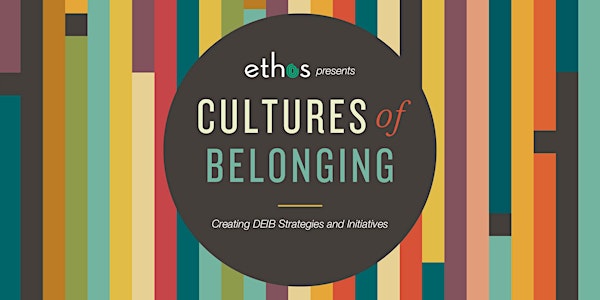 Cultures of Belonging: Creating DEIB Strategies and Initiatives 11/3-11/4
In this two-day intensive training, you will learn how to design a DEIB strategy that maximizes impact for your organization.
Refund Policy
Contact the organizer to request a refund.
Eventbrite's fee is nonrefundable.
About this event
Cultures of Belonging: Creating DEIB Strategies and Initiatives
The conversation around diversity, equity, inclusion, and belonging (DEIB) has shifted. Company leaders are no longer asking, "Why should we invest in DEIB?" Instead, they are asking, "How should we invest in DEIB?"
Specifically, they are asking you that question. During this complex cultural moment, you are looking for a playbook for meaningful, strategic action on making your organization more inclusive and equitable, along with a community to support you along the way.

This two-day accelerator is for participants at all levels who are looking to gain the momentum, fresh perspective, and practical tools to bring DEIB Strategic Plans to life. Whether you are using your own authority to see these strategies through or your influence to push them forward, these accelerator days will prepare you for success.
This program is ideal for you if:
You are working in HR, People, Talent, or Culture within an organization and are being asked to come up with strategic initiatives aligned with DEIB and/or anti-racism.
You are a DEIB professional enriching your practice and actively working on designing new solutions for the current climate.
You are a consultant, facilitator, and/or external DEIB practitioner looking to expand what you offer your clients in the way of DEIB .

Cultures of Belonging: Creating DEIB Strategies and Initiatives is designed to teach you how to conduct your own equity audit and assessment, in the same way Ethos would within your organization, and then help you begin developing your own strategic recommendations. It balances helping you get the DEIB acumen you need to feel confident in diagnosing where your organization stands, and how to move forward in this future.
Throughout our time together, you will:
Understand why having DEIB initatives in place is crucial to a company's culture and structure—in relation to our nation's current moment and beyond.
Define "culture" and "identity" professionally and personally as well as assess where your organization currently stands relative to inclusivity .
Develop your own assessment methods for further supporting your thesis with data.
Define "power" and discuss how levels of a system impact a company's dynamic.
Use the Ethos R2P2 model to create structure and balance across a variety of DEIB initiatives, resulting in a fully fleshed out DEIB Strategic Plan.
Develop project plans, identify the tools, and set up the steps to implement the most urgent and important parts of your DEIB Strategic Plan.
Create successful and healthy diverse teams.
Build your DEIB purpose statements.
Overcome resistance in leaders and employees alike by learning core models and frameworks for identifying and eliminating roadblocks as well as core practices that garner buy-in and enthusiasm in what you are proposing.
To achieve these learnings, we will dive deep into some of the most useful models for awareness, understanding, and action, including:
Pyramid of Hate
Path from Exclusive Club to Inclusive Organization
Ladder of Inference
R2P2: Recruiting, Retention, Promotion, and Protection
Successful Diverse Groups Model
Resistance Model

Live training from 10 am-4 pm CST each day with three scheduled breaks per day broken into ⅓ content, ⅓ exercises, and ⅓ open discussion.
Forum-based peer coaching, brainstorming, and open questioning to give you access to all of the information you need now.
One 60-minute group coaching session before the main weekend course that clearly lays out material we will engage with together, as well as the opportunity to meet cohort mates and set goals.
A homework packet including worksheets and reading linking the coaching session to our two-day training experience, prepping you for maximum productivity during our time together.
A 90-minute reunion call 6 weeks after the training to check in as a group, support each other as we apply these frameworks, and get your most pressing questions answered.
PRICING
$595 Early Bird now through 07/29/22
$695 General Admission from 07/30/22 to 10/28/22
IMPORTANT DATES
Pre-Accelerator Group Coaching (60 Minutes): Thursday, 10/27/22
Main Intensive (6 Hours each day): Thursday, 11/03/22 and Friday, 11/04/22
Cohort Reunion (90 Minutes): TBD

Ethos is a full-service diversity, equity, inclusion, and belonging transformation firm that aims to close the opportunity gap for underrepresented and underserved groups in companies through our core offerings: Consulting and Advisory, Trainings, and Programs. To date, Ethos has served 60+ companies across the U.S., U.K., India, and Brazil.
Known for using our R2P2 model (Recruiting, Retention, Promotion, and Protection) to assess companies on DEIB and build tangible, actionable strategies for change, we are dedicated to scaling belonging and promoting equity.

"My work in DEI is secondary to my primary role at my company, so the opportunity to deep dive and connect with professionals equipped me and my co-leader with valuable skills and methods to further our work and approach. I was especially thankful for the Ethos' team willingness to tweak the content and the dialogues for our cohort's specific needs throughout the workshop. This season of global instability has been especially difficult to reconcile work/life balance across my industry, so it has been convenient to lose sight of our broader DEI goals. On the first day, Alida built a presentation on the current "state" of affairs which refocused our approach and DEI practice. It was also incredibly helpful to connect with others struggling with this, and also to frame our idea of achievement based on the work of those plugged into these efforts as a dedicated role. I would absolutely recommend the [insert preferred naming convention for this workshop] to any professional in DEI leadership or working on a DEI sub-committee. We continue to utilize the lessons and tools we gathered in our work with Ethos and have been able to re-energize our efforts since completing the workshop."
–Allender Contarino, RATIO Architects
"I found the accelerator program to be informative, invigorating, and inspiring. I am so thankful for all of the time, energy, resources, and expertise that was shared with participants, as well as the transparent and vulnerable conversations that were expertly facilitating by the entire Ethos team."
–Ryan Ben
"Ethos' DEIB accelerator was informative, community focused, and generative. My DEI vocabulary was expanded during this session. Also, I built some amazing connections with other practitioners throughout our two days. Lastly, it was one of thee most productive DEI training sessions I have joined. It was jammed-packed with "how-tos" and specific things we could implement the next workday. I highly suggest attending! "
–Jessica Newman, Diversity, Equity, Inclusion Lead at OppLoans
"I appreciate the inclusive approach to the Accelerator program that is shaped by the input, needs and experience of the participants. I also feel that, unlike other DEI programs, the Accelerator program offers next level transparency, providing me with new tools, resources and insights that will help to make a difference in the world."
–Leslie Fisher, Founder of L2Diversity
"When I learned about Ethos's DEI Accelerator, I knew I had to participate. Alida and her team did a great job creating a safe space for me and all other attendees to feel empowered to ask questions, be vulnerable, and lean into the work of DEI. In just two days, I learned so much and built my confidence around championing DEI at my organization. I was also able to connect with other folks who are similarly passionate about DEI and working to implement DEI best practices in their own organizations. I would definitely recommend Ethos's DEI Accelerator to anyone who works in People Ops or HR and wants to build a culture rooted in diversity, equity, inclusion, and belonging."
–Caitlin Cuesta, People Operations Manager at Screencastify
"I participated in Ethos's DEI Accelerator because, while I've been involved in the DEI space for years, I've never formally led DEI initiatives in a work environment. Coming into an organization that didn't have much in place, and DEI not being my formal role at the company, I felt overwhelmed and wasn't sure where to start. The DEI Accelerator was valuable because it provided me with the tools and resources I needed in order to gain traction with others in the organization while also getting some 'quick wins' under our belts. One of my favorite parts was hearing the successes and challenges from other DEI practitioners and being able to share new ideas with one another. That, in addition to being able to walk away from a two-day course with an initial draft of a DEI strategic plan, was incredibly valuable. I highly recommend!"
–Katelyn Botts, Senior Project Manager at Cloudbakers
"The Ethos Talent DEI Accelerator was an empowering two plus days of learning, connecting with others, and self-reflection. After the Accelerator was over and I went back to my regular work schedule, I felt myself wishing I was back with the group discussing DEI strategies all over again. I can't wait to bring all that I learned back to my team and organization. My mind is spinning with tons of ideas for improving our culture thanks to Alida and her team."
–Molly Rudnick, Senior Campaign Associate at the Jewish United Fund of Metropolitan Chicago