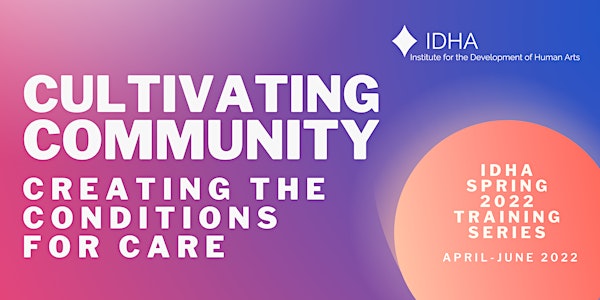 Cultivating Community: Creating the Conditions for Care
Refund policy
Contact the organizer to request a refund.
Eventbrite's fee is nonrefundable.
IDHA's Spring 2022 virtual training series CULTIVATING COMMUNITY
About this event
*ASL and live closed captioning provided*
NOTE: CE credits are available for all five classes in the series when you enroll at the General or Supporter Rate (2.75 credits per class).
*Update as of 5/23: The first three classes in the series have passed, but the bundle is still available! Register using this link and you will automatically receive the recording and resources from the first three classes!*
Series Description
These past two years have fostered a deep and pervasive sense of isolation, separation, distance, and disconnection. We are in an age of collective reckoning, with growing numbers of people attuned to the widespread suffering of individuals, families, and neighborhoods. At best, our systems and institutions are falling short of providing meaningful care and support; at worst, they work against us and perpetuate further harm. The ongoing pandemic also laid bare how intertwined we are with one another. The health of one person can no longer be separate from their community's health, or the health of the planet at large.
In order for our most radical visions of healing to be realized, we must learn to be in relationship with one another in new ways, create shared commitments, and foster collective resistance. But in a society that frequently privileges individualism, we are rarely presented with the opportunity to practice building authentic connections in ways that can make us more adept healers and helpers. This process requires unlearning dominant patterns, as well honoring Indigenous approaches that hold relationships as sacred.
The start of the pandemic was accompanied by an encouraging burst of grassroots community building. Amid the inability to gather in person, those with personal and political homes nested deeper within them; those without a sense of the collective gravitated towards it. As the health crisis wore on, many began to ask: What is community? What does it mean to be in community? How is community created, and how can this be done inclusively and sustainably? How can communities address systemic harm and equitably meet individual member needs?
IDHA's Spring 2022 training series seeks to shine a light on the essential role of community, connection, and relationship in building care systems that center collective liberation. Over the course of five sessions, we will explore how we can create the conditions for community in a range of diverse settings; discuss community as a form of resistance to oppression; and introduce concrete approaches, tools, and strategies to foster community care in and outside of the formal mental health system.
Course Schedule
Shifting the Healing Paradigm: Reclaiming Our Collective Nature
Sunday, April 24, 2022, 12-3pm EST
D.M. Marchand-Lafortune and Eleni Zimiles
Equalizing Power: Mental Health and the Creation of the Common
Sunday May 8, 2022, 12-3pm EST
Ivelisse Gilestra and Carlos Padrón
Nourishing Relationships: Trust, Intimacy, and Consent
Sunday, May 22, 2022, 12-3pm EST
Dawn Serra and Kai Werder
Centered Belonging: Creating Space for Embodied Connection
Sunday, June 5, 2022, 12-3pm EST
Norma Wong and B Stepp
Holding Difference: Moving Toward Liberatory Futures through Conflict
Sunday, June 19, 2022, 12-3pm EST
Stas Schmiedt and Leander Roth
What You Get
Registration includes the 3-hour class session, and access to IDHA's School for Transformative Mental Health forum on Mighty Networks. This is our virtual learning community where you'll have the opportunity to engage with other students and your faculty. Registration at the General or Supporter Rate includes the cost of CE credits (2.75 per class).
Scholarships
IDHA is offering 25 full-series scholarships for this series. Apply here by April 8!
Questions? Email us at contact@idha-nyc.org