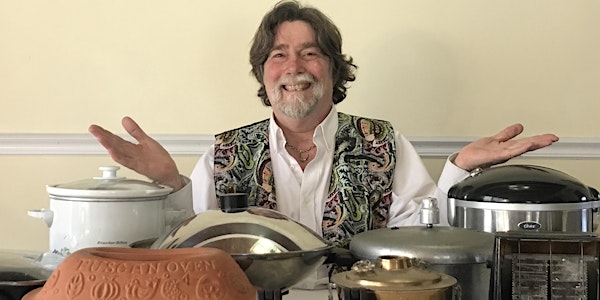 Culinary History Program: The Strangest Cooking Methods In The World
A light-hearted survey of the ways people around the world cook in unusual circumstances and hostile environments, presented by Richard Foss
About this event
Cooking started out straightforward: put food over a fire and turn it occasionally until it looks and smells ready. What have people done when fuel wasn't available, and how did they improvise when a source of free heat presented itself? People have cooked using heat from volcanoes, hot springs, automobile engines, household appliances, weapons, and other ingenious methods. This is a light-hearted history of culinary innovation from prehistory to the present day.
About the presenter: Culinary historian Richard Foss has been writing professionally since 1986, when he started reviewing restaurants for a Los Angeles newspaper. Since then he has contributed to over forty different publications, including the Encyclopedia of World Food Cultures and Oxford Companion to Sweets. He taught "500 Years of American Food" and "American Fermented," at Osher Institute/UCLA Extension, and is on the board of the Culinary Historians of Southern California. His book on the history of rum was published in 2012. "Food in the Air and Space; The Surprising History of Food and Drink in the Skies," was released in December 2014. He is now working on a history of immigrant cuisines in California in conjunction with a museum exhibition he is curating, "Cooking Up a New West." (Opens at the Autry Museum of the American West 2023)
NOTE: The Zoom codes for this event will be sent out two days beforehand to all people who sign up. A reminder email with the same information will be sent one hour before start time.