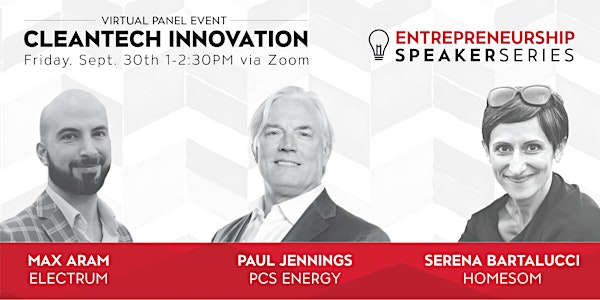 CSUN Entrepreneurship Speaker Series: Cleantech Innovation
CSUN Entrepreneurship Speaker Series: Cleantech Innovation
About this event
Zoom Link:
CSUN's Nazarian College presents our first event as part of the Entrepreneurship Speaker Series for Fall 2022, a virtual panel on Cleantech Innovation.
We will be joined by leading experts, investors, and innovators across different areas of the cleantech space to discuss emerging trends and opportunities, key issues and challenges for the industry, as well as the importance and significance of these technologies. Come to learn how to get involved in this exciting industry, how cleantech startups are similar and different from traditional fields, and the leading innovations that will drive a carbon-free future.
Event is free to attend and open to the community. Please bring your questions!
Speaker bios:
PAUL JENNINGS | Founder & CEO, PCS Energy
Paul has owned and operated various successful businesses within the telecommunications and real estate industries and currently spends a significant portion of his time in renewable energy as the founder and CEO of PCS Energy. PCS Energy specializes in the design and installation of clean energy systems, including commercial solar projects and EV charging stations. Paul is an active investor in renewable energy startups and also philanthropically supports a wide array of projects and organizations.
MAX ARAM | Co-Founder & CEO, Electrum
Max is the co-founder and CEO of Electrum (formerly PickMySolar), a home electrification marketplace. The Electrum platform transforms the way electrification products are bought and sold through by leveraging technology to connect homeowners, installers, and manufacturers. Max is a passionate advocate for sustainable technologies and the power of transparency and choice to improve the quality of life for humans across the world.
SERENA BARTALUCCI | Founder & CEO, Homesom
Serena provides product & scientific content at Homesom, a startup that combines scientific knowledge, design and IoT (high-tech sensors) in the first home wellness platform on the market. She has a deep expertise in sustainability and was previously a project architect and interior designer, providing freelance design for private and corporate projects with a focus on exhibitions, retail and hospitality.
About CSUN Entrepreneurship
The Entrepreneurship Program at the Nazarian College complements our students' inherent energy and creativity with the skills and knowledge necessary to evaluate the feasibility of an idea and ultimately pitch, launch, and grow a new venture. Whether planning to create a business or bringing the entrepreneurial mindset to a larger organization, the program prepares students to confidently present to an audience while developing a strong action-bias and a willingness to experiment.