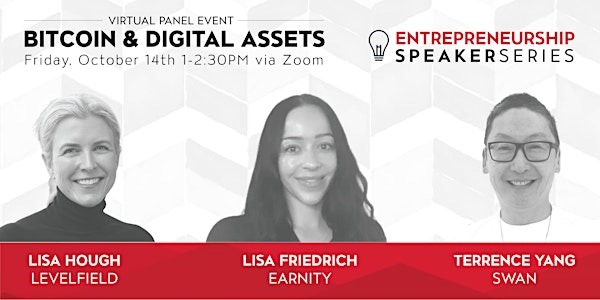 CSUN Entrepreneurship Speaker Series: Bitcoin & Digital Assets
CSUN Entrepreneurship Speaker Series: Bitcoin & Digital Assets
About this event
Zoom Link:
CSUN's Nazarian College presents the third and final event as part of our Entrepreneurship Speaker Series, a virtual panel on Bitcoin & Digital Assets.
In a span of 13 years, Bitcoin has grown from a fringe, obscure project to a $350B asset with a vibrant community and arguably increasing geopolitical significance. Advocates see it as a new form of money and the underpinnings of a technology-enabled, trustless, and neutral financial system, while others consider it a ponzi scheme or simply a passing fad.
Through this discussion, we will examine Bitcoin with an entrepreneurship lens: what is the problem it solves, who is the target market, how does it compete, and how does it scale? Joining us for the discussion are three very successful professionals in the space with a deep understanding of this emerging technology.
Event is free to attend and open to the community. Please bring your questions!
Speaker bios:
LISA HOUGH | Head of Business Development @ LevelField Financial
Lisa is frequently called on by executive teams, leadership forums, finance and energy conferences, and civic groups to help others build an informed thesis on bitcoin. She brings a keen understanding of cross-market dynamics developed during a decade in trading and risk management at energy trading and marketing organizations, including Enron and PG&E Corp.
LISA FRIEDRICH | Senior Director, Growth @ Earnity
Lisa is a seasoned financial services and investment professional heading up Growth at Earnity, a new way to exchange, manage security, earn, and learn about crypto. She also co-created the "Bitcoin Sundays" weekly Happy Hour in Los Angeles, which currently has over 300 members.
TERRENCE YANG | Managing Director @ Swan Private
An investment banking and global markets veteran, Terrence joined Swan in 2021 as Managing Director of private client services and head of retirement. In this role, Terrence helps high net worth clients understand, purchase, and custody bitcoin in their business, retirement and specialty accounts.
About CSUN Entrepreneurship
The Entrepreneurship Program at the Nazarian College complements our students' inherent energy and creativity with the skills and knowledge necessary to evaluate the feasibility of an idea and ultimately pitch, launch, and grow a new venture. Whether planning to create a business or bringing the entrepreneurial mindset to a larger organization, the program prepares students to confidently present to an audience while developing a strong action-bias and a willingness to experiment.