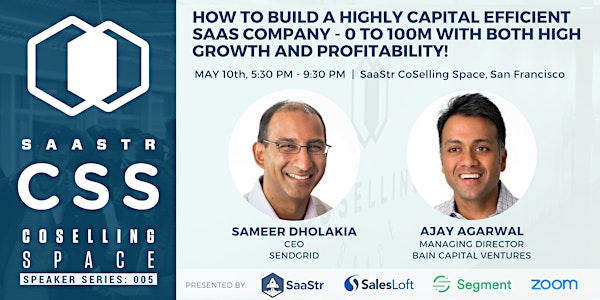 CSS Speaker Series 005: Ajay Agarwal (Bain Capital Ventures) + Sameer Dholakia (SendGrid)
When and where
Location
SaaStr CSS 350 Rhode Island Street Suite 375 South Building San Francisco, CA 94103
Refund Policy
Contact the organizer to request a refund.
Description
CSS Speaker Series 005: How to build a highly capital efficient SAAS company – 0 to 100M with both high growth and profitability!
SaaStr is excited to welcome Ajay Agarwal, Managing Director, Bain Capital Ventures and SendGrid's CEO, Sameer Dholakia to the CSS Speaker Series! They'll be sitting down for a fireside chat on May 10th at our 15,000 sq. ft. CoSelling Space to discuss how to build a highly capital efficient SAAS company!
Expect to learn how SendGrid built their inbound machine – and how your company can build and nurture a strong community of advocates. You'll also hear how Sameer helped SendGrid achieve a high growth rate without sacrificing profitability, and we'll dive into the model/strategies SendGrid implemented to achieve high net revenue retention and a low CAC.
As always, we'll save time for audience Q&A at the end!
Space is limited, so reserve your tickets today and come enjoy a cocktail (or three), snacks, high quality networking, a tour of the space, and great content from our latest CSS Speaker Series!
About our Speakers:

Ajay Agarwal, Managing Director, Bain Capital Ventures
Ajay leads the Bay Area offices for Bain Capital Ventures, where he focuses on early-stage application software and SaaS investing. Prior to joining Bain Capital Ventures in 2003, Ajay was head of sales and marketing at Trilogy, where he grew annual revenues to $300 million.
Ajay's passion is working with early-stage founders on team-building, culture, iteration of product market fit, and scaling the early go-to-market operations. His primary investment themes include commerce enablement, the revolution of the sales and marketing functions, and the use of big data, and machine learning to transform business applications.
Sameer Dholakia, CEO, SendGrid
Sameer Dholakia has over 20 years of experience in successfully bringing high growth, disruptive cloud and enterprise software solutions to market. Prior to joining SendGrid, he served as Group Vice President and General Manager of the Cloud Platforms group at Citrix, driving the company's product strategy for cloud infrastructure and server virtualization. Sameer joined the company in 2010, when Citrix acquired VMLogix, where he served as CEO and doubled revenues during each year of his tenure. Prior to that, he worked for 12 years at Trilogy, where he held key leadership roles in sales, business development and product management and helped the company grow from a start-up to a $300 million business. In Q4 2016, SendGrid raised a $33m Series D -- led by Ajay.

About the SaaStr CSS:
A unique 15,000 sq ft "CoSelling Space" in San Francisco for post-revenue SaaS startups from the SaaStr Community. We have 125 dedicated & half-time desk options in addition to 14 conference and board rooms. You can work from SaaStr HQ starting at just $450 a month!
Huge thanks to our sponsors!

Zoom unifies cloud video conferencing, simple online meetings, group messaging, and a software-defined conference room solution into one easy-to-use platform. Our solution offers the best video, audio, and wireless screen-sharing experience across Windows, Mac, Linux, Chrome OS, iOS, Android, Blackberry, Zoom Rooms, and H.323/SIP room systems. Founded in 2011, Zoom's mission is to make video and web conferencing frictionless.

Segment is the Customer Data Platform that makes the collection and unification of customer data simple. By collecting data consistently across every customer touchpoint and sending it to a variety of business applications, Segment empowers teams across your company to actually use their data. Segment is trusted by thousands of companies, including Crate&Barrel, Atlassian, HotelTonight and Instacart. For more information visit https://segment.com.

SalesLoft is helping transform companies into 'modern sales organizations'.
Their Sales Engagement Platform helps teams set and execute on a cadence of phone, email, and social communications so they can convert more target accounts into customer accounts. The platform equips sales leaders with new capabilities to test, learn and adapt to ensure they execute on the most effective selling process for their account-based approach. SalesLoft also delivers access to an ecosystem of 3rd party software products allowing teams perform all their sales engagement from one platform. The SalesLoft platform is helping sales professionals believe - in the process they're following, in the product they're selling, and in themselves - delivering a modern sales experience to their prospects and customers.