Actions and Detail Panel
CSR Certificate Program: Spring 2017
Tue, May 16, 2017, 9:00 AM – Wed, May 17, 2017, 5:00 PM EDT
Description
21st Century executives and their teams need the skills, networks, and increased expertise to achieve important CSR, sustainability, environmental, social and community impact goals while delivering value to their organization, investors and other key stakeholders. This program will give you the knowledge that you need to create impactful change in companies in a way that adds value, improves reputations, increases resiliency, decreases risk, identifies new opportunities, and differentiates to out-compete and out-impact your competitors.
The Rutgers Institute for Ethical Leadership, in partnership with the Governance & Accountability Institute, Inc., offers a two-day, deep dive into Corporate Social Responsibility (CSR) and the related fields of philanthropy, sustainability, risk management, and ethics. The certificate program will be presented Tuesday, May 16 and Wednesday, May 17, 2017, 9:00 am to 5:00 pm. On Tuesday evening there is a special networking dinner.
From our Alumni



Benefits of the Program:
Understand Key CSR / Sustainability Concepts
In this program, participants explore CSR standards, models and best practices from leaders at successful companies using sustainability to drive business and social value across their organizations and the communities. The course will dive into key concepts such as sustainability reporting, materiality, stakeholder engagement, supply chain assessments, sustainable development, and investor integration of Environmental, Social, and Governance (ESG) issues.
The participants of this certification course will walk away with knowledge in key areas of CSR / Sustainability that will enable them to increase their level of effectiveness working within corporations, non-profits, and investment firms to move the needle forward for sustainable and responsible development.
Learn From Experts
Expect real world case studies direct from experts at companies that are leading in this field such as Johnson & Johnson, Prudential, PSEG, Ecovadis, Tessy Plastics, SASB, MSCI, Cornerstone Capital and others. You will participate in group work that allow for a high level of engagement and active learning.
Network with The Leaders
You will have the opportunity to network with CSR colleagues, sustainability leaders, ESG investors, and independent experts to confer about current views in CSR practice and build a valuable network of thought leaders and funding partners. A networking dinner will take place on the first night of the event along with a continued alumni program with opportunities to engage and stay in touch well past the completion of your CSR certificate.
Featured Tuesday Night Dinner Guest

Spring 2017 Faculty and Special Guests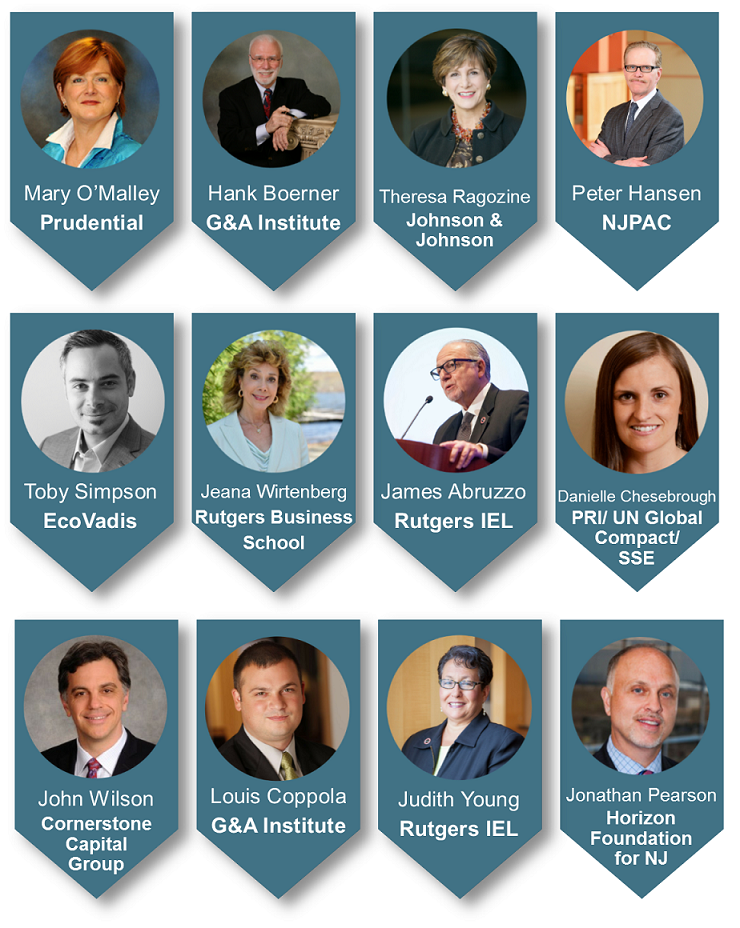 And more added daily!
Topics include:
The Ethics of Corporate Responsibility

Industry Specific Metrics and Measurements

Sustainable Development Goals

CSR Trends – Locally, Nationally and Internationally

CSR Through the Investor Lens

Materiality - Identify & Focus on Strategic ESG Issues

Supply Chain Sustainability
Who will Attend:
Leaders and Staff of corporate foundations or corporate giving programs

Corporate Professionals with responsibilities that include corporate community involvement, corporate citizenship, corporate social responsibility, community relations, employee engagement, volunteer management, public affairs, or corporate communication

CSR / Sustainability Teams or departments

Sustainable Investors

Investor Relations Professionals

Communications / Public Affairs Professionals

EHS Professionals

Individuals interested in transferring into the field
The CSR function can be located in various departments, from philanthropy to corporate sponsorship, sustainability, and sometimes directly in the chairman's office. Titles for those responsible for the function likewise are diverse.


Build your network from diverse group of practitioners, thought leaders, and peers!


Past Faculty, Guests, and Participants include Professionals from: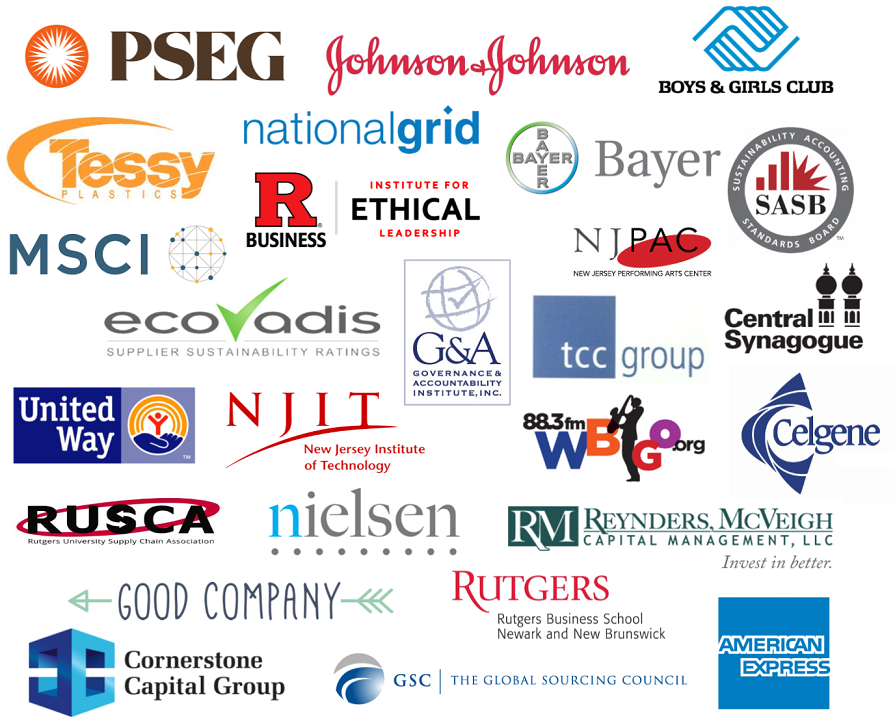 Continuing Education Units (CEU):
For interested participants, this program offers 1 general CEU credit for the 2-day program
Location:
The 2-Day Certificate Program will take place at 15 Washington Street, Newark, NJ 07102, the newly restored historic treasure at Rutgers University-Newark, complete with WiFi access. The building is minutes from major Hotels, Newark Airport, Broad Street Train Station and Newark Penn Station with access to NJ Transit and the PATH lines. The updated building is ADA compliant.
Cost

:

Included in the program cost: breakfast, lunch, Tuesday evening dinner, and course materials. Attendance will be limited so register today.



Accommodations:

Housing is not included in program costs. For out of town guests, there are numerous hotels in the area. Past participants have had good experiences staying at the Hampton Inn & Suites Newark-Harrison-Riverwalk. The hotel is located only a few minutes from the Rutgers Business School campus in Newark and provides: free shuttle service to/from Rutgers business School, ERW Airport, and Newark Penn Station; deluxe Hot buffet breakfast; parking; and Wi-Fi.
Hampton Inn & Suites Newark-Harrison-Riverwalk
Address: 100 Passaic Ave, Harrison, NJ 07029
Phone: (973) 483-1900

Call to make your reservation and ask for the Rutgers rate or click here to make reservations online, the discount will automatically be applied.
Special thanks to the CSR Certificate Program Media Sponsor

About The Institute for Ethical Leadership at Rutgers Business School:
Mission - We strengthen ethical leadership to enhance civil society.
The Rutgers Institute for Ethical Leadership, working with business, government, nonprofit and philanthropic organizations, and within Rutgers, provides leaders and future leaders with the education, training and critical-thinking tools needed to make ethical decisions. Part of a broad-based academic institution, the Institute believes that cultivating and rewarding sustainable ethical practices assist leaders to create a more powerful and successful organization. The Institute, under the direction of co-founders, Alex J. Plinio and James Abruzzo, aspires to a position that leaders, across all sectors, look to for guidance, partnership, and support. The Institute believes that ethical behavior drives good business and that legal compliance alone may fail to address the complexities of ethical conduct.
About the Governance & Accountability Institute, Inc.:
Governance & Accountability Institute, Inc. is a for-profit strategies advisor, provider of consulting services and well-respected research firm serving leaders in organizations in the corporate (private), public and social/institutional sectors.
The Institute provides corporate and investment community clients with a portfolio of integrated services and resources to help leaders identify, quantify, monitor, analyze, and manage effective approaches to address critical issues -- especially those reaching "the tipping point," when resolution of [issues] may be harder to achieve.
We are experts with long experience in risk management, corporate governance, corporate sustainability and responsibility -- and in the "ESG" strategies and performance factors that increasingly affect corporate reputation and capital markets valuation and perceptions of the enterprise. Corporate ESG perceptions can influence access to capital, cost of capital, and in the positive, shape favorable perceptions.