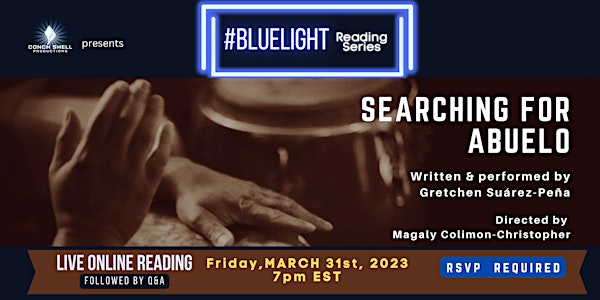 CSP #Bluelight presents: SEARCHING FOR ABUELO by Gretchen Suárez-Peña
SEARCHING FOR ABUELO One-woman show written and performed by Gretchen Suárez-Peña Directed by Magaly Colimon-Christopher
By Conch Shell Productions
Date and time
Friday, March 31 · 4 - 6pm PDT
Refund Policy
Contact the organizer to request a refund.
Eventbrite's fee is nonrefundable.
About this event
CSP #BLUELIGHT READINGS SERIES is a quarterly event featuring new works-in-progress written by Caribbean Diaspora and Caribbean writer who are members of CSP Artist Collective.
CONTENT WARNING: Mature language and subject matter.
GRETCHEN'S ARTIST STATEMENT
"My maternal grandfather died before my mother even graduated from High School. I know very little about him except that he was a bartender, and an aspiring actor and writer in New York City. In this one-act solo show, framed in the traditional Puerto Rican musical style of Bomba, I (Gretchen) put myself through the journey of figuring out who he was, who I am, and what to do about it."
About writer/performer Gretchen Suárez-Peña
Gretchen Suárez-Peña is a Puerto Rican playwright who is an MFA candidate in the Dramatic Writing program at Carnegie Mellon University School of Drama (Class of 2024). Her musical, Melina: A Steampunk Musical Tragedy was an official selection of the 2020 Atlanta Musical Theatre Festival. Other successes include winning the writer's grant and best play at the 2019 Be Original Festival for her play, Trafficked. Also, winning best full-length play at the 2018 Tampa Bay Theatre Festival for her show Conversations in the Car, and first prize for her short play, Dry Spell, at the 30 by Ninety Theatre's 2018 Night of One Acts Competition Her short play, The Arithmetic of Memory, was produced by Conch Shell Productions as part of Blue Light Series Fall 2020; and her play Moonwalker was featured in Reset Series 2021. www.gretchensuarezpena.com FB @playsbygretchen
About director Magaly Colimon-Christopher
Magaly founded Conch Shell Productions to support/showcase new works by Caribbean Diaspora & Caribbean artists who have an expanded view of reality and a passion for innovative story telling. To learn more about Magaly go to www.magalycolimon.com
About actress Lisa Negron
With a degree B.A. in Performing Arts and Musical Theatre, Lisa Negrón has almost four decades of experience on the stage, screen, and radio. She has performed, toured, written, and directed with several theme parks and theatre companies across Central Florida. By day, Lisa is an audiobook narrator with over 70 projects on her resume for such publishers as Penguin Random House and Harper Collins. She is also a voiceover talent - having worked as an event emcee for such companies as Radio Disney and the Nickelodeon Resort.
About dramaturg Jasmeene Francois
Jasmeene Francois is a Haitian-American theatre artist, storyteller, Applied Theatre Practitioner, and dramaturg from Riverside, California. She specializes in facilitating workshops centered around oral storytelling, devising, and creative writing that address home and belonging. Jasmeene is currently an instructor with The Moth Community and Education program and an adjunct lecturer at Brooklyn College.
About Conch Shell Productions
At Conch Shell Productions (CSP), our mission is to infuse new Caribbean Diaspora & Caribbean voices into the American theater and film industry. To do so, we create a space to develop, workshop and produce new plays and screenplays.
We believe that art can and should provoke social change. Our productions create an opportunity for diverse audiences to explore and celebrate the unique culturally diverse voices of our community of artists.
To learn more about us, go to www.conchshellproductions.com
This event is made possible by donations from supporters like you.