CSID's 19th Annual Conference: Authoritarianism and Democratic Decline in the Age of Sectarianism and Populism

Thursday, April 26, 2018 from 8:30 AM to 5:30 PM (EDT)
Event Details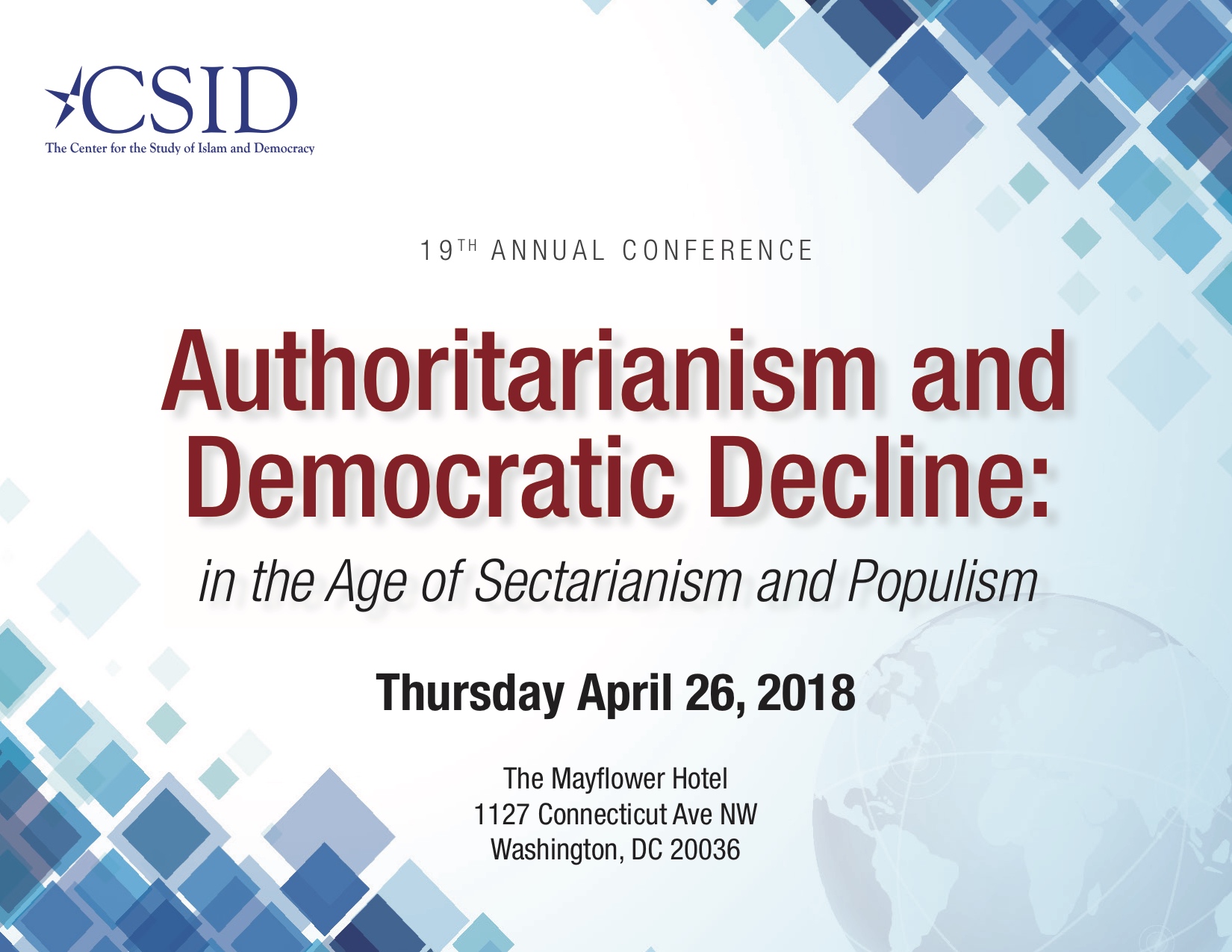 The Center for the Study of Islam & Democracy
19th Annual Conference


Authoritarianism and Democratic Decline:
In the Age of Sectarianism and Populism



Thursday April 26, 2018
The Mayflower Hotel
1127 Connecticut Ave NW
Washington, DC 20036



FINAL PROGRAM

8:30 - 9:00  Registration

9:00 - 9:15 am Opening Remarks

Asma Afsaruddin
Chair of the Board of Directors, CSID
Professor, Department of Near Eastern Languages & Cultures
Indiana University
Nader Hashemi
Chair of the Program Committee and Director, of the
 Center for Middle East Studies,
University of Denver


9:15 - 10:30 AM - PANEL 1:

Egypt and the Contradictions of Liberalism


Moderator: Dalia Fahmy, Associate professor of political science, LIU Brooklyn
- Daanish Faruqi, Visiting Scholar, Center for the Study of Genocide
 and Human Rights, Rutgers University

- Andrew Miller, Deputy Director for Policy, The Project on Middle East Democracy (POMED)

- Amy Austin Holmes, Associate Professor of Sociology at American University in Cairo and fellow at the Woodrow Wilson International Center for Scholars

- Mohamed Elmenshawy, Columnist for Al Shorouk News and contributor for mei.edu.

 
10:30 - 11:00 AM   Coffee and tea break



 11:00 - 12:00 PM - PANEL 2:

Piety or Politics? Interpreting the Iran-Saudi
Rivalry and the Rise of Sectarianism.


Moderator: Nader Hashemi, Director, The Center for Middle East Studies, University of Denver

- Hussein Ibish, Senior Resident Scholar, Arab Gulf States Institute in Washington (AGSIW)

- Trita Parsi, President, The National Iranian American Council
- Mujeeb R. Khan, Ph.D candidate in the Dept of Political Science, UC Berkeley.




12:00 - 2:00 PM - Keynote Luncheon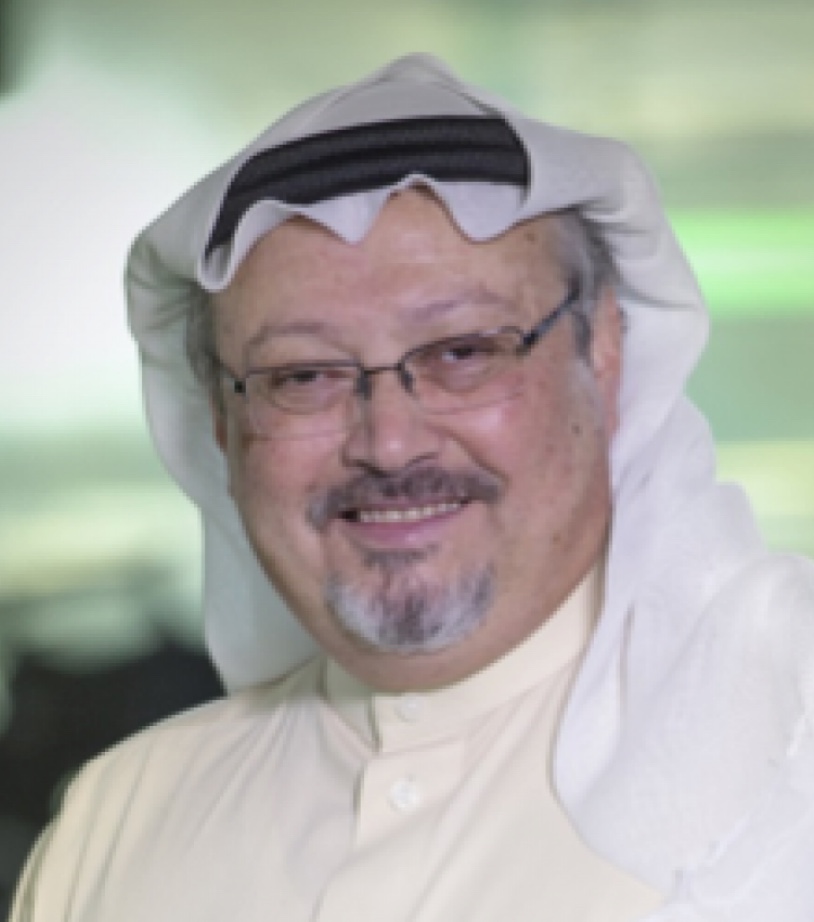 Keynote Speaker:

Jamal Khashoggi

Saudi journalist, columnist, and author


Why the Arab World Needs Democracy…

 Now, more than ever?


Keynote Panel:

Where is Turkey Headed?
-
Assessing the State of Democracy in Turkey



Moderator:  Asma Afsaruddin, Professor of Near Eastern Languages and
Cultures at Indiana University

Harun Armağan
Vice Chair of Human Rights at the AK Party

Kemal Kirisci
Senior Fellow and Director, Turkey Project, Brookings Institution

Gonul Tol
Director of Center for Turkish Studies, at The Middle East Institute



2:00 - 3:30 PM  - PANEL 3 -

Challenges to Democratic Consolidation in Tunisia


Moderator:  Radwan A. Masmoudi, President of the Center for the Study of
Islam & Democracy


- Oussama Sghaier, Member of the Tunisian Parliament and Member of the Political Bureau, Ennahdha Party

- Khaled Chouket, Member of Executive Committee of Nidaa Tounes

- Andrew March, Fellow, Safra Center for Ethics, Harvard University

- Eric Brown, Senior Fellow, Hudson Institute

3:30 - 4:00 PM   Coffee and tea break


4:00 - 5:00 PM  - PANEL 4 - Parallel Sessions:

 U.S. foreign policy, Neoliberalism, and the Pact Theory


Moderator:  Qamar-ul Huda, Director of Security & Violent Extremism,
Center for Global Policy


- Dalia Fahmy, "In Flux: U.S.-Egypt Strategic Interests and Military Relations post-Arab Spring",

- Colin Powers, "Democratization Imperiled? Stubborn Neoliberalism in Tunisia and the Dangers Therein"

- Deina Abdelkader, "Democratic Transitions: Are There Recipes for Success?"



 -  Islamic Politics, Populism, and Coalition Building

Moderator: Mustafa Gurbuz, Non-resident Fellow, Arab Center Washington DC


- Emrah Celik, "Power and Islam in Turkey: The Relationship Between AKP Government and Sunni-Islamic Groups, 2002-2015."

- Shirin Saeidi, "A Sovereignty of Pleasure: Hardship, Religion and the Politics of Statecraft in Post-2009 Iran,"

- M. Tahir Kilavuz, "Once Allies, Always Allies: How Coalition Building Under Authoritarianism Shape Democratic Transitions in the MENA,"

5:00 - 5:15 pm  -  Closing Remarks
Radwan A. Masmoudi
Founder and President
Center for the Study of Islam & Democracy



Co-Sponsored by:


Have questions about CSID's 19th Annual Conference: Authoritarianism and Democratic Decline in the Age of Sectarianism and Populism?
Contact CSID
When & Where

The Mayflower Hotel, Autograph Collection
1127 Connecticut Avenue Northwest
Washington, DC 20036


Thursday, April 26, 2018 from 8:30 AM to 5:30 PM (EDT)
Add to my calendar