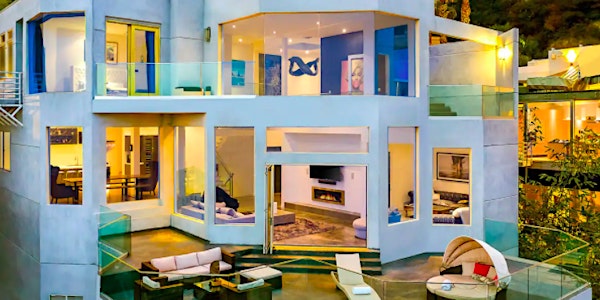 CRYPTO MONEY MANSION | NFTxLA
Purchasing a VIP ticket to this event comes with an exclusive limited edition NFT LA x Lil Bitcoin NFT & an unreleased song by Lil Bitcoin.
By NFT Distribution Company
Date and time
March 29, 2022 · 4:30pm - March 30, 2022 · 12am PDT
Refund Policy
Contact the organizer to request a refund.
Eventbrite's fee is nonrefundable.
About this event
LIL BITCOIN | BITCOIN WINE | NFTDCINC
PLEASE DM @NFTDCINC WITH YOUR WALLET ADDRESS. AFTER VERIFYING THAT YOU ARE A HOLDER WE WILL SEND YOU A PROMO CODE TO REDEEM YOUR FREE TICKET.
*PARKING IS RESTRICTED. UBER ONLY.
Who's ready for NFTxLA!?
NFTxNYC was a dream. Art Basel in Miami was a vibe. But, NFTxLA is here in our backyard & gonna be a movie.
Are you ready to kick off the first annual NFTxLA with us? Are you ready to write history together?
Join us at Lil Bitcoins Crypto Money Mansion--a $7 million 6,500 sq ft Hollywood Hills sanctuary. This estate truly represents the essence of the Hollywood Hills and truly defines the term "Wen Lambo".
Crazy views of DTLA all the way down to the South Bay. The location is 10 minutes into The Hills, decorated with high end art and has a full movie theatre where we will be premiering an NFT collection & music video by by Danny Wolf featuring one of the greatest musical artists of our time. This premier will go down as one of the most monumental moments in NFT history.
If you're new here; welcome to the LA community. Welcome to NFTs.
If you've been around for awhile; welcome back. Let's ape around a bit.
Let's talk about Web3 & the metaverse. Let's talk about what projects we're involved with & what projects we've currently aped into. Let's discuss where we think crypto is headed & what's next in the NFT space. Let's teach each other new things. Let's talk about blockchain & smart contracts. Let's talk about devs. Let's talk & act like degens. Let's network & socialize. Let's share our art & ideas. Let's support each other & build each other up. Let's reminisce. Let's make new memories. Let's talk rug pulls & floor prices. Let's buy some NFTs. Let's talk about money. But, most importantly, let's make new frens & make history together.
*PARKING IS RESTRICTED. UBER ONLY.
The event will include:
*An official event schedule with set times will be sent to you after purchasing your ticket.
Security (No Rugging)
POAP (Crypto Money Mansion NFTxLA)
Raffle & Giveaways (Included With VIP Tickets)
Panel Discussion (With Sponsors)
Danny Wolf NFT Collection & Music Video Premier (Main Event)
DJ
Live Art (By MannyLinx)
Art Displays (By Featured Artists)
Art Auction (By MannyLinx)
Bar (Included With VIP Tickets)
Food (Included With VIP Tickets)
Videographer (Let's Make a Movie)
Photographer (Say Cheese)
"Phygital" Scavenger Hunt (Physical & Digital)
NFT Pool Tournament (Bet your NFTs)
Live Performances (Special Guests TBA)
Bitcoin Wine Tasting
Lil Bitcoin Freestyle Rap Cypher
Jacuzzi (Bring a Swimsuit )
WELCOME TO THE CRYPTO MONEY MANSION
Presented by:
NFT DISTRIBUTION COMPANY, INC.
@NFTDCINC | https://nftdcinc.com
NFT Distribution Company, Inc. (NFTDC,Inc.) is a community driven corporation focusing on the curation of NFT artists and emerging companies into the NFT space.
Sponsored by:
WNDR
@drinkwndr | https://drinkwndr.com
wndr is building a web3 native community for people who think differently, have a thirst for adventure, and strive to disrupt the status quo. Rather than starting with a product and building a community around it, we're doing it the other way around - our community is at the heart of everything we do. wndr is not a brand you buy, but rather a community to join - redefining the way people related to brands in the first place. 
Art Displayed by:
BITCOIN WINE
@BitcoinWineNFT | https://bitcoinwine.co
Bitcoin Wine is a collection of 10,000 real bottle of luxury imported Italian wine paired with 10,000 digital assets on the Ethereum Blockchain acting as a membership to the exclusive Bitcoin Wine Club. Members also retain automatic whitelisting for all future NFT projects released by NFT Distribution Company, Inc.
LIL BITCOIN
@LILBITCOINCMR | https://lilbitcoin.com
Lil Bitcoin is the first decentralized avatar artist to break into the music industry as an NFT, and is the first artist to be signed to the first ever Metalabel known as Crypto Money Records.
TILLAVISION
@TillaVision | https://www.tillavision.com
Matt Pentilla, aka Tillavision is one of the most respected members in the NFT space and one of the top 3D animators in the game. Tilla has worked and created NFTs for: Death Row Records, Cypress Hill, WorldStarHipHop, Mitch Mula, Lil Bitcoin, Bitcoin Wine, Swaelee, Too Short, Chieff Keef, Coinfield, Jake Paul, Kaash Paige, Lil Wayne, and many more.
H+ CREATIVE
@hplus_creative | https://www.hpluscreative.com
H+ Creative is an artist representation firm and visual services studio, focused on the future of creative media through vibrantly executed imagery.
PARTYANIMALZ
@PASSNFT | https://www.partyanimalz.io
The Party Animalz Speakeasy Society (PASS) is a collaborative community of some of the most well known creators, artists, entrepreneurs, and explorers in the space brought together to build the bridges between the metaverse and IRL brands, experiences, companies and opportunities.
LITTLE ANDY
@LittleAndyNFT | https://ownerfy.com/LITTLEANDY
LittleAndyWorld is an inclusive series of NFTS powered by OWNERFY and ADOR, which features animated and hand drawn artworks including a Generative PFP drop inspired by Images by artist/ photographer @KarenBystedt aka KB NFT QUEEN 👑 creator of The Lost Warhols of Andy Warhol, Brad Pitt, Keanu Reeves and Johnny Depp. Along with amazing art, unique Utilities and web3 gamification are planned for this project.
Z-HOVAK x RAW ROLLING PAPERS
@ZHOVAK | @RAWLIFE247 | https://resite.link/Z-HOVAK | https://rawthentic.com
Z-HOVAK is a quantum Pop Artist creating NFT collections centered around her character "C1P-369". This is the spirit of her dog Copper who she met in a meditation during a time when her pup was on his way to the next dimension. On their journey together through the quantum they met RAW. Since day 1, RAW has been on a mission to be the leader of the pack in the rolling paper industry. RAW revolutionized the smoking world by creating products that are naturally ingeniously designed to enhance the smoking experience. Together, as all their souls dance with one another, a collaboration has formed, and Z-HOVAK is officially RAWs first NFT artist.
Live Art by:
MANNYLINX
@MannyLinx | https://opensea.io/collection/artbymannylinx
MannyLinx is a multidisciplinary artist based in Los Angeles, California whose work is all about emotion and balance. In 2021 he leaped into the uncharted NFT space experimenting with new mediums of creation and now MannyLinx is bridging the physical art space and digital blockchain worlds together with a unique collection of NFTs and original paintings. At the same time still curating events, doing murals and live art.
Live DJ Set by:
LIL BITCOIN
@LILBITCOINCMR | https://lilbitcoin.com
THE METAVERSE IS MY TURF
Event Productions by:
AESTHEITCS PRODUCTIONS
@AestheticsProductions | https://www.aestheticsproductions.com
Event Production | Marketing | Talent Booking
See you at the mansion.
*PARKING IS RESTRICTED. UBER ONLY.