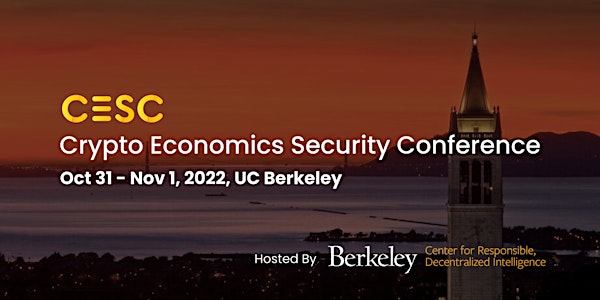 Crypto Economics Security Conference (CESC)
CESC aims to bring together researchers and practitioners to showcase & discuss the most recent developments in blockchain and Web3.
When and where
Location
CESC will be at Pauley Ballrooms of MLK Jr Bldg, University of California, Berkeley 2455 Bancroft Way Berkeley, CA 94704
About this event
The Crypto Economics Security Conference at UC Berkeley: October 31 - November 1, 2022
The Crypto Economics Security Conference (CESC) returns to in-person this fall at UC Berkeley. Past CESC events have attracted over 600 participants.
Over 170 papers were submitted by researchers and practitioners; we invite all to attend.
Attend in-person or online - registration is required for either. In-person space is limited.
All events will be livestreamed on our RDI YouTube - see the playlists here!
CESC.io also now includes the Zero-Knowledge Proof Workshop that aims to gather researchers, students, practitioners, and entrepreneurs in academia and industry interested in the design of zero-knowledge proofs and their applications in blockchain and web3. The workshop aims to provide an overview of the state-of-the-art development of ZKPs and discuss current deployment of ZKPs in various blockchain applications and to highlight specific challenges and open problems that arise in these settings.
CESC main conference will include paper presentations & poster sessions. Affiliated events include Blockchain/Web3 career fair, and the Berkeley Blockchain Xcelerator Demo Day. Presentations will also be live streamed - see the playlists here!
More details can be found below and at CESC.io. Join us!
Hosted by Berkeley RDI, a multi-disciplinary campus-wide center, focusing on advancing the science, technology and education of web3, decentralization and empowering of a responsible digital economy, with three core pillars: research, education, and community / entrepreneurship.
IF YOU REQUIRE ACCESSABILITY ACCOMODATIONS FOR ATTENDING, please submit your request by 10/15/22 at rdi_events@berkeley.edu with your planned dates of attendance. Thank you.
Register to confirm your spot!
Registration for CESC will be free, and attendees will be awarded an NFT for participating.
Conference presentations will be live streamed as well - select virtual attendance for your ticket!
Papers - Over 170 Submissions - Schedule of Speakers Posted on CESC.io
Paper topics may include but are not limited to:
Crypto Economics
Security and Privacy
Scalability
Decentralized Finance (DeFi)
Decentralized Autonomous Organization (DAO) and Decentralized Governance
Decentralized Identity and Data Sovereignty
Other topics including societal impact on decentralization technologies, decentralized intelligence, responsible innovation, etc. are also encouraged.

CESC Affiliated Events
Other events during CESC:


Full Schedule To Be Announced