Location
Canary Wharf
London
E14
United Kingdom
Description
Register for
Crypto 2.0 Technical Workshop on Blockchain - Distributed Ledgers, DAOs & Smart Contracts
http://fintechstormtechblockchainoct2016.eventbrite.com
In continued tradition of our stupendously successful Blockchain Storm Series
Crypto 2.0 - Distributed Ledgers , DAOs & Smart Contracts
A Full Day Technical Workshop for Developers
Blockchain & Java, Python, Oracle , Nodejs, Vagrant , Virtual Box etc..
2 years of .. Fintech Storm
https://www.youtube.com/CKJTNSYo7Bo
17 October 2016
Enlightening, Thought-Provoking, Inspirational
What will you do this Autumn to boost your skills and wealth-creation ability ?
So you reckon Blockchain is Big!
You have attended plenty conferences, seminars and meetups on Blockchain to pull off a conversation on Distributed Ledgers, Consensus, Trust less mechanism, Proof of Work, Proof of stake etc..
You know all about how Blockchain is revolutionising the thinking of Bankers across the globe.
You know the hundreds of millions of dollars already chasing the fintech startups focused on Blockchain.
But, you are not sure how to create a decentralised application.
You have had enough of theory, and now you want deep technical knowledge.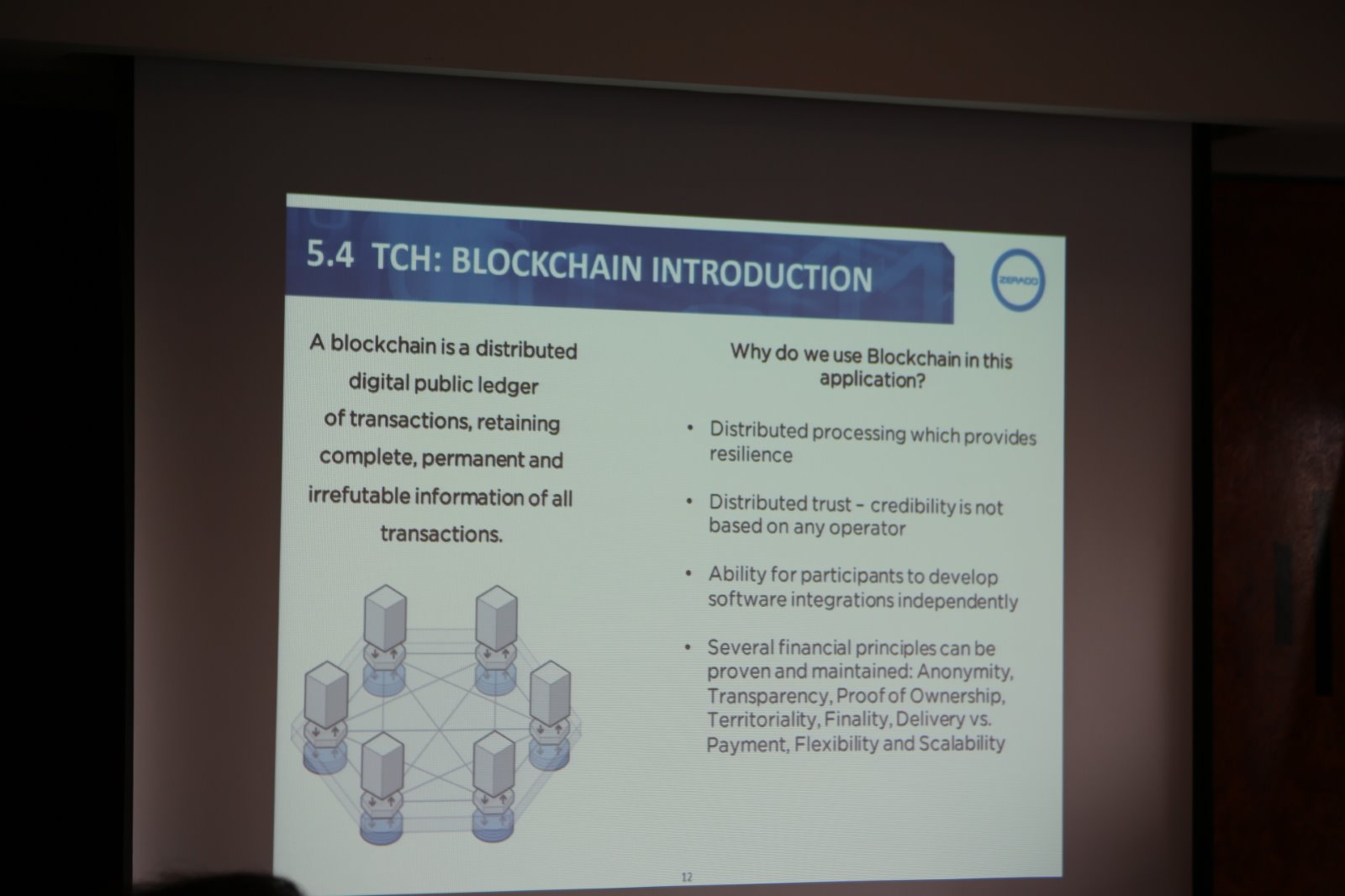 You have come to the right place!
Fintech Storm is committed to excellence in knowledge-sharing, training, networking and building the eco-system of next generation wealth-creators around the globe!
We have recognised Blockchain as the next big thing that will create the most employment and highest paying jobs of the next decade and chosen Blockchain as one of our focus areas for training in Europe & India.
Blockchain 101 - A Technical Workshop for Developers, Founders
We have invited the most talented Blockchain inventors to give practical training to other developers.
We hosted a fantastic Hands-on Blockchain workshop on 5 Sep 2016 in London!
Going by the feedback, the full house of 40 developer attendees enjoyed the rare technical knowledge they acquired on 5 September.
In the interest of open source movement and taking the entire developer force along in this exciting blockchain journey, we are committed to doing more!
Register here:
http://fintechstormtechblockchainoct2016.eventbrite.com
Time : 9:00am to 6:00pm 17 October 2016
Lunch: 1:00pm - 2:00pm at St Katherine Docks
Venue: Canary Wharf
Details will be shared with registered attendees
Topics Covered
- What is Crypto 2.0
- How does Blockchain change everything we know about Financial Services Infrastructure?
- Smart contracts
- How to write a Smart Contract
- What is a DAO? How does a DAP work in practise?
- How to create Applications using Coloured Coins?
- What are side chains ?
- How to develop decentralised applications ?
- How to leverage data into Smart Contracts via Oracles ?
- Real-life applications, which problems were actually solved by applying Blockchain Technology
- Scalability issues
- Demo of several real-life Crypto 2.0 projects
- Overview of Distributed Ledger Tehhnologies : Hyperledger, Multichain, Bigchain, Coloured Coins etc
To begin with, see definition of Smart Contract here :
Trainer 1
Flavien Charlon (TBC)
CEO & Founder, Coinprism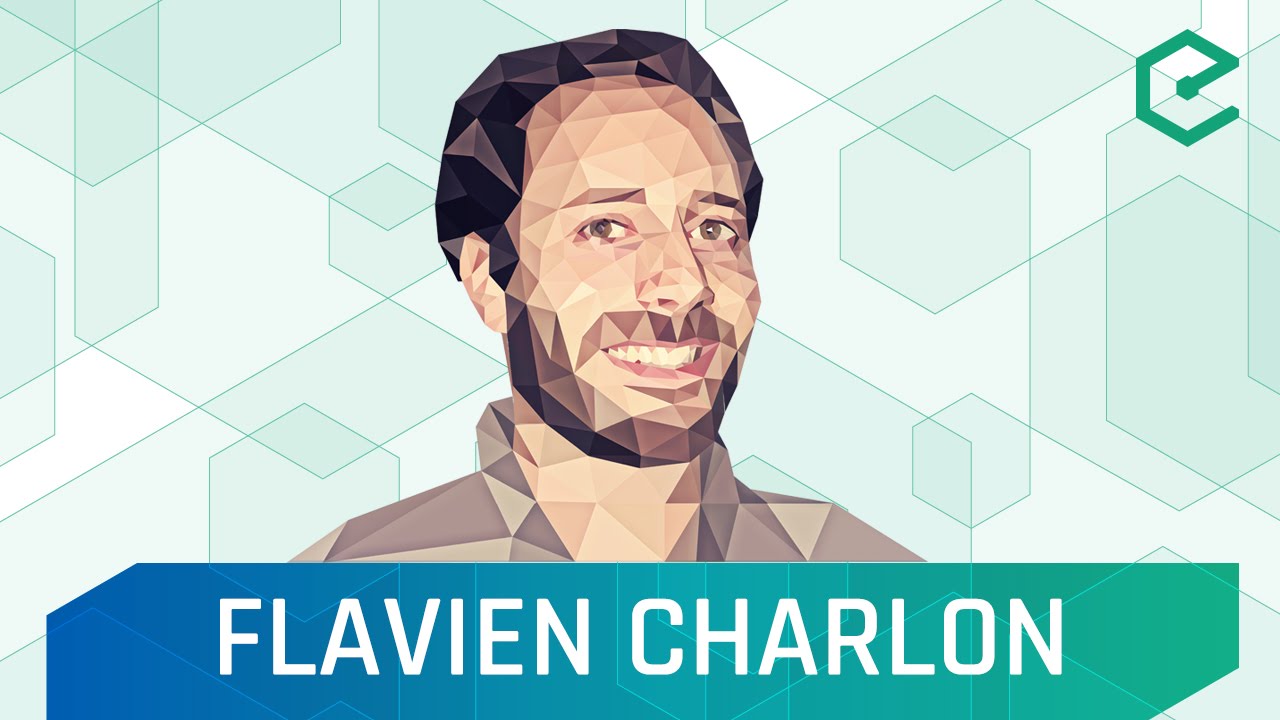 Flavien is the founder of Coinprism, a Blockchain technology startup, and author of the Open Assets Protocol. The Open Assets Protocol allows organizations to securely issue and trade real-world assets like commodities, securities, currencies and smart properties on the bitcoin Blockchain. It is now used by NASDAQ, Overstock, Gyft and several other large organizations. Flavien has 8 years of software engineering experience at Microsoft. He is a graduate of Ecole Centrale Lyon, France, where he received an Msc. in Engineering. Coinprism recently won the global Startup Challenge hosted by the Bitcoin Foundation in May 2014, and is backed by Tim Draper and Boost VC, the Blockchain startup accelerator program.
Trainer 2
Dr. Dimitri De Jonghe is a full-stack blockchain developer with a passion for the internet of value.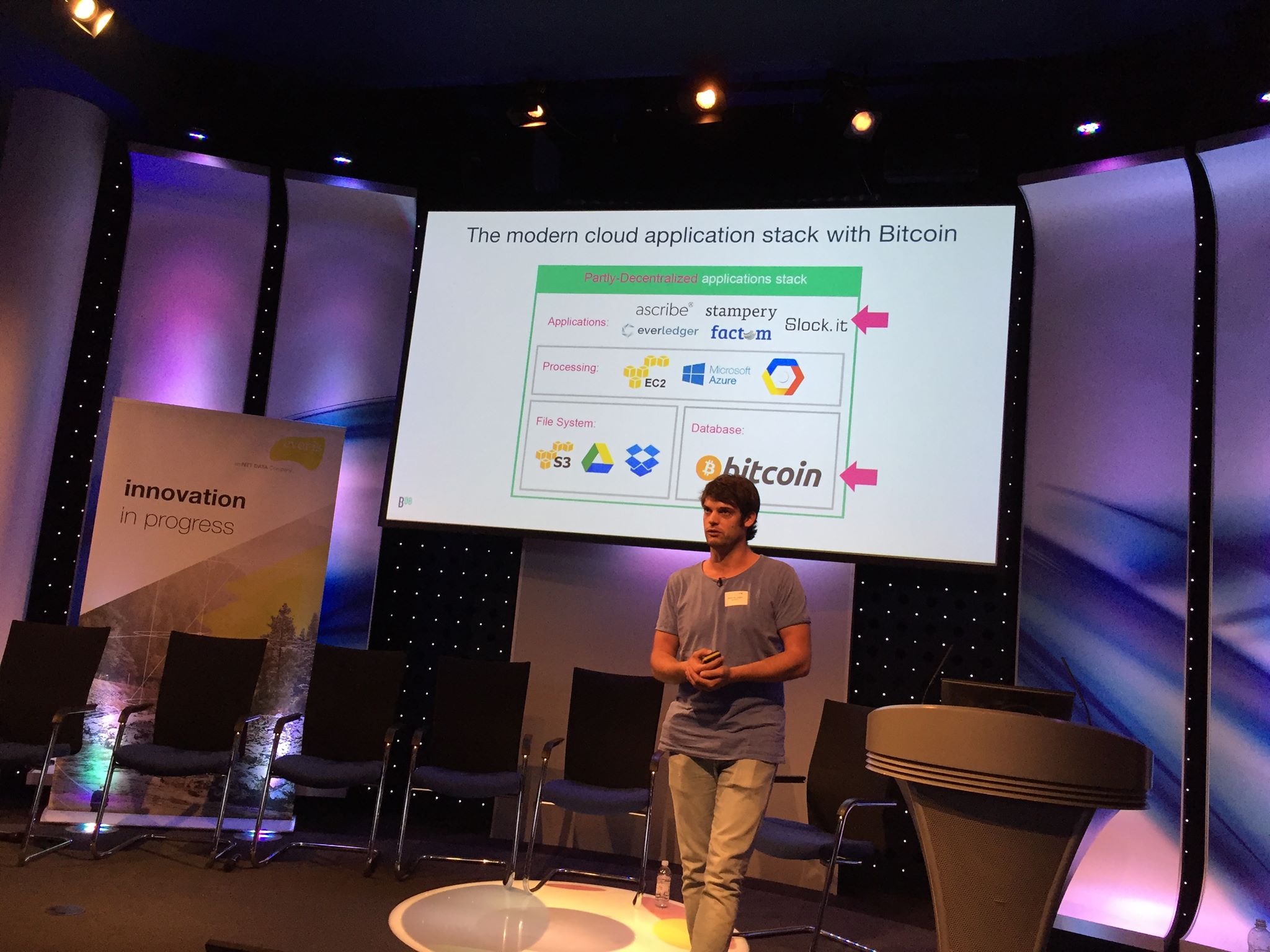 Dr Dimitri De Jonghe co-invented SPOOL, one of the first protocols for intellectual property on the bitcoin blockchain. Having traversed the engineering space from the electron level at analog nanometer transistors to cloud platforms, Dimitri has in-depth knowledge about:
SPICE, VHDL, assembly, micro-C, C, C++, Java, Python, NodeJS, Javascript ES6, Postgres, MongoDB, Decentralized and distributed systems, PAXOS, RAFT, cryptography and so on.
After finishing his PhD on applied machine learning to micro-electronics, he co-founded 2 startups in the machine-learning space.
Currently, Dimitri is working as a full-stack engineer on BigchainDB, merging big data with blockchain. He is also a co-chair of the W3C Interledger community, a protocol for connecting blockchains. Here he works on the core protocol and co-developed cryptoconditions, a verifiable alternative to smart contracts.
Trainer 3
Jerome Rousselot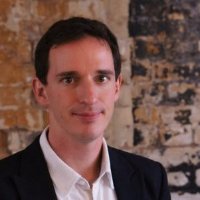 Jerome is the founder of Mycelium Wallet and is a databases, distributed ledgers, cryptocurrencies and computer security expert. Jerome was formerly technical lead at Marvell Technology, for digital television and smartphones. Jerome obtained his PhD in wireless communications at EPFL, Lausanne, Switzerland.
Stephen Diehl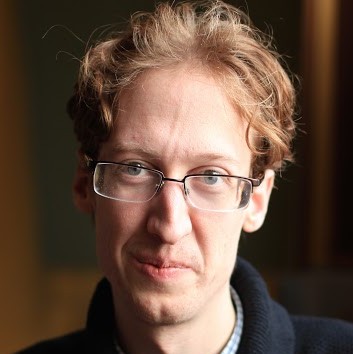 Stephen Diehl is a expert software developer and functional programming industry leader with over seven years experience in financial technology, high-assurance software and compiler architecture. He spent several years consulting at Continuum Analytics whose clientielle includes major Wall Street banks, and on the founding team of several fintech startups. Stephen holds a BS in Physics. Stephen is a reknowned author of Write You a Haskell. Stephen's domain of expertise is at the precise intersection of the fields required to bring the next generation of smart contract solutions to fruition.
Workshop Guest Speaker Mr Eddy Travia, CEO Coinsilium
Below is an image of Eddy Travia speaking at Fintech Storm London April 2016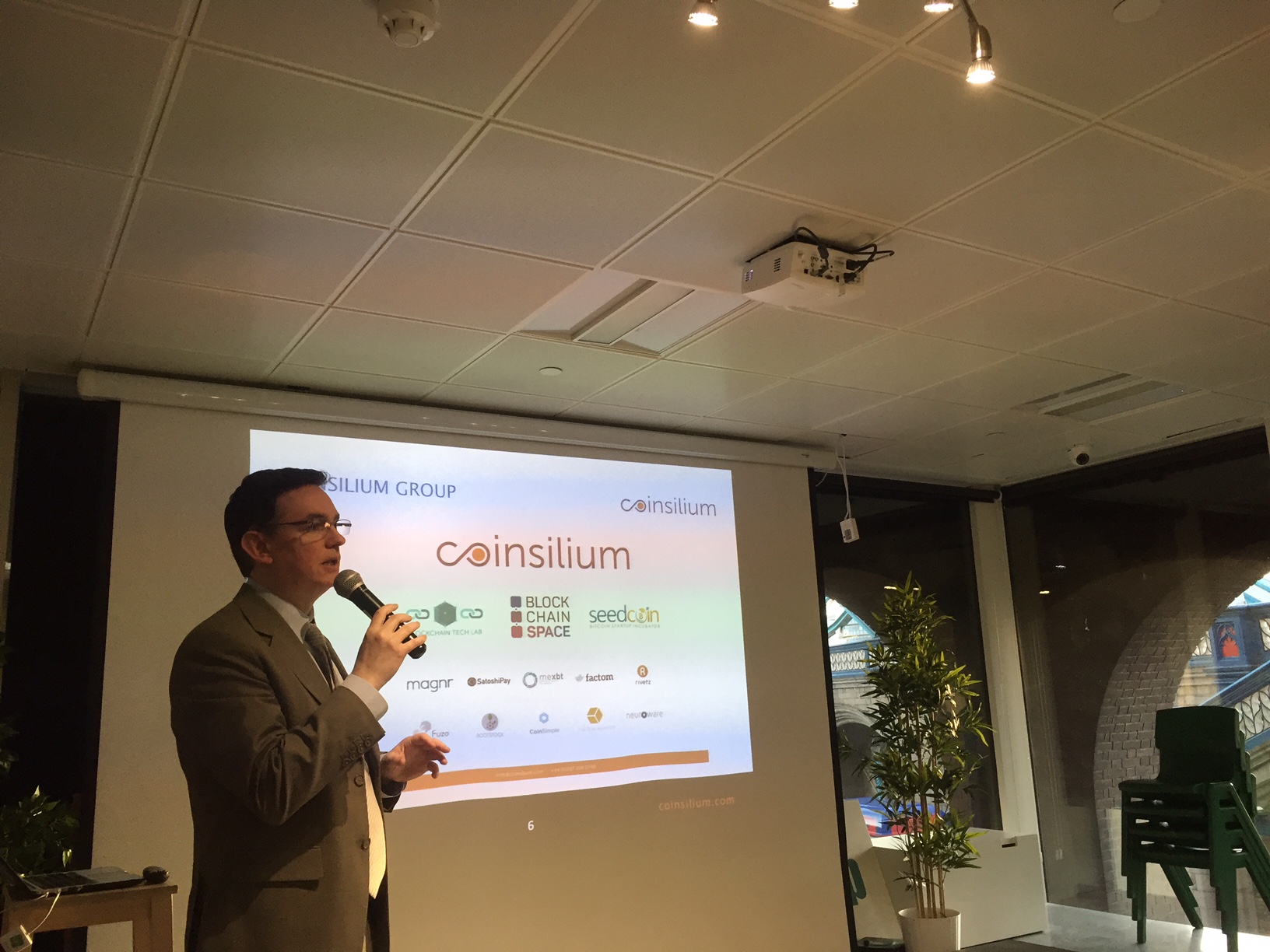 Eddy Travia is a pioneer investor in blockchain technologies and the co-founder & CEO of Coinsilium, the first London-quoted blockchain investment firm. In 2013, following nine years as a private equity fund manager in Greater China, Eddy co-founded Seedcoin, the world's first global incubator of digital currency startups, and was recognized a year later as one of the 'Top 3 Most Influential Investors' in Blockchain along with Marc Andreessen and Roger Ver at the Blockchain Awards 2014 in Amsterdam. Eddy has led investments in more than 16 cutting-edge blockchain startups world-wide including Factom, RSK Labs, Magnr and SatoshiPay. He is also the co-founder of Block Chain Space, the first blockchain startup accelerator in Europe which launched in February 2016 in Barcelona.
Workshop Guest Speaker, Ms Arifa Khan, Founder Zero Field Labs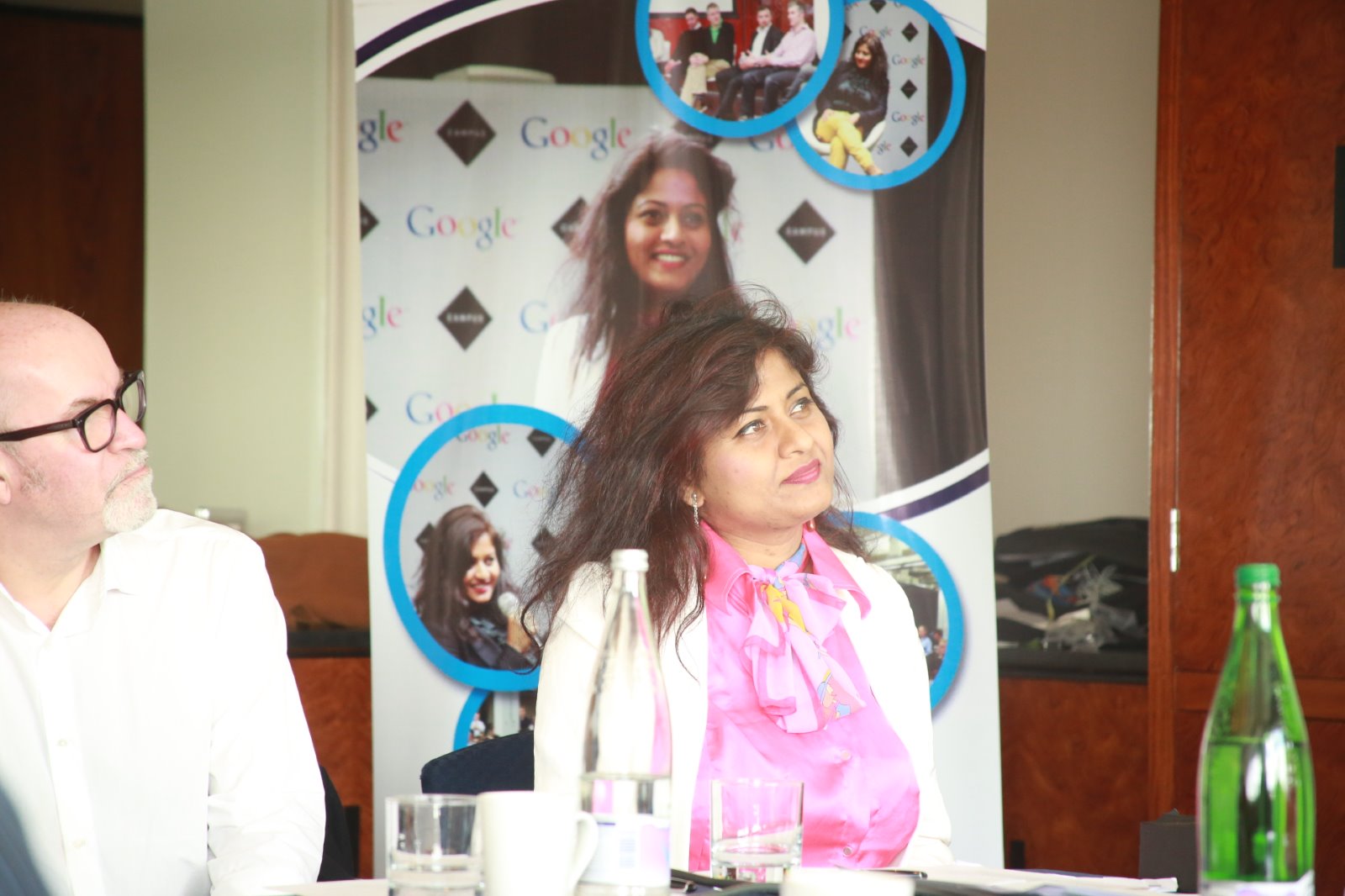 Arifa Khan is a London based Fintech expert, a seasoned Banking & finance, strategy and operations executive, with over 15 years experience in Investment banking, Leveraged Finance/ Financial Sponsors Coverage/ Debt Products & Credit. She has worked with two suisse banks Credit Suisse & UBS, which honed her ability in deal origination, analysing strategic growth maps of companies, leading teams for impeccable execution. She has deep sector expertise in Banking & Financial services & Fintech, operational insights, the business acumen to forge big strategic partnerships. She currently advises Government of India on infrastructure financing.
Arifa has an MBA from The Wharton School of Business, USA. She is also mathematically gifted, and has a B.Tech from IIT Madras in Chem Engg. She is a Fintech evangelist. Her profile features in Femtech Leaders. (http://www.femtechleaders.com/europe/arifa-khan/ ) Here is what Londoners say: (http://www.haggerston-times.com/fintech-start-up-storm-discusses-online-payments-asks-if-banks-are-losing-ground-in-the-battle-for-financial-services/)
Arifa's latest project is setting up a Blockchain eco-system in India through a Blockchain Excellence Centre, a Blockchain Startup Accelerator, and a fund for Blockchain Startups.
Arifa is Member WhartonUK Club Committee, Founder Europe-India Conclave Series, speaker at ICBI's "Payments International 2015" and an acclaimed painter.
Which companies should showcase at this Forum?
Any company that wants to attract top notch developer talent
Any company that supports the Blockchain eco-system
Any company that wants to adopt the latest and cutting-edge technology & innovation
Any company that wants to get exposure in European and Indian fintech ecosystem through Fintech Storm's vast networks
A company that wants a platform for dialog with the community of smart contract developers, founders
Who Should Attend?
Anyone who is interested to learn :
More about the applications of Blockchain
The latest advances in distributed ledger technologies
How can distributed ledgers solve real word probelms
Technical challenges in coding
How the applications exist and operate in the real-world
The impact of these applications upon businesses and professions

Typical attendee profile
• Founders & Entrepreneurs
• Bitcoin & Blockchain companies that want to showcase at this event
• Developers
• Startups looking to hire Blockchain talent
• Academic Researchers
• IT professionals and Companies
• Strategy Consultants
• Accountants
• Legal Professionals
• Financial Professionals, IFA's
• Insurance Professionals
• Brokers, Financial Market Participants
• Journalists
We are committed to creating and connecting the Blockchain Inventor Community in Europe.
Here are some images of our recent workshops in London. Enjoy!
Come join the Blockchain Revolution !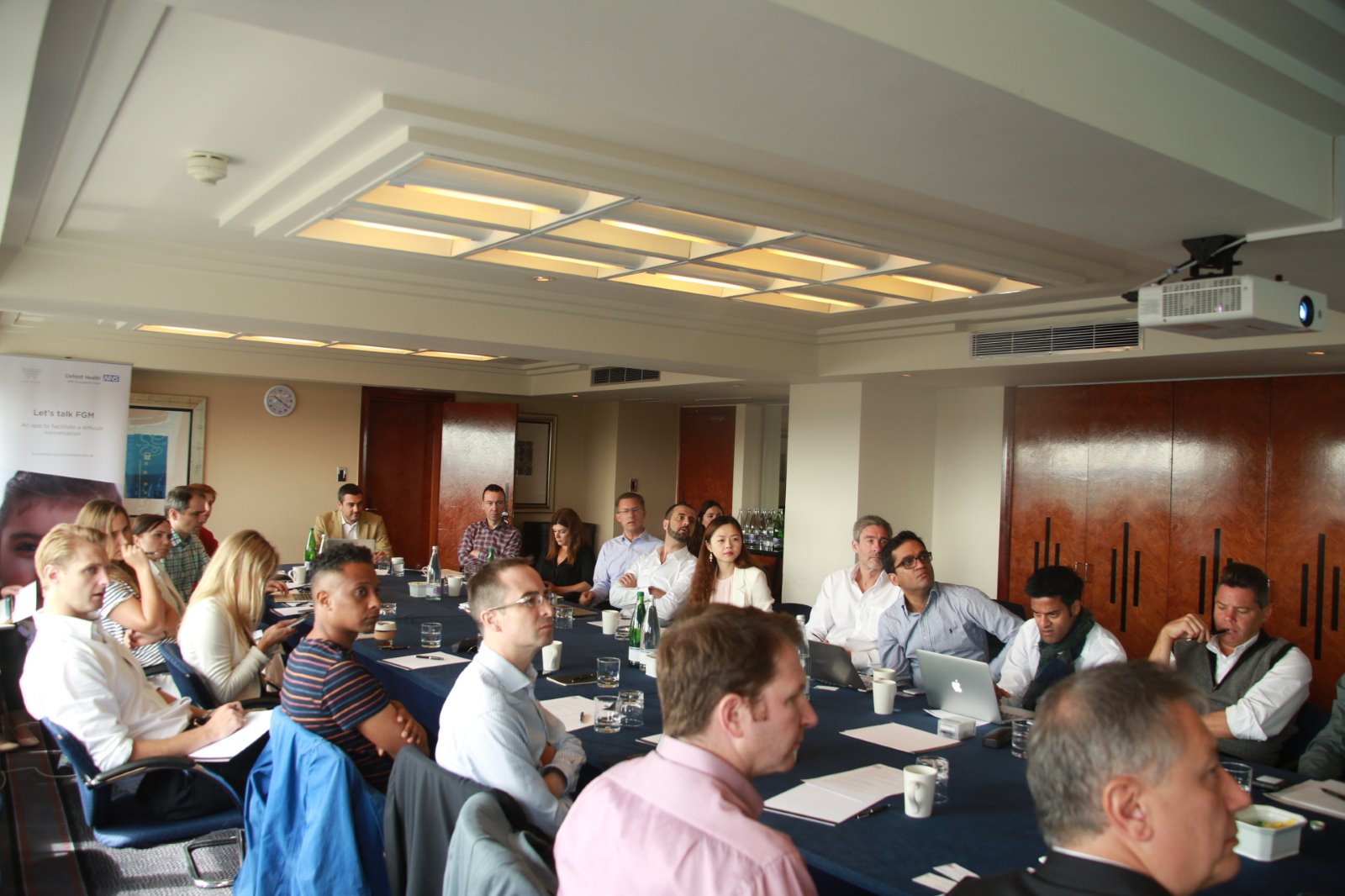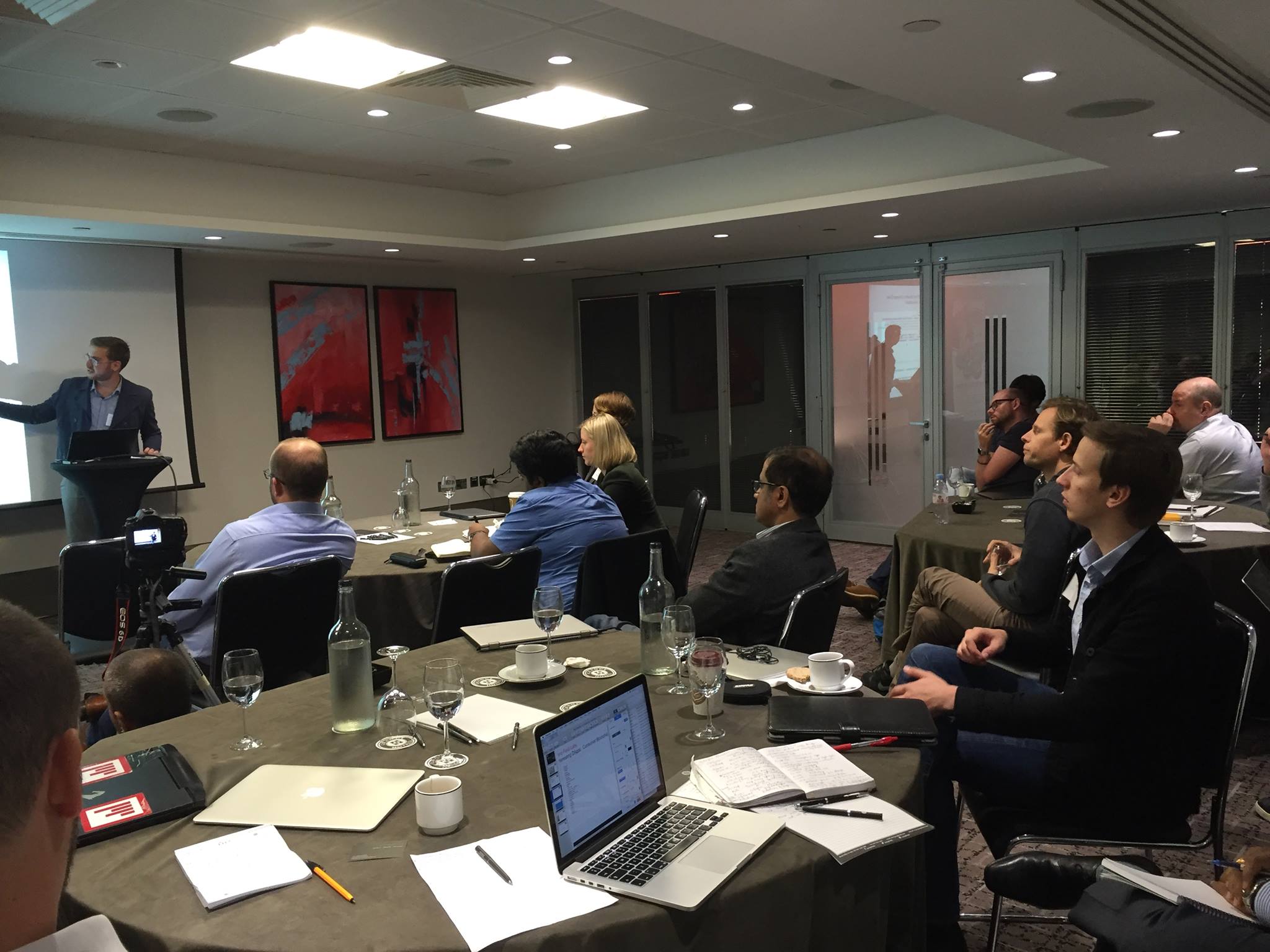 Coming Soon!
-------------------------
Blockchain Storm Geneva 30 September 2016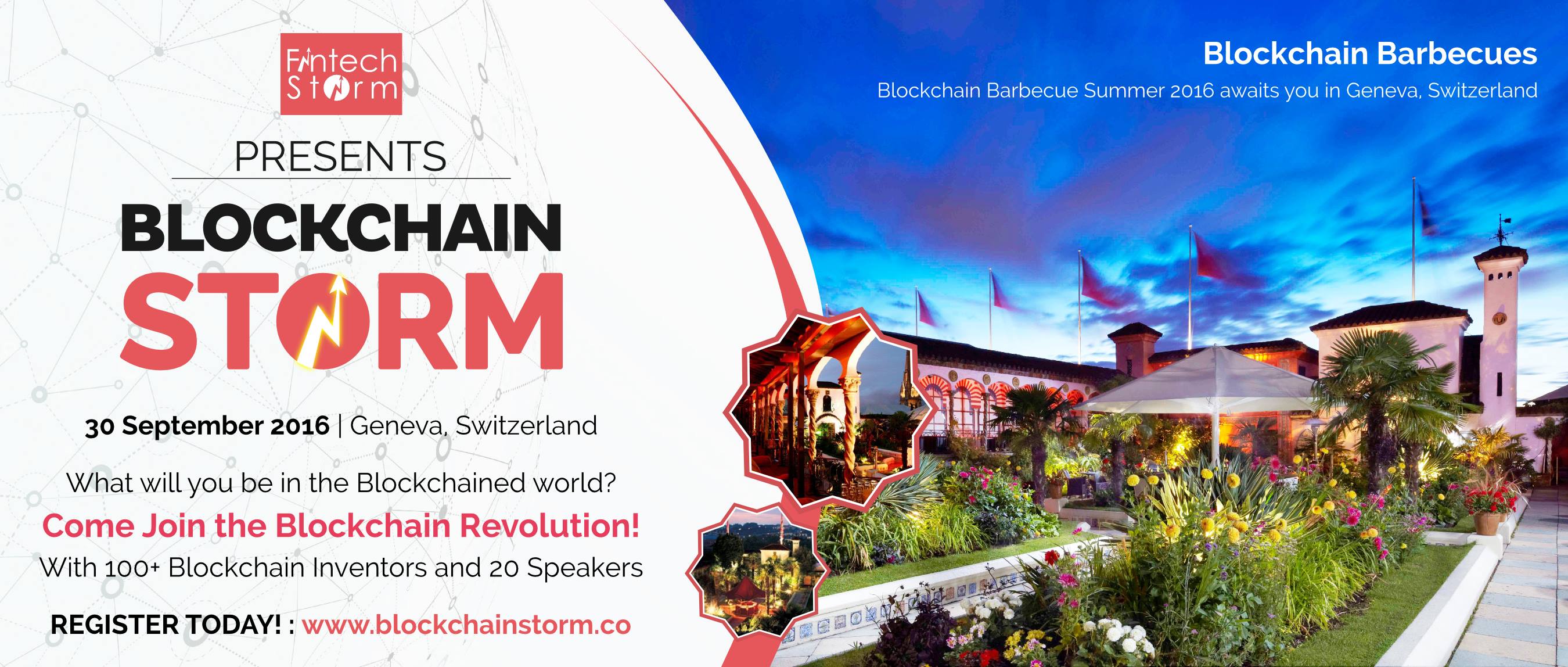 Details here: http://blockchainstorm.co
Register here http://blockchainstormgeneva.eventbrite.com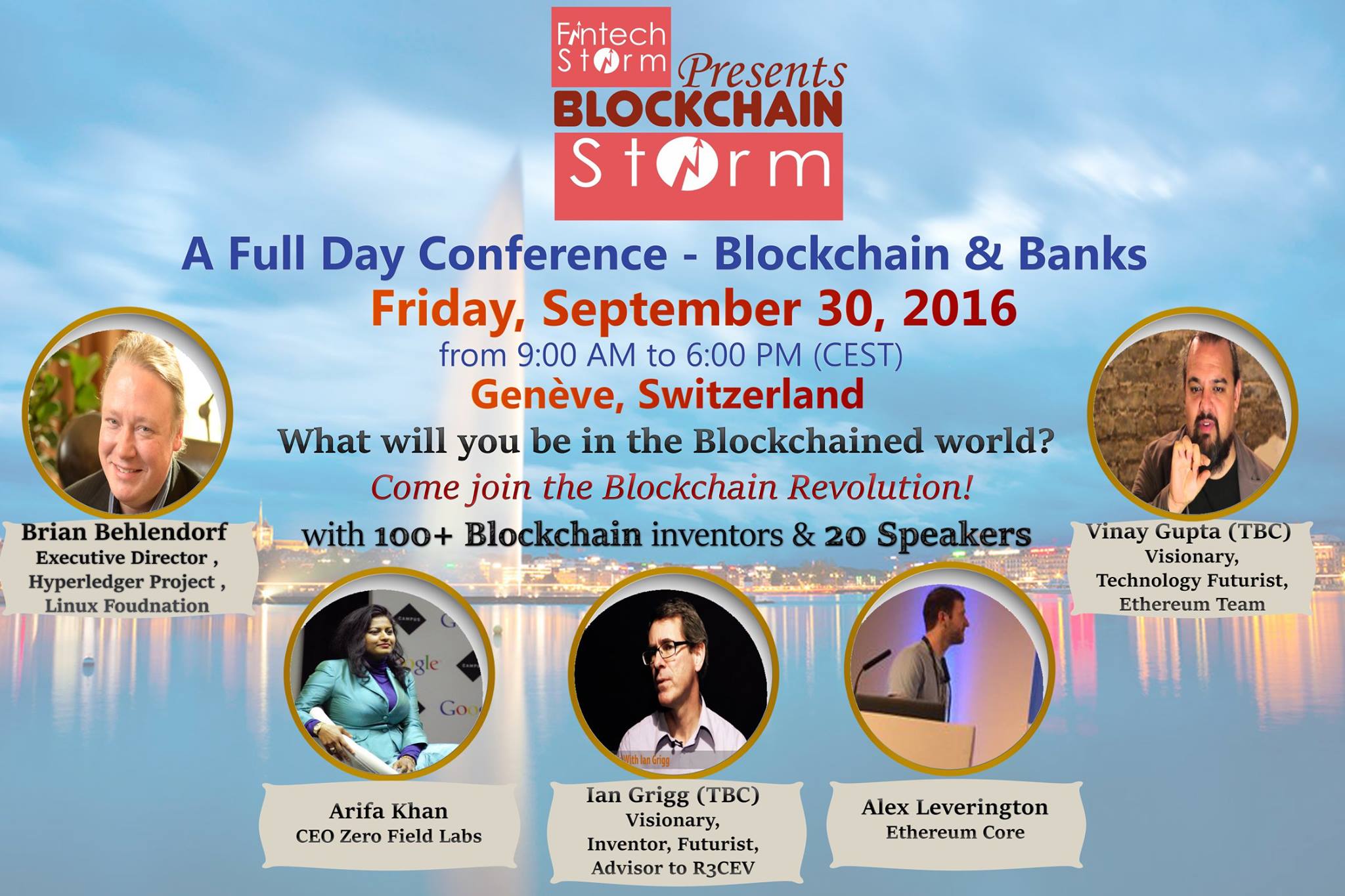 ---------------------------
Fintech Storm Istanbul Summit 17 November 2016 9am to 6pm
Register here:
http://fintechstormturkeysummit.eventbrite.com
---------------------------
Europe-India Conclave 6-8 December, New Delhi
If you are an European Tech company or a Blockchain startup looking to make headway into Asian markets or to strike partnerships or to learn to navigate the Banking, Payments & Fintech landscape (India, Singapore, Hongkong, China), mark your calenders for Europe-India Conclave 6-8 December 2016, New Delhi, India , sign up at http://blockchainindiasummit.eventbrite.com and get in touch with Conclave Chair Person Arifa Khan at arifa@fintechstorm.com to reserve your spot in the European delegation going to India! See details of our previous Europe-India Conclave 2015 at http://fintechstormindia.com or http://europeindiaconclave.com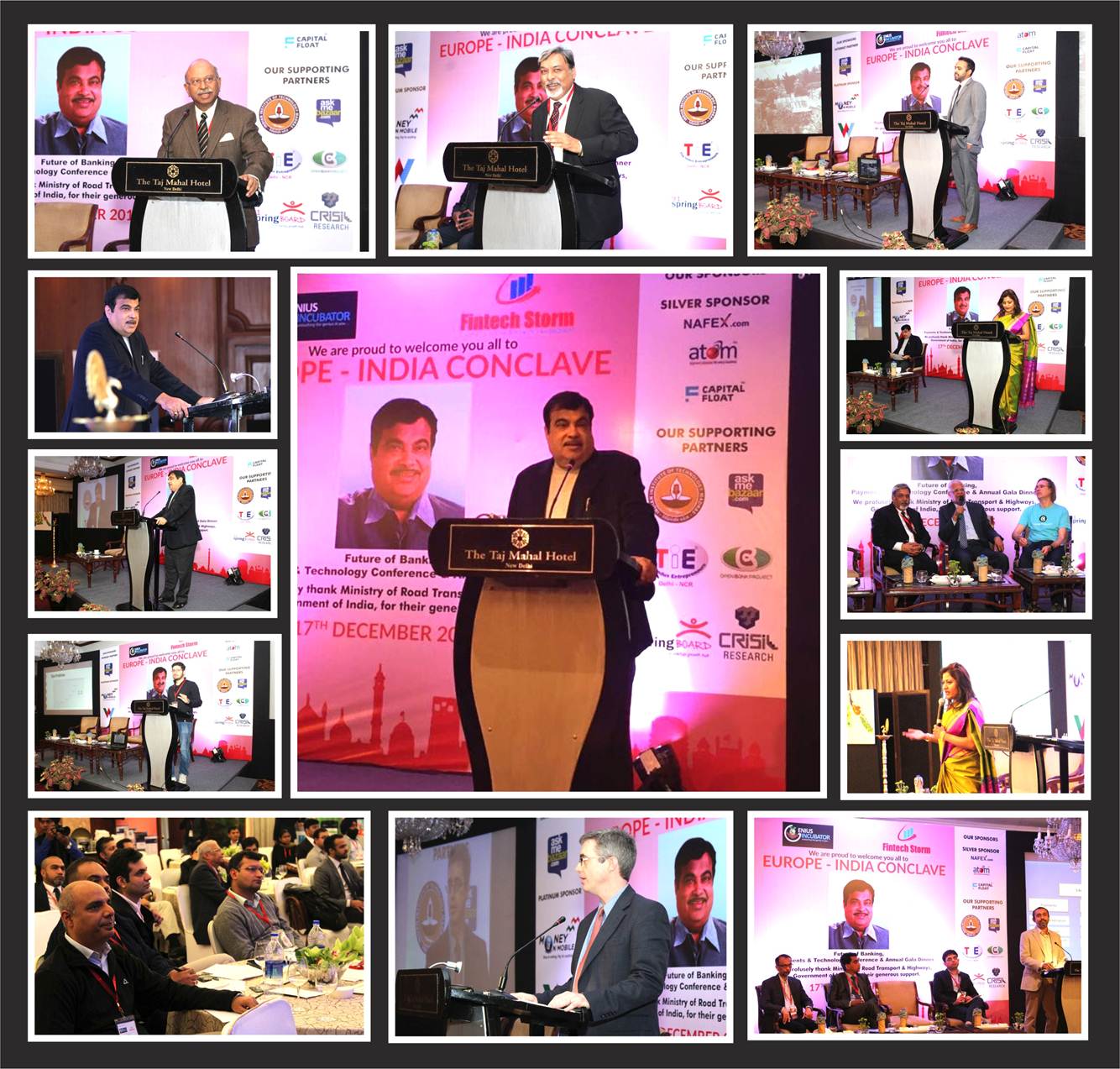 How to stay updated with Fintech Storm future events?
Signup for one of our events or see past events : http://fintechstorm.eventbrite.com
Join our Meetup groups in London & India
https://www.meetup.com/Blockchain-SmartContract-Innovators/
https://www.meetup.com/Mobile-payments/
https://www.meetup.com/Fintechstormindia/
http://facebook.com/fintechstorm
@fintechstorm
Anyone interested in learning more about speaking, sponsorship opportunities can contact arifa@fintechstorm.com
17 October 2016
Enlightening, Thought-Provoking, Inspirational