Location
Chancellery Auditorium
BNP Paribas Fortis
Kanselarijstraat / Rue de la Chancellerie 1
1000 Brussels
Belgium
Description
SAVE THE WEEK
October 19 - 23, 2015
For Speaker and Session information click HERE.

Crowdsourcing Week Europe 2015

Attended by hundreds of Europe's most innovative organisations, Crowdsourcing Week Europe explores the best practices in crowdsourcing and the collaborative economy that are fundamentally changing society, mindsets and possibilities across all industries. The 5-day conference will unite European decision makers and entrepreneurs who are harnessing crowd-driven solutions to address issues centered on government, finance, and business.



Speakers




And many more! Be inspired by these innovative minds >>

Schedule

Monday, October 19
Opening Reception
By invitation only. A CSW Full Access Pass includes an invitation.

Tuesday - Thursday, October 20-22
Crowdsourcing Week Europe 2015 Conference
Registration 8-9am | Conference 9am - 6:00pm


Accelerate Europe: Crowd Finance & Collaborative Innovation
Tuesday, October 20
Evolve Europe: Smart Cities & Mobility
Wednesday, October 21
Sustainable Europe: Collaborative Governance & Energy Transition
Thursday, October 22

Friday, October 23
European Forum for Entrepreneurial Finance
Crowdfunding Workshop & European Startup Showcase


Venue
Chancellery Auditorium
BNP Paribas Fortis
Kanselarijstraat / Rue de la Chancellerie 1
Brussels 1000
Google map
Questions? Get in Touch
Please email us at hello@crowdsourcingweek.com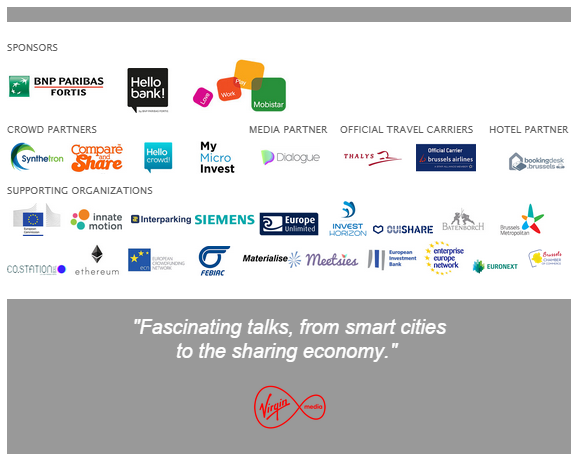 Disclaimer: All sessions are in English with no translation available. Tickets are non-refundable. If for some reason you cannot attend, your best option is to transfer the ticket to another name. Please direct any ticketing inquiries to hello@crowdsourcingweek.com.