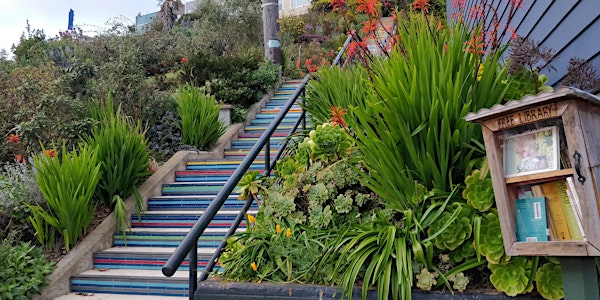 Crosstober 2022: Excelsior-McLaren Loop
Excelsior-McLaren Loop
When and where
Location
Mansell St & Visitacion Ave Mansell St & Visitacion Ave San Francisco, CA 94134
About this event
This event is one of a series of walks we're offering over the month of October. Visit our Crosstober 2022 page to see the complete lineup.
Details for Sunday, October 23: Meet at 10am at the southeast corner of Mansell St. and Visitacion Ave. in McLaren Park. This 6-mile loop winds through McLaren Park, San Francisco's second largest park, to discover some well known and some not too well known spots like the duck pond, labyrinth, Jerry Garcia Amphitheater (home to upcoming events including Due South 10/8, African Arts Festival 10/16, and Sundown Cinema 10/21), and more. We'll climb tiled stairways and stroll through the Excelsior neighborhood. Plenty of surprise vistas with beautiful views around the bay and to the Pacific. Approx. 450 ft elevation change and mixed terrain: pavement, stairs, dirt paths. Bring water, snacks, and lunch. Plan to be out about 3-4 hours. Capacity: 25 people. Leader: Amy K.
Beforehand, visit our Plan Your Trip page for directions and maps, including a mapping app.
Share your adventure with us using #sfcrosstowntrail.