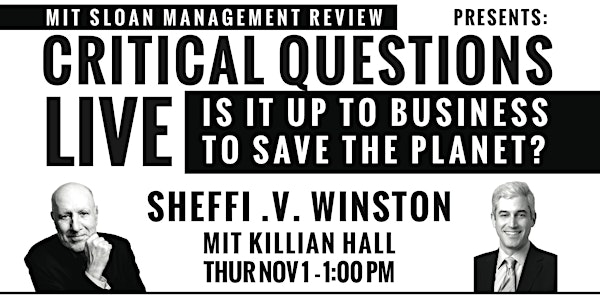 Critical Questions Live: Is it up to business to save the planet?
When and where
Location
Killian Hall 474-160 Memorial Drive Cambridge, MA 02139
Description
How much can we expect business to lead on sustainability? What should be a company's biggest priority: Serving its shareholders, providing jobs, or addressing the health of our planet? Often, these goals are at odds. We're bringing together two leading voices in the sustainability debate to wrestle with the issues in what is sure be a lively conversation. MIT's Yossi Sheffi and sustainability expert and author Andrew Winston will debate and discuss the role of for-profits in supporting—and investing in—sustainability goals. Come to hear the point-counterpoint, moderated by Paul Michelman, editor in chief of MIT Sloan Management Review. Admission is FREE. Register now for this in-person event, as we expect this event to fill quickly.
To attend in person at MIT, register here at Eventbrite.
To attend by live video register here. https://sloanreview.mit.edu/critical-questions-live-is-it-up-to-business-to-save-the-planet/
Yossi Sheffi is Elisha Gray II Professor of Engineering Systems at MIT and director of the MIT Center for Transportation & Logistics. He is the author of Balancing Green: When to Embrace Sustainability in a Business (and When Not To).
Andrew Winston is a globally recognized advisor, writer, and speaker on sustainable business. He is the author of The Big Pivot: Radically Practical Strategies for a Hotter, Scarcer, More Open World.