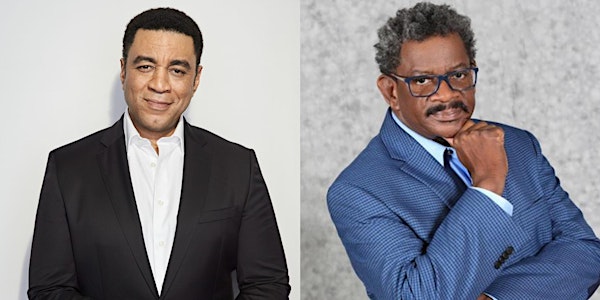 Creativity Conversation with Harry Lennix and Dwight Andrews
Creativity Conversation with Harry Lennix and Dwight Andrews
Date and time
Saturday, April 9, 2022 · 3 - 4pm EDT
Location
Jones Room, 3rd Floor Robert W. Woodruff Library, Emory University 540 Asbury Circle Atlanta, GA 30322
About this event
Harry Lennix (Harold Cooper on NBC's "The Blacklist") is a co-founder of the new African American Performing Arts Museum in Chicago. In this program, he will engage in conversation about this new initiative with Emory music professor Dwight Andrews. Clint Fluker, the Stuart A. Rose Manuscript, Archives, and Rare Book Library curator of African American collections, will discuss the Rose Library holdings in African American performing arts.
Harry Lennix is an accomplished film, television, and stage actor. His recent credits include the Warner Bros. movie "Man of Steel," the CW's "Emily Owens, M.D.," Fox's "Dollhouse," and HBO's "Little Britain," as well as the critically acclaimed series "24" as Walid Al-Rezani. He made his Broadway debut in August Wilson's Tony-nominated play, "Radio Golf."
His other appearances include the Oscar-winning film "Ray," "The Matrix: Reloaded," and "The Matrix: Revolutions." Lennix received critical acclaim and a Golden Satellite Award as Aaron in Julie Taymor's "Titus" starring Anthony Hopkins. He and Professor Andrews have worked together on Broadway. In another Emory connection, Emory creative writing professor T Cooper is one of the writers for "The Blacklist."
Dwight Andrews is a composer, musician, educator, and minister who joined the Emory College faculty in 1987. A native of Detroit, Dr. Andrews is professor of music theory and African American music at Emory University and senior minister of First Congregational United Church of Christ in Atlanta. Andrews served as music director for the Broadway productions of August Wilson's "Ma Rainey's Black Bottom," "Joe Turner's Come and Gone," "Fences," "The Piano Lesson," and "Seven Guitars." He also served as music director for the Broadway revival production of "Ma Rainey" starring Charles S. Dutton and Whoopi Goldberg and collaborated with director Kenny Leon on the Broadway production of "A Raisin in the Sun" starring Sean Combs and Phylicia Rashad.
The African American Performing Arts Museum (AAMP) will rescue, preserve, and curate myriad facts and artifacts depicting Black performance. Exhibits will span generations of hard-fought accomplishments in traditional (theater, film, TV, radio, classical, gospel, jazz, blues, ballet, and modern dance) and nontraditional (comedy, architectural design, sports, visual arts, and oration) performance disciplines.
This program is part of the Rosemary Magee Creativity Conversation Series Endowment. This conversation is sponsored by the Hightower Fund, the Stuart A. Rose Manuscript, Archives, and Rare Book Library, Oxford College, the Creativity and the Arts Initiative, and the Emory College departments of English, Theater Studies, and Film and Media.