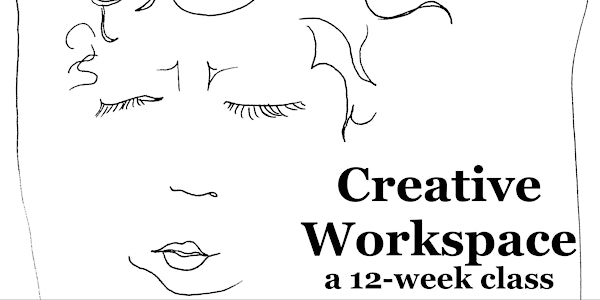 Creative Workspace - a 12 Week Class
Part art-making class, part creative project accountability group, Creative Workspace is for artists and wannabe artists of all disciplines!
Date and time
Starts on Monday, April 17 · 6pm PDT
Location
Fremont Abbey Arts Center 4272 Fremont Ave N Seattle, WA 98103
Refund Policy
Refunds up to 7 days before event
About this event
77 days 2 hours

Mobile eTicket
Creative Workspace
A 12-week class
In Person OR Online!
Part art-making class, part creative project accountability group, Creative Workspace is for artists and wannabe artists of all disciplines. This is not a technique class. Nope. Technique is useful, but it's not the thing that lights my fire. Ideas are what really get me going.
Through weekly assignments and in-class exercises, we explore a million different ways to spark imagination, and we dig into questions like, "What do I want to say with my art?" "What do I want to be putting into the world?" and "How can I use art to respond to what's going on around me or process what I'm experiencing?"
Sound heavy? Yeah, sometimes it is. We also do a lot of laughing, writing, wondering, moving, discovering, breathing, drawing, reading, watching, listening, and a little crying. Artists whose work we've looked at for inspiration in past sessions include Toni Morrison, Lynda Barry, Barry Jenkins, Jad Abumrad, Yoko Ono, Miranda July, Hannah Gadsby, and Beyoncé.
We'll spend the first half of the session making as many different things as possible, without being too precious about it. The goal in the first 6 weeks is just to be productive, and to let our internal editors take a rest. For the second 6 weeks, each person will choose one project or piece to focus on and develop for our final showing, with the help of constructive feedback from the group.
Spring Session Options:
Mondays -- IN PERSON @ Fremont Abbey
April 17 - July 3 from 6-8pm Pacific Time
OR
Tuesdays -- ONLINE via Zoom
April 18 - July 3 from 6-8pm Pacific Time
with a combined final showing at the Fremont Abbey on JULY 3!
$150-$450 - Registration is sliding scale to support equitable access.
By registering for this class, you're making a commitment to yourself and to the other participants! We get to build relationship and trust as a group so that we can support each other through this process. For these reasons, attendance is important! If you know that you would need to miss more than 2 class meetings, we're going to ask you to wait until this is offered again. We need to be able to be there for each other and for ourselves.
Note: Your email will be shared with Jenna the event curator for follow-up purposes only and will not be sold. You may also be added to the Abbey Arts email list which has an easy single click opt-out option.
Interested, but not sure? There's a preview class on April 10! (This class will be held virtually via Zoom, but you can participate as a preview of the Zoom class or the in-person class. The curriculum will be the same!)
ABOUT THE FACILITATOR:
Hi! I'm Jenna Bean Veatch. I'm a multi-disciplinary performing artist and queer single-mama-by-choice who has been accused of creating "pure, unadulterated, heart-stopping whimsy." (Thanks, Bret Fetzer.)
I've made dance-theater shows, stop-action animation, music, written work, prompts, pants, community gatherings, and one gorgeous little human. I'm also the creator and host of The Not-Creepy Gathering for People Who Want to Fall In Love, a participatory event designed to facilitate connection and spread love.
My work has been supported by Artist Trust, 4Culture, the Seattle Mayor's Office of Arts & Cultural Affairs, and the Bossak/Heilbron Charitable Foundation. I hold an MFA in Interdisciplinary Arts & Creative Inquiry from the California Institute of Integral Studies.
Wanna know more? Check out www.jbeanveatch.com.
--------------------------------------------------
ABBEY ARTS EVENT INFO:
Fremont Abbey is ADA accessible on either level.
We have a mix of padded chairs and standing room in back.
Seating is not reserved unless noted.
Please refrain from talking during the performances.
Please limit photos during the show so as to not distract other attendees from the experience.
We are an all ages venue. Kids 10 & under are free at Abbey Arts concerts & arts events unless noted.
Entering the venue indicates agreement to adhere to the Abbey Respect Policy. All are welcome.
ABOUT ABBEY ARTS, SEATTLE:
NONPROFIT 501C3, NON-RELIGIOUS, EST. 2005
Presenting welcoming music, arts & cultural experiences for people of all ages & incomes.
Home Venue: Fremont Abbey, 4272 Fremont Ave North, Seattle, WA 98103 / 206-414-8325 Ballard Homestead: 6541 Jones Ave NW, Seattle | + UHeights Auditorium, St Mark's Cathedral, & more
About the organizer
Public Health Info:
Be sure to check your events ticketing page for any special requirements per event.
That being said, we still strongly encourage people attending to follow all safety protocols shown below and per King County Public Health.
Attendees are welcome to wear masks at their discretion, all are welcome. Please don't discriminate based on mask or no mask. Some people may opt to wear a N95 for their own protection.
Please check your specific event details before purchasing a ticket.
THESE GUIDELINES MAY CHANGE AT ANY TIME DUE TO PUBLIC HEALTH GUIDELINES
-----------MORE INFO--------------
All Abbey Arts employees & volunteers are vaccinated.
We are operating at full capacity and do not have any capacity restrictions unless otherwise noted in the event description.
We have added hand sanitizing stations and air filtration systems around our venues. We encourage you to regularly sanitize and fully wash hands when you use the restroom.
****
By entering the Venue, you and the members of your group voluntarily assume the risks of contracting COVID-19 and agree to release, waive, discharge and covenant not to sue any Artist performing or Abbey employee or company (including their owners, officers, employees, volunteers, agents and the City of Seattle), and hold these entities and persons harmless from liability regarding any and all claims relating to COVID-19 and indirectly or directly arising out of or relating to the Venue or event.
****
Individual events may have additional safety measures in place, see Ticketing pages for details.
-----------------------
ABBEY ARTS, SEATTLE:
NONPROFIT 501C3, NON-RELIGIOUS, EST. 2005
Fremont Abbey | Ballard Homestead | South Park Hall | St Mark's Capitol Hill | The Auditorium @ UHeights |  & more
Independent nonprofit, non-religious, all ages/incomes. 
Low Fee Tickets! No hidden high fees like Ticktmstr. :-)
[ Click here to subscribe to our optional text messages. ]
[The views and opinions expressed at events are those of the artists and performers and do not necessarily reflect Abbey Arts. About Page | Respect Policy.]
Refunds may be available per event settings.
No refunds due to support act changes.
Tickets for rental events may be via their website. 
Note: Entry requirements are subject to change. By purchasing tickets to this event you agree to abide by entry requirements in effect at the time of the event. Check the venue website leading up to your event for the latest protocols.