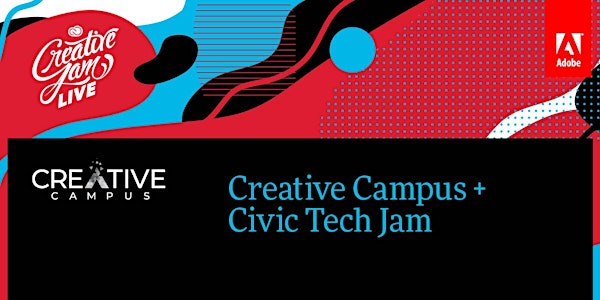 Creative Campus Jam LIVE with Adobe XD
Register with a team to compete VIRTUALLY in a week-long Creative Campus Jam event to win a trip to Adobe MAX, cash and bragging rights.
About this event

Join hundreds of Adobe Creative Campus program college students in a beginner-friendly tournament to identify solutions in civic tech!
Participate in this Creative Jam from anywhere. Make this an opportunity to collaborate remotely with your friends for good. The event will be live-streamed on Facebook so your friends and family can witness your path to victory.

Design an experience and present your project to industry experts for insightful feedback.
Alongside Adobe in this event is &Partners - a DC-firm that builds ethical technology products that disrupt the status quo through human-centered design and research. Their work in the civic tech space has helped government agencies and nonprofits deliver better, more equitable services for their constituencies.
THIS SPECIAL EVENT IS ONLY FOR ADOBE CREATIVE CAMPUS PROGRAM INSTITUTIONS AND THEIR STUDENTS.
Check the list below, or view the list of campuses to find out if you are on a Creative Campus. (If you are not, email us and we can tell you about other Creative Jams you can participate in.)
REQUIREMENTS
You MUST be a currently-enrolled student of an accredited college or university within the Adobe Creative Campus program in the United States or Canada and register with a VALID campus-issued email address (.edu or equivalent). Registrants who are not part of a team of 2 or more are not able to participate.
AGENDA
Attend two 2-hour sessions online and work with your 2 to 3-person team to compete, from anywhere you like, over the week.
Kick Off: Wednesday, April 15 – 5:00 pm ET/2:00 pm PT At this 2-hour kick off, you'll get a quick training session and learn how to create a simple interactive mobile prototype! And then... we will reveal the Jam challenge! Over the next 5 days, your 2- to 3-person team will collaborate on an app prototype and produce a full user experience. Submissions are due on Monday, April 20 at 12pm ET/9am PT.
Finale: Wednesday, April 22 – 5:00 pm ET/2:00 pm PT Join the 2-hour presentation and awards ceremony to find out if you've made it to the finale, present your work live on-screen to the Industry judges, get realtime feedback, and if you win... go home with some serious gift card cred in your pocket.
PRIZES
First Place: Adobe MAX! Each person on the winning team will receive a student registration to attend the Adobe MAX Conference held in Los Angeles, California, October 17 - 21, 2020; round-trip coach airfare to Adobe MAX Conference up to US $700; three nights of shared hotel accommodations. That is worth up to $2,100!
Second Place: $250 Visa Gift Card each
Third Place: $200 Visa Gift Card each
Fourth Place: $150 Visa Gift Card each
Fifth Place: $100 Visa Gift Card each
Sixth Place: $50 Visa Gift Card each
SOFTWARE
Use a computer with Adobe XD installed (check the system requirements to run the software on your device). Need Creative Cloud? You can use a free XD starter plan.
REGISTER NOW!
Create a team, invite up to 2 friends to join your team, and then get details before we begin! No experience necessary. You must register by Tuesday, April 14 at midnight, or you'll miss out.
CREATIVE CAMPUSES
ONLY students from the following Universities and colleges may participate:
Abilene Christian University
Auburn University
Austin Community College
Boston University
California State University Fullerton
Clemson University
Indiana University
Montana State University
Penn State University
Seneca College
Temple University
The University of Texas at San Antonio
Thomas Jefferson University
University of Alabama
University of Alabama at Birmingham
University of Arizona
University of California Berkeley
University of Maryland
University of Miami
University of Michigan
University of Nebraska
University of New Mexico
University of North Carolina Chapel Hill
University of North Carolina Wilmington
University of South Florida
University of Utah
Virginia Commonwealth University
Wake Forest University
Winston Salem State University
FINE PRINT
Registration is limited to students currently enrolled at a North American college campus that is part of the Adobe Creative Campus program in the United States or Canada. Registrants must register with their official campus email address in order to participate and win. Your responses and information are securely collected and stored by Adobe's registration provider, Eventbrite in accordance with Adobe's Privacy Policy. Read the Official Creative Jam rules. If you have any questions about registration, please contact the team at jams@adobe.com.