Learn blockchain basics and explore opportunities to support your business.
About this event

"Learn which opportunities blockchain solutions can provide you with, and how to integrate them to support your business and be the right kind of busy." - Steven A. Rodriguez
The internet radically changed how individuals and businesses did things and Web3 / blockchain technology will do the same. Like the internet protocols of the 90s, blockchain protocols have laid the foundation for new applications to be built, with standards already in development and in use like Utility Tokens and Non-Fungible Tokens (NFTs).
A new paradigm shift is emerging for the 21st Century using blockchain technology to reduce the trust gap in society. Learn how to apply it for your startup and business growth.
Come join the conversation with ExO + Rutanio Ambassador [Steven] A. Rodríguez, Founder & Board of SUEGO. During our free webinar series, you will be introduced to utility tokens, learn how industries are leveraging the technology, and walk away with an understanding of how to leverage the blockchain technology that is disrupting the traditional internet to grow and accelerate.
June Schedule
June 04: Blockchain Massively Simplified
June 08: Rutanio Washington, D.C. Reveal
June 15: Rutanio Washington, D.C. Reveal (Español)
June 24: Blockchain Economics for Business
July Schedule
July 09: Blockchain Massively Simplified
July 13: Rutanio Washington, D.C. Reveal
July 20: Rutanio Washington, D.C. Reveal (Español)
July 29: Blockchain Economics for Business
August Schedule
August 06: Blockchain Massively Simplified
August 10: Rutanio Washington, D.C. Reveal
August 17: Rutanio Washington, D.C. Reveal (Español)
August 26: Blockchain Economics for Business
Event Series
Blockchain Massively Simplified // Learn the opportunity and implications of blockchain as a paradigm to slow/close the expanding trust gap in commerce. We'll unpack blockchain to a level of simplicity to be consumed by those that are just starting to understand and explore the paradigm. And we'll lay out a current state of commerce, suggesting that every company is currently at risk of being disrupted or incurring severe strain from a blockchain version of itself.
Rutanio Washington, D.C. Reveal // With a basic Blockchain understanding, learn how to take the first step through a growing community of innovators and businesses. Find out about Rutanio, the $RUTA token and the innovation economy. Install your digital wallet & receive free $RUTA!
Rutanio Washington, D.C. Reveal (Español) // Con un conocimiento básico de Blockchain, aprenda a dar el primer paso a través de una comunidad en crecimiento de innovadores y empresas. Conoce Rutanio, el token $RUTAs y la economía de la innovación. ¡Instale su billetera digital y reciba $RUTA gratis!
Blockchain Economics for Business // Utility tokens are helping creators and founders retain value for their brands without a middle man, or with the minimized role of a third party. Technology is changing how we do business and shaking up how we define value. Learn how to leverage RUTA + EXOS to tap into the DeFi space, tap into peer-to-peer value exchange, and #DoMoreFaster.

More Programming & Events
StartupBlink Virtual Coffee Chats: Want to know others across the DMV Startup community? Then join the virtual coffee chats to network and introduce yourself and your work.
1 Million Cups: This is a free national event designed to educate, engage, and connect entrepreneurs. 1 Million Cups works with entrepreneurs, empowering them with the tools and resources to break down barriers that stand in the way of starting and growing their businesses.
ExO Clinic: In the ExO clinics, we invite one founder who is struggling with an issue and apply the 11 attributes lens of Exponential Organizations to help process that issue. Lots of deep listening and tuning in happening for this session.
For more info, visit the [Calendar].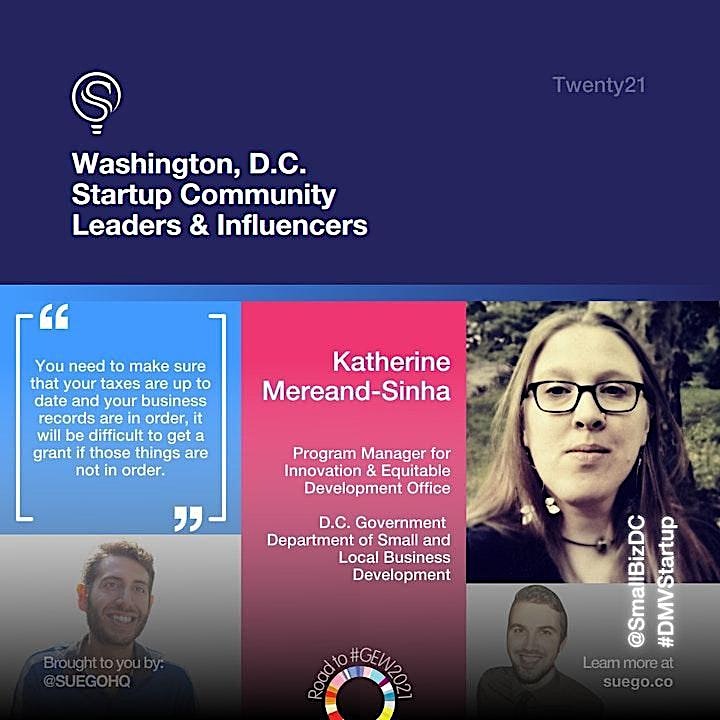 Do you know someone shaping the future of business, tech, innovation, policy and/or politics? A community organizer, startup CEO, company executive, VC, academic, policymaker, advocate, technologist?
[Nominate them] to be included in the SUEGO Community Leader & Influencer Spotlight directory.
SUEGO spotlights are promoted across our social channels and will be featured in one of our community updates.

About Rutanio
[Rutanio] is an Innovation and Development Center that contains a Think Tank and a Laboratory to devise, conceive, experiment and develop Blockchain initiatives that propose and solve real problems that provide a benefit for society and generate value, through of an open, collaborative and multidisciplinary approach.
About OpenExO Community
The [OpenExO community] focuses on inspiring, energizing and supporting its members to bring new kind of thinking and capabilities to their clients or organizations they work in.
Unlock your full potential and join us in the journey of building a better future.

Featured Videos On Demand
Organizer of Creating Value Together: Blockchain Economics for Business
SUEGO is a content platform designed to mobilize the mindset and culture of entrepreneurship, as well as to develop skills and abilities for entrepreneurs, helping to break down barriers in the creation and growth of companies through the crowdsourcing of knowledge and entrepreneurship. It is focused on potential and current entrepreneurs, teachers, students and anyone interested in learning.
Learn More: suego.co