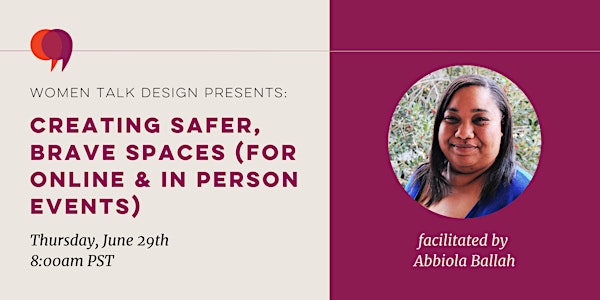 Creating Safer, Brave Spaces (For Online & In Person Events)
Learn how you create an event where everyone can show up as they are, assert themselves and empower their voices.
Date and time
Thursday, June 29 · 8 - 10am PDT
Refund Policy
Refunds up to 7 days before event
Eventbrite's fee is nonrefundable.
About this event
In recent years, we've seen more individuals and organizations focusing on how they can be "welcoming to all" and "create safe spaces".
As social injustice after social injustice has flooded the media, many have asked, "How can I truly ensure safety from discrimination or other social harm so I can welcome all into my event?"
But, what exactly does it mean to create a "safe space"?
Here's the not-so-secret secret about safe spaces: you can't guarantee safety for everyone. With all the different identities entering your space, you can't know everyone's conscious and unconscious biases, experiences, perspectives, etc.
So, what do you do? Give up?
No. You shift your perspective.
You can still create a space for others to show up as they are, assert themselves, and empower their voices.
You can create a space that is grounded in respect and positive intent.
Instead of creating "safe spaces", you can focus on creating "safer, brave spaces" that center equity and inclusion.
In this 2-hour workshop, we will:
Break down why we need to move from "safe spaces" to "safer, brave spaces"
Show how to align your intentions with your actions so you know how to make a real impact
Dig into what equity and inclusion practices work and don't work for online and in-person events
Unpack the doubts and struggles you'll feel when you start creating and implementing these practices–and how to start getting past them
No matter what type of event you are organizing, you will leave this workshop with tangible practices and the confidence that you are able to build a safer, brave space for all.
About the Instructor
Abbiola Ballah | M.A | Founder & CEO
Abbiola Ballah (she/her) is a Diversity, Equity, Inclusion & Belonging (DEIB) Consultant & Mentor, and Founder of Phern Education Studios. She founded Phern Education Studios to be a catalyst for change in the DEIB space by prioritizing not just learning but taking action.
In her signature mentorship program, Taking Inclusive Action, she guides business owners and community leaders to go beyond simply stating their stance on inclusion and instead building practices and policies to create online & in-person environments where people feel like they belong, no matter their identities.
Abbiola also offers private DEIB consulting and workshops for larger organizations.
Previously, Abbiola applied a DEIB lens to help revise the Standards of Good Practice of Education Abroad in collaboration with the Forum on Education Abroad which is recognized by the US Department of Justice, and the Federal Trade Commission— as the organization for setting the standards for education abroad programs internationally.
Originally from Trinidad and Tobago, Abbiola has lived internationally in Japan, the USA, and Belize for 20+ years and worked as an educator and program designer for 17+ years, giving her a unique lens through which she approaches DEIB.
Abbiola has spoken at the CMX Summit: Thrive, Yellow Co. Values Summit, Wealth and Wellness Network Summit, and at private universities, business masterminds, and online communities. She has been featured in Feminist Entrepreneurs Magazine (FEM) and on several podcasts such as the Transcend Your Dichotomy Podcast, Badass Business Podcast, and the Career Resilience Podcast.
She studied International Education Management at the Middlebury Institute of International Studies at Monterey, Applied Linguistics & TESOL at the University of Leicester in the UK, and Communication Arts at St.Francis College, New York.
Abbiola is an avid reader, travel nerd, theatre buff, and Japanese karaoke queen.
----
Workshop Details:
We have always subsidized our community workshops to make them accessible as possible. You'll notice there are two ticket tiers for this workshop. If you are able to pay the standard ticket price, we ask that you do so. If paying the standard price would make this workshop inaccessible to you, we encourage you to pay the reduced solo rate.
Upon registration, you will receive instructions on how to join the workshop. You will also be added to a calendar invite and will receive a final reminder 24 hours in advance.
This will be an interactive workshop. We ask you to take the call in a place where you can have your video on and speak openly. The workshop will NOT be recorded.
By registering for this workshop, you are agreeing to abide by our Code of Conduct.
About the organizer
Women Talk Design elevates brilliant talks by women and non-binary people, empowers event organizers with tools, approaches, and information to engage more diverse speakers, and offers events, training, and community to new speakers.