Multiple Dates
Creating Equitable Wellbeing Spaces | Conscious NYC | CCF2020
What does equitable wellness mean? Join us for an intersectional deep-dive into creating equitable healthcare and wellness experiences.
About this Event
*You should receive details for the zoom webinar in your confirmation email and/ or in a follow-up Eventbrite email. They are also available on the confirmation page and the Online Event page. If you are having trouble accessing these details, please contact grace@theccd.org*
Day 3 of the Design for Equity | Conscious NYC | Conscious Cities Festival 2020 event series, will be: Creating Equitable Wellness Spaces.
Series of Presentation – Inequity and Solutions in Wellness and Healthcare | 2:00 - 3:00pm
2020 was not an easy year. In the era of COVID-19, racial injustice, political unrest, humanitarian crises, and climate change, we face increasing mental and physical health risks now more than ever. Depression, social-isolation, and stress are indicators that our heslthcare systems, wellness spaces, and cities must take a pro-active role in supporting our wellbeing. Day 3 of the NYC festival will focus on how to create the conditions for wellbeing to become a priority in how we approach healthcare spaces, programs, and policies.
See the lineup of speakers below.
Round Table Discussion - Creating Equitable Education Spaces | 5:00 to 6:15pm
In the afternoon, speakers will partake in a round table discussion to ideate how we can increase equity and inclusion within wellness and healthcare. From this discussion, we hope to better illuminate issues, create collaborative solutions, and spark a community for long lasting reform. Atendees will be encouraged to participate.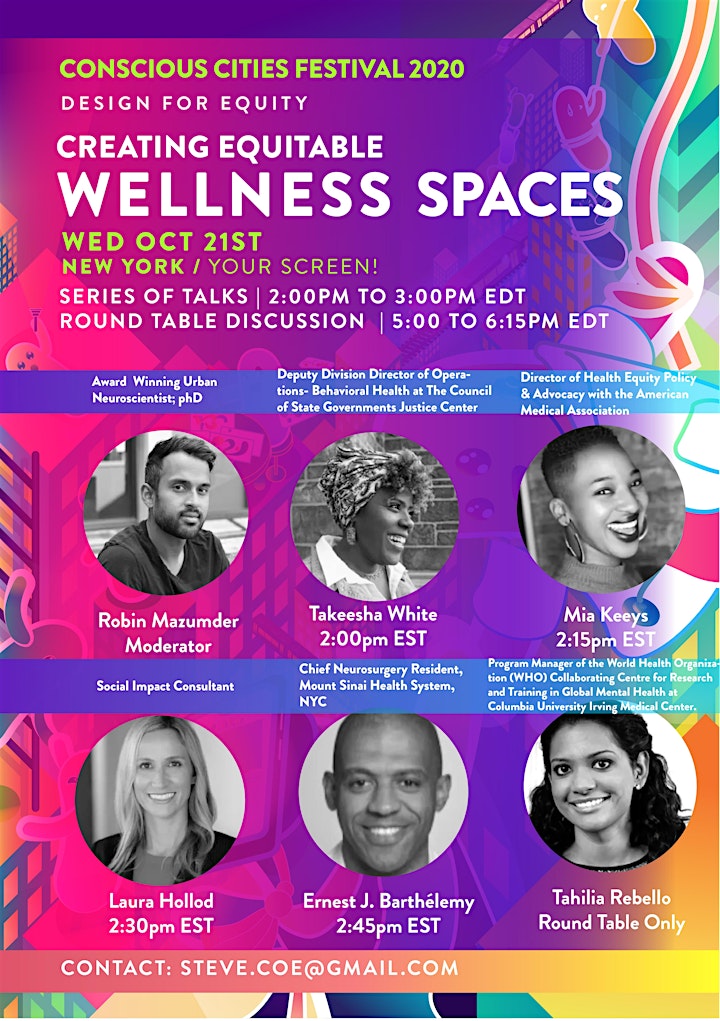 Check out our top clips from last years NYC Conscious Cities Festival.
Design for Equity | Conscious NYC | CCF 2020 | October 19th-22nd
"Equality does not see colour, therefore, contributes to privilege. Equity sees colour, recognizes systemic forms of racism and actively provides resources to level the playing field" ― Sope Agbelusi
"Not everything that is faced can be changed. But nothing can be changed until it is faced."― James Baldwin
These quotes help us frame the dialogue and the flow of ideas we will explore in this year's festival: How to recognize, discuss, and ultimately address racial equity issues in different experiences: governance, education, healthcare, and neighborhoods.
We intend to use this festival as a live experiment, to abstract key metrics and work towards the first real indicator of socio-economic equity.