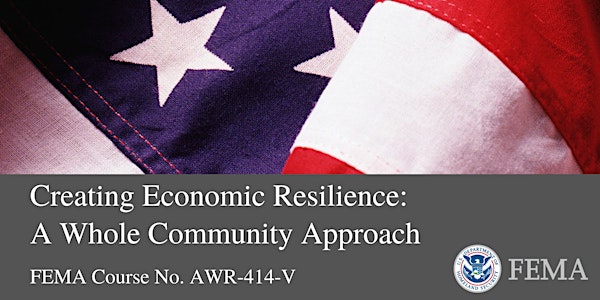 Multiple dates
Creating Economic Resilience: A Whole Community Approach
Welcome to the Registration Page for the new FEMA course titled "Creating Economic Resilience: A Whole Community Approach".
By Alliance Solutions Group, Inc.
Date and time
November 15, 2021 · 6am - August 9 · 12pm PST
About this event
Registration Process:
We use EVENTBRITE for the course registration process. You will need an Eventbrite account.
We use TEACHABLE as our online learning management system to manage all course content (pre- and post-tests, participant guides, course evaluations, etc.)
Ensure that you are fully registered on BOTH platforms at the end of the registration process.
You will need to have a FEMA Student ID number prior to beginning the registration process. To register or recover your FEMA Student ID visit https://cdp.dhs.gov/femasid
Select the course offering you want to attend on Eventbrite and complete the registration process.
Once registered you should receive a confirmation email. Click the link in the email and you will be taken to Teachable
If you are a new Teachable user you will need to create an account.
Once your Teachable account is created, or if you are an existing user, click this link to be taken to the AWR-414 course. https://alliancesolutionsgroupinc.teachable.com/p/creating-economic-resilience-a-whole-community-approach
Scroll down the screen and click "Finish Registration"
Complete the pre-test before the course starts and download any participant guides and course references.
Do not complete the post-test and course evaluation until after the course.
Course Details:
This course will provide Economic Development Organizations (EDOs) with the knowledge and framework for strategic partnering with businesses and governmental organizations to enhance the culture of preparedness among the business community. By understanding the community's treat/hazard profile and the economic, geographic, and operating risks that impact businesses, EDOs can engage in regional economic strategies that assist businesses in addressing disaster-related risks and enhance their community resilience rating. The goal is to provide context to understand the disaster risks/impact to businesses and highlight the need for EDOs to engage in disaster preparedness and resilience initiatives.
This is a knowledge-based course to prepare EDOs for an in-person/live-instructor led course (part II) that provides tools and resources to equip EDOs in practical tools and resources to equip EDOs in practical ways to help businesses and the community become more economically resilient.
Whether supporting local businesses, engaging in international trade, or attracting new businesses to the region, EDOs play a key role in ensuring their community is resilient when facing disaster risks. Learn what you can do to enhance resilience among the private and public sectors to retain, grow, and attract businesses in your community.
This course is the pre-requisite for MGT-485, Creating Economic Resilience: Preparing the Business Community (Part II)
Delivery: 2-hour live webinar
Certificate: FEMA Certificate issued for successful completion of the course