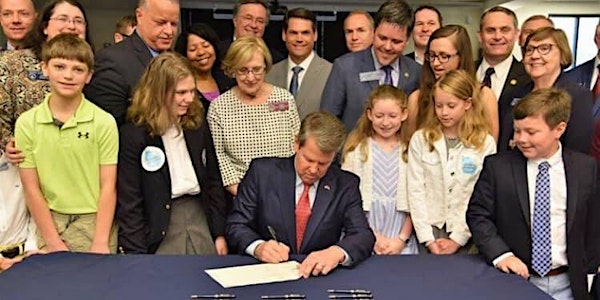 Creating Change in Your Community for Students with Dyslexia (In-person & Live-streamed)
When and where
Location
Swift School 300 Grimes Bridge Road Roswell, GA 30075
Description
Check-in begins at 6:30. Enjoy the opportunity to visit with other attendees before the presentation begins at 7:00. THE PRESENTATION PORTION OF THIS EVENT WILL BE LIVE-STREAMED VIA FACEBOOK LIVE at https://www.facebook.com/decodingdyslexiaga/.
Decoding Dyslexia Georgia (DDGA) played a powerful role in the passing of Georgia's SB48, the Dyslexia bill. Now the state of Georgia is beginning efforts to implement the new law, including creating new procedures for dyslexia identification and support.
Colleen Beguiristain, Meredith Weaver, and Natalie Felix will share their experience being a part of the legislative movement and will discuss how you and others can be a part of guiding this next phase of implementation. Community involvement will help to ensure effective processes are in place that improve outcomes for our dyslexic students.
Light refreshments will be served.
Speakers:
Colleen Beguiristain began her journey with Dyslexia 13 years ago when her oldest daughter was in preschool. Her daughter struggled with reading and math through the 2nd grade. While living in Pennsylvania, her daughter was diagnosed with a Specific Learning Disability in Reading/ Dyslexia and services began immediately. When her family moved back to GA, she was shocked at how difficult it was to obtain appropriate services for her daughter. She set out to learn as much as she could about Dyslexia, the appropriate interventions and their rights. Colleen met parents with similar stories and began her passionate advocacy for all dyslexics and their families. In 2013, she founded Decoding Dyslexia GA- in hopes of reducing the learning curve for other parents, helping parents navigate the public school system and encouraging parents to join the efforts to create change for dyslexics in Georgia. She was instrumental in advocating for the recent passage of State Bill 48. Colleen lives in Alpharetta GA with her husband and 4 children.
Natalie Felix has over 20 years of teaching experience and is currently a Learning Specialist at The Swift School in Roswell, GA. Her education includes a B.S. in Business from Bloomsburg University and a M.A.T. in Special Education from Valdosta State University. She is a Structured Literacy/Dyslexia Specialist through the International Dyslexia Association and a Fellow-In-Training with the Academy of Orton-Gillingham Practitioners and Educators which provides teacher training to professionals across the United States and abroad in the Orton-Gillingham Approach. Additionally, her passion for teaching dyslexic students and training professionals came about as a result of raising a very bright son who struggled to be successful in a traditional school setting. She gave public comment at the September 14, 2018, Senate Study Committee hearing. Mrs. Felix resides in Alpharetta, GA.
Meredith Weaver has had 26 years experience in public and private sector legislative and regulatory initiatives. Meredith is the Founder and Principal at Melvin Weaver Consulting, providing government affairs consulting before Georgia's Executive Branch, Elected Officials, State Agencies and Regulatory Authorities. She is a parent of a child with dyslexia and gave public comment at the 2018 Dyslexia Senate Study Committee hearings.

---
Outreach events such as this provide opportunities for individuals to connect in person with parents, educators, and others interested in learning and engaging in discussions about dyslexia and related topics. Outreach events are free and open to the public.
This event is brought to you by Decoding Dyslexia GA, the International Dyslexia Association GA, and North Fulton-KID. Thank you to Swift School (https://www.theswiftschool.org/) for providing refreshments and the venue for this community event.
Decoding Dyslexia GA (DDGA) is part of a network of parent-led grassroots movements across the country concerned with the limited access to educational interventions for dyslexia within the public education system. Visit https://www.facebook.com/decodingdyslexiaga/.
North Fulton Kids Identified with Dyslexia (NFKID) is a parent group created to promote awareness of dyslexia to parents, teachers, and administrators. NFKID's goal is to advocate for children with dyslexia and to provide a supportive community for families, helping to ensure that children with dyslexia and related learning differences meet their full potential and soar to reach new heights. Visit https://www.facebook.com/NorthFultonKID/.
The International Dyslexia Association (IDA) is a 501(c)(3) non-profit, scientific and educational organization committed to creating a future for all individuals who struggle with dyslexia and other related reading differences so that they may have richer, more robust lives and access to the tools and resources they need. Visit https://dyslexiaIDA.org.
The International Dyslexia Association Georgia (IDA-GA) offers information on dyslexia and evidence-based interventions, referrals, free outreach events, conferences, the Dyslexia Dash, and teacher training scholarships and grants. Visit https://ga.DyslexiaIDA.org.