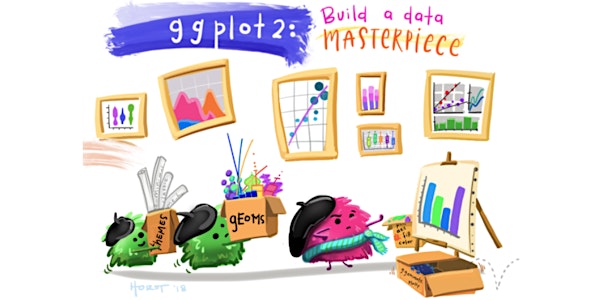 Creating Beautiful Data Visualizations in R: a ggplot2 Crash course
A crash course for beginning and advanced R users alike on how to use ggplot2 to create beautiful, effective data visualizations
About this event
Event artwork by Allison Horst.
Taught by Dr. Sam Tyner, this userR! 2020 tutorial is going virtual with the help of R-Ladies NYC and R-Ladies DC. Learning ggplot2 brings joy and "aha moments" to new R users, keeping them more engaged and eager to grow their R skills. Newer R users will be and feel more empowered with data visualization skills. In addition to experiencing joy in creating beautiful graphics, advanced R users will learn to take advantage of ggplot2's elegant defaults, saving time on manual plotting tasks like drawing legends. Thus, time and energy can be spent on advanced analyses, not fights with plotting commands.
Audience:
Users of any subject matter background who are interested in data visualization with R are welcome. New R users (less than 1 year of continual experience) will get the most out of this course. Some basic knowledge, such as understanding of different R data types & structures (character, data frame, etc.) and authoring simple functions & loops, is required. The course, however, is not just for beginners. More advanced R users who have little to no experience with ggplot2 and other packages in the tidyverse will learn many new tools for data visualization in R.
Prerequisites:
Basic understanding of R data types and structures
Ability to write simple functions and loops
Willingness to learn new ways of doing things in R
Upon completion of this tutorial, participants will be able to:
identify the appropriate plot types and corresponding ggplot2 geoms to consider when visualizing their data;
implement the ggplot2 grammar of graphics by using ggplot() and building up plots with the + operator;
iterate through multiple visualizations of their data by changing the aesthetic mappings, geometries, and other graph properties;
incorporate custom elements (colors, fonts, etc.) into their visualizations by adjusting ggplot2 theme elements;
investigate the world of ggplot2 independently to expand upon the skills learned in the course.
Computing requirements:
Having R + RStudio installed is recommended, but if this is not possible the student may use the RStudio Cloud workspace. Students not using the RStudio Cloud should have the tidyverse suite of packages and the plotly package installed. Or, for the minimalist student, ggplot2, dplyr, tidyr, and plotly will be sufficient for the bulk of the material.
Instructor bio:
Dr. Tyner has been using ggplot2 since version 0.9.2 (2012). She co-authored and maintains the ggplot2 extension package geomnet, and has taught ggplot2 to undergraduate students, graduate students, and professionals. Her material for undergraduate students can be found at csafe-isu.github.io/reu18/slides, and a list of all workshops taught is available in her CV. Dr. Tyner also has expertise in the theory of data visualization, acquired through her dissertation research and as a part of the statistical graphics working group at Iowa State University. She has written about her ggplot2 work in The R Journal and on her blog.