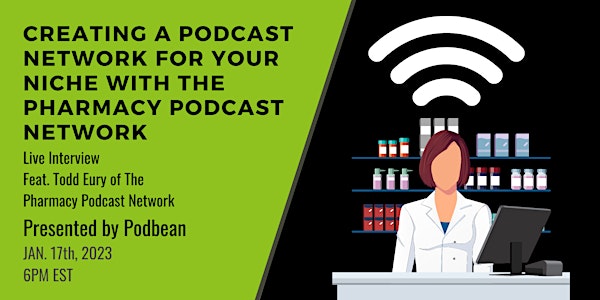 Creating a Podcast Network For Your Niche with The Pharmacy Podcast Network
Learn how to create a podcast network, hone in on your niche and hear how The Pharmacy Podcast Network created network success!
About this event
Want to know how to get a podcast network up and running?
Join us in conversation with Todd Eury, CEO of The Pharmacy Podcast Network, about how to create a network within your niche, best practices, tips and what he's learned along the way!
We'll get into..
What The Pharmacy Podcast Network, how the network got started, which shows were first and how it became a network of almost 50 shows
Best practices and tips for podcasters or folks out there who are looking to start a podcast network
What makes a network unique from a few shows that are affiliated
What Todd wished he knew in the beginning to able to serve the creators and listeners of the Pharmacy Podcast Network's shows
Hear from Todd about what has the evolution into podcasting for your creators, and providers been like
Learn how The Pharmacy Podcast Network has been able to use podcasting to educate both industry professionals and providers and licensed pharmacists
Learn about the role that consumer trust plays within your niche
Hear about what pharmacists do and what the shows within the network speak about..
The defined measurements of success for the network
The overall impacts of the pharmacy podcast network and what that's looked like for them as a podcast network
We'll see you LIVE on YouTube and LinkedIn where you can join the conversation, ask questions in real-time and watch the replay!
...
Podcasting Smarter and our Corporate Podcasting Smarter series are brought to you by Podbean.
Podbean is a podcast publishing and monetization service, hosting over 620,000 podcasts. If you're looking to start your own podcast, monetize your podcast and livestream directly to your listeners, you can set up an account at podbean.com