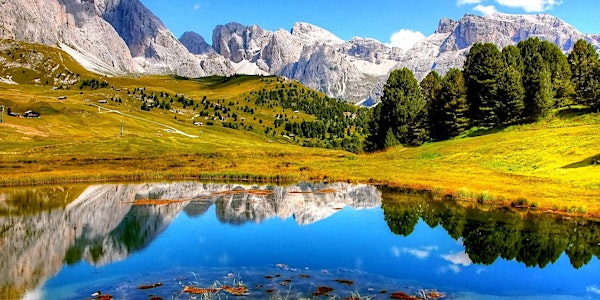 Create X Lab -Virtual April 2020
Create X Lab - Evolutionary leaders who create a positive impact in the world through leadership, innovation, and excellence.
About this event
Create X Lab - Virtual - April 2020
Re-Purposing Your Business: How to Thrive in the New Emerging Market Conditions
Thursday, April 09, 2020 | 4:00 - 6:00 PM Mountain Time
ONLINE - once you register you will receive the Zoom Link.
Tickets:
General Admission: $25.00
Day of the Event: $30.00
Create X Lab is for Evolutionary Leaders across all size businesses and industries who desire to impact business paradigms and cultures and serve humanity, the animals, and the planet as one Eco-system. Evolutionary leaders are change-makers who create a positive impact in their organizations and community through leadership, innovation, and excellence.
At Create X Lab we gather together to experiment with a unique co-creation process to answer the most important questions you face as a leader in businesses today.
Each month there will be:
1. A Speaker - an evolutionary leader who will share the specific leadership, innovation, and excellence practices he or she uses to achieve exponential success in his or her business.
**This month's speakers are Steven Ringelstein and Kerry Borcherding
Our fragile globalized business system is radically and rapidly changing. The COVID-19 is a great example of how one virus can reshape global order. At the local level millions of jobs are disappearing overnight and new jobs and needs will have to emerge.
How are these changes impacting your business?
How quickly is your business set up to respond?
How can you re-purpose your business and thrive in the new emerging market?
Steven and Kerry will share how to:
* Evolve as a leader
* Innovate your products and services
* Align and adapt to your business ecosystem
2. Challenge / Question - you will connect to the most important question or challenge you have in your business to explore possibilities.
3. Crowd Sourcing - We will practice a collective conversation following a unique process to explore what you do not yet know about your challenge that would support you and your business.
This is a highly experiential event. You will have the opportunity to share your unique perspective on the question, practice using your imagination within a group, and create rapid, meaningful connections with fellow entrepreneurs.
You will walk away feeling highly connected to others, touched in a meaningful way, and with insights, ideas, and practices to apply to your business.
How do we do this?
From a scientific perspective, we do this by tapping into the quantum field.
Everyone is wired to have access to the quantum field even if you are not aware of it. No technical skills are required for you to participate nor is there a need to understand how it works. The meeting is facilitated and guided to make it accessible to everyone in the room.
Why do we do this?
We live in a world that is driven by technology and science that relies on the growing use of algorithms to make decisions for us. What if our world becomes a giant algorithm run by machines? What would happen to human consciousness?
While we do not know the answer to this question, it is our sense that investing in the development of a higher level of awareness and human consciousness is an important part of our evolution. It is also our sense, similar to the power of Artificial Intelligence and big data, that humanity's true power lies in our collective.
Create X Lab was created to cultivate and grow your awareness so that you can incorporate consciousness into your decision-making in a collective manner. The result: creating a future that is human, animal, and planet friendly.
Create X Lab is for you if:
- You are a change agent, a leader who truly cares about the future of humanity, animals, and the planet.
- You are willing to push the edge of your own evolution and imagine what's beyond the world you see.
-You are committed to lead by example in your own organization, company, or project.
- You are open to being vulnerable and transparent.
- You are ready to get out of your comfort zone and explore creating from a different perspective.
What are attendees saying about this event?
"This was a great opportunity to tap into the collective wisdom." – Christina Riley-Lazo of Wellness Treatment Center
"Practicing our connection to others at a deep level and in a group builds possibility." – JD of Red Direction
"Innovative way to grow business and a new way of receiving answers."
"If you want people to feel yourself and others in a productive way, come here." – JS
"It was a beautiful / powerful experience that left me with a deep remembrance that we are, in fact, all connected, and I left with a knowing and trusting that all is divinely aligned." Marissa of the Peaceful Choice
"A unique approach to create meaningful connections between entrepreneurs." -AA
"I received clarity and felt heard by people who truly care."
"Create X is a dynamic, powerful, and painless way to solve problems and discover solutions that can change your business. Insights and answers come to you within moments." -Keren Kilgore or LTCMedia
"It's hard to put into words. I experienced an expansive state where everything is possible." – JM or Finding Hiawatha Therapy
"Steven and Kerry did a masterful job of facilitating a powerful experience! I benefited from the connection with others in the group and the wisdom from the collective energy."
Join us at Create X Lab ONLINE to learn, to practice, and to tap into ideas you never thought possible.
This is your secret weapon for business success.
And, it's fun!
Please join us!!
Facilitated by:
Kerry Borcherding
Kerry Borcherding is a Behavioral Science and Emotional Intelligence Expert
She has more than 20 years of experience as a leader in psychology, behavioral science and emotional intelligence. She is an expert in developing leaders in the areas of communication, energy management, intuition and mind-body awareness.
She uses neuroscience, psychology and human behavior principles to transform leaders' abilities to eliminate destructive behaviors so that they can function at high flow states and peak performance. Her work increases employee productivity, happiness and engagement.
She also empowers leaders and their teams to fully access their unlimited potential, true purpose and leadership gifts in order to create a larger, positive impact on humanity and the planet. She drives leadership teams to harvest meaningful connections to achieve extraordinary results.
Kerry graduated with her Master's in Transpersonal Counseling Psychology from Naropa University and has numerous other certifications within that field.
Steven Ringelstein
Steven is a lifelong, serial entrepreneur. He is the founder and CEO of Pristine Creations LLC, a high flow state consulting firm creating extraordinary results, innovation and excellence. He is an evolutionary leader who pioneered the 4 Zones of Leadership framework. He uses neuroscience principles to hack leaders' internal decision-making algorithms to enhance performance. He is highly skilled in emotional intelligence, energetic intelligence and an expert in the science of intuitive intelligence.
Steven is recognized for his expertise in strategy development, creating High Flow State Leadership Teams and transforming organizational culture. He has 40 years of leadership, business and consulting experience and is skilled at helping client's step into their personal power to increase individual and organizational impact. Steven has consulted for hundreds of clients, from C-level executives and their leadership teams to entrepreneurs leading high-growth businesses.
Throughout his career, Steven has worked with highly technical and sophisticated management teams in healthcare, aerospace, microprocessor, financial services, consumer products and automotive industries. Past clients have included W.L. Gore, Kimberly-Clark, General Motors / Delphi, Autolive, Motorola, Rubbermaid, Raytheon, Ford Aerospace, Talley Defense Systems, Boeing, GE, Intel, Microchip Techology, L'Oréal, LifeCell and many more.
Steven holds an MBA from Thunderbird School of Global Management. He has BBA in International Marketing & Management from the City of New York University. He holds numerous other professional degrees.