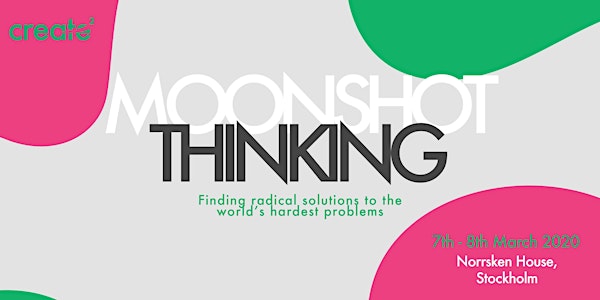 Create Squared 2020
Create Squared is Sweden's coolest student ideation competition!
When and where
Location
Norrsken House 57 C Birger Jarlsgatan 113 56 Norrmalm Sweden
Refund Policy
Contact the organizer to request a refund.
About this event
Create Squared is Sweden's coolest (and first!) ideation competition for students interested in entrepreneurship. It brings together the most ambitious and creative students for a weekend to develop ideas into business plans. We work at the intersection of passion, hard work, and creativity. No prior experience required!
This year we are ready to launch a new theme: Moonshot Thinking. So buckle up and hold on tight. Don't miss this opportunity to join the ride!
Event Details
Who?
All students are invited. No previous experience or specific background required. All you need is a fresh mind willing to think beyond today's current solutions.
What?
Create Squared is an ideation competition for students interested in entrepreneurship and turning crazy ideas into reality. During a weekend we will have inspiring lectures, and hands-on activities to go from an idea to a prototype.
When?
7th to the 8th of March, 2020
Where?
It is located at Norrsken House, Stockholm
What's In It For You?
Expand Your Network
- Opportunity to learn directly from mentors who have entrepreneurial backgrounds
- Introduce yourself to the start-up ecosystem
- Find your future entrepreneurial partners in crime!
Inspirational Lectures
-Learn more about what entrepreneurship is
-Get a spark to ignite your future ideas
Hands-on Experience
-Get insight on how the process of idea creation works, including product prototype and pitching.
-Unique extracurricular training.
-Multidisciplinary teamwork
This Year's Theme: Moonshot Thinking
This year, Create Squared 2020 is reinventing itself. The theme for this year's best idea hackathon is Moonshot Thinking. Think about the craziest ideas that have lead to some of the world's most revolutionary changes: flying, creating energy from wind, the discovery of antibiotics, or even sending a human to the moon. The greatest projects have started with a somewhat crazy idea. During this weekend, we are not looking for old solutions to new problems. We are aiming for new solutions to unsolved problems.
As a participant, we do not expect you to know how to solve one of the world's biggest problems. However, we do hope that you are inspired to do so, and that you will learn the most important steps to move forward in the future from a practical entrepreneurship perspective. During the event, any world problem (big or small) can be selected and "solved" using your most creative ideas. Be part of this movement, and take a leap of faith.
Moonshot Thinking is a new wave of idea creation that is waking up, inspired by Google's innovation company. During 2020, Create Squared wants to introduce this new way of thinking to students with the curiosity to change the world.