About this Event
Welcome back our featured guest Tracey Bellion of Tracey's Fancy for this 2-day LIVE instruction and painting workshop!
Tracey Bellion is an innovative, brilliant and over-the-top furniture artist and designer from San Antonio, Texas. She is known for painting with playful colors and creating finishes infused with multiple mixed patterns and textures not usually seen together. Join us as she teaches her advanced painting techniques and gives valuable tips when applying and blending design transfers and molds!
And as an added bonus.... special guest SollyJo Moore CEO of WoodUbend and founder of Posh Chalk will be here to lend her creative expertise as well! She is a master of blending and using paint with heavily textured surfaces, but unlike most, her signature is that her versatility and wide range of abilities know no bounds.
This will be Salty Dog Gallery & Gifts second year hosting this event and we are so excited to be the first stop on Tracey's Fancy Create Boldly tour! Seats are limited! Get your tickets now! Grab a friend, come to the beach and let's paint a furniture project together.
Hurry and grab your tickets for this 2-day event before February 1st for a special rate of $175!! After which prices will increase to $185. Classes are held at Ft Myers Beach Woman's Club,Tuesday March 3rd from 5pm-9pm and Wednesday, March 4th 9am-3pm with a break for lunch from 12-1pm. Lunch will be catered Wednesday for an added $10 or you can opt out and bring your own. 
Now you are wondering, How in the world will this happen in 2 days? You will be provided the tools and knowledge to complete the task at hand!
Your fee will cover 1 WoodUbend design, 1Redesign with Prima transfer, 1 paint brush, and 1 color of Dixie Belle Paint for you to keep! Along with various other paint colors, waxes and top coats available for you to use to complete your design.
This year we are asking everyone to bring a night stand with 2 drawers. We would like for your piece to have short stubby legs like the examples, not long and leggy.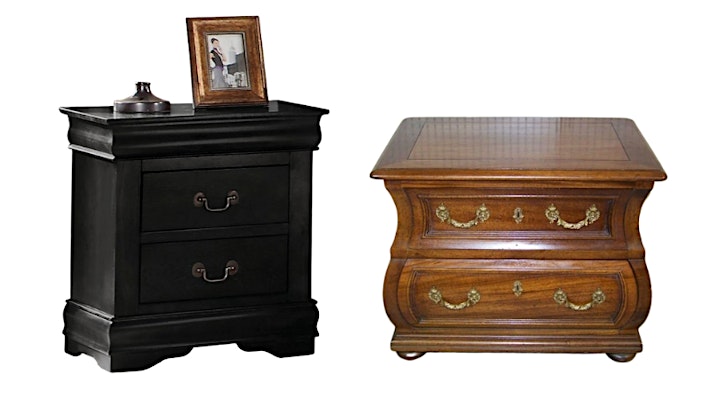 Remember, these photos are only an example of what we would like for you to refer to when you are looking for a piece to bring. Our hope is that we are all working on similar style pieces so we can redesign this piece into a functioning piece of art created by you!
Please Clean Furniture Beforehand. ( Dixie Belle White Lightening\TSP and Blue Dawn then Thoroughly Rinsed)
You must have painted furniture before. We are not expecting experts, but not first time painters.
If you want to join this experience, we will be offering Dixie Belle Furniture Painting Class 101 every Monday in February at the Salty Dog Gallery & Gifts. Please call 239-463-9900 for details.
What to bring: If you have your favorite brushes and aprons, please feel free to bring them. Lunch will be available on March 4th for an additional fee or you can choose to bring your own.
Seating is Limited.
Questions? Call Carla at the Salty Dog Gallery & Gifts at (239) 463-9900
Learn more about our awesome Instructors for this event and visit http://saltydoggallery.com/