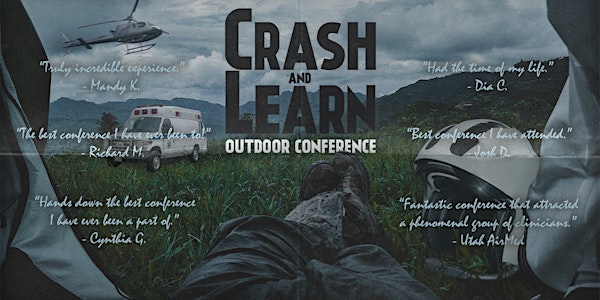 Crash and Learn 2023
Crash and Learn is the premiere outdoor conference that offers an all-encompassing experience like no other.
Date and time
August 21 · 2pm - August 24 · 12pm MDT
Location
Rustic Creek Ranch 32752 Redskin Creek Road Pine, CO 80470
Refund Policy
Refunds up to 30 days before event
Eventbrite's fee is nonrefundable.
About this event
"Whether it's crashing patients or helicopters, we all need to learn to do better."
Crash and Learn is the premiere outdoor conference that offers an all-encompassing experience like no other. The outdoors is conducive to realistic learning since we often operate in this environment. It also encourages creative approaches to standard operations.
This 'resuscitation retreat' is not only accredited and affordable, but it prioritizes educating clinicians that directly impact patient outcomes. Unlike other conferences, Crash and Learn does not have pre-cons, slide presentations, business casual dress, company booths unrelated to the industry, or encouragement of a "party" atmosphere. The educational content is the highest priority.
Sessions cover an array of evidence-based topics including: emergency medicine, austere medicine, critical care, aviation safety, wilderness survival, and more. Subject matter experts instruct via whiteboard lectures, hands-on workshops, and high-fidelity simulations. Not only are these methods proven to better promote retention of information, but attendees are able to interact directly with world-renowned educators. Additionally, instructors and students are able to spend time together before and after education sessions, so the learning never stops.
Forget stuffy conference rooms in a city with nothing to do! Come learn in the forest, under the stars, amongst motivated peers!
For more info, please visit heavyliesthehelmet.com/cal.
Refund Policy (Cont.)
Full refunds up to 3 months before event after subtracting processing fees.
Partial refunds (50%) <3 months and up to 30 days before event after subtracting processing fees.
No refunds <30 days before event.
Purchase Agreement
By purchasing a ticket, you are agreeing to WAIVER OF LIABILITY FOR ALL TICKET HOLDERS AND/OR EXHIBITORS. By purchasing a ticket, exhibiting, sponsoring, participating or attending this event, I understand I consent to the following terms:
I WAIVE, RELEASE, AND DISCHARGE Heavy Lies the Helmet, LLC and/or any of its agents, contractors, employees, owners, sponsors, staff, affiliates, volunteers, and any other entities that help support the Event from any and all claims, losses, or liabilities for death, personal injury, partial or permanent disability, property damage, medical or hospital bills, theft, or damage of any kind, including economic losses, which may arise by reason of my participation and/or presence at the Event. To the extent possible by law, I hereby fully waive, release, and discharge all parties notwithstanding their own negligent acts or omissions or the negligent acts or omissions of others.
I agree that I will not bring any action or claim against any of the parties hereby released for any reason associated with the Event.
I ACKNOWLEDGE AND ALLOW the use of any and all photographs and video taken of me at the event to be used by Heavy Lies the Helmet, LLC for any promotional purposes or any other uses without further consent.
NO REFUNDS FOR TICKETS OR EXHIBIT TABLE OR EXHIBIT BOOTHS. NO CANCELLATIONS. I understand tickets and exhibitor spaces are not transferable unless otherwise agreed to in writing by Heavy Lies the Helmet, LLC. Tickets, exhibitor booth and sponsorships will not be refundable.
To the maximum extent permitted by law, in no event shall Heavy Lies the Helmet, LLC or any of their subsidiaries, sponsors, affiliates, directors, shareholders, officers, employees, volunteers and agents be liable for any direct, incidental, indirect, consequential, special, punitive or exemplary damages of any kind, including without limited (i) lost revenues or profits (ii) loss of business or loss of data (iii) loss or damages to any personal property including computer, mobile phone or other device that is in any way related to our Event, even if Heavy Lies the Helmet, LLC and its subsidiaries, sponsors or affiliates have been advised of the possibility of such damages; or (iv) for any claim, loss or injury based on errors, omissions, interruptions or other inaccuracies in our program or websites, including without limitation, as a result of breach of any warranty or other terms of the Terms, the use or inability to use our official website or services, the software, unauthorized access to or alternation or your transmissions of data, statements or conduct of any third party in the website. Some states do not allow the exclusion or limitation of liability of consequential or incidental damages, so the above exclusions may not apply to all users; in such state liability is limited to the fullest extent permitted by law.
I understand this is an "outdoor conference" which means any cause(s) which render(s) Heavy Lies the Helmet, LLC wholly or partly unable to produce this Event, which are neither reasonably within the control of Heavy Lies the Helmet, LLC nor the result of the fault or negligence of Heavy Lies the Helmet, LLC, and which occur despite all reasonable attempts to avoid, mitigate or remedy. Such causes shall include acts of God, war, riots, civil insurrections, cyclones, hurricanes, floods, fires, explosions, earthquakes, lightning, storms, chemical contamination, epidemics or plagues, acts or campaigns of terrorism or sabotage, blockades, embargoes, accidents or interruptions to transportation, trade restrictions, acts of any Governmental Authority, strikes and other labor difficulties, and other events or circumstances beyond the reasonable control of Heavy Lies the Helmet, LLC. Should the Event be cancelled under the above circumstances; the Event will resume on the next available date. No refunds will be given. All sales are final.
PURCHASING TERMS & CONDITIONS FOR TICKET HOLDERS AND EXHIBIT BOOTHS
IF YOU DO NOT AGREE WITH ANY OF THE TERMS AND CONDITIONS AS SET FORTH IN THIS AGREEMENT, OR IF YOU DO NOT AGREE WITH, OR AGREE TO ASSUME THE ALLOCATION OF RISK TO YOU AS SET FORTH HEREUNDER, DO NOT ENTER THE EVENT OR PARTICIPATE AS AN EXHIBITOR.
Any purchase, possession, or presentation of Crash and Learn ("Ticket(s)") by you ("You," "Your" "Bearer" or "Holder" of this Ticket) constitutes your irrevocable acceptance of, and agreement to be bound by, these terms and conditions respecting Crash and Learn (herein referred to as "Event"). You agree that ticket Issuer may modify, add, remove, supplement, amend, update or revise any of these terms and conditions, without advanced notification to You (collectively, "Revise" or "Revision(s)") by posting such Revisions on Issuer's website located at http://www.heavyliesthehelmet.com (the "Site") and which Revisions shall, at Issuer's option, relate back to the date of purchase. Your Ticket in the form of a confirmation email, shall be deemed a revocable license issued by Heavy Lies the Helmet, LLC ("Issuer," "We," "Our" or "Us") for the sole purpose of accessing Rustic Creek Ranch located at 32752 Redskin Creek Road, Pine, CO, 80470 (here referred to as "Venue") where the Event is scheduled to occur and for attending the Event (the "License").
Issuer may revoke the License at any time without additional notification or compensation to You, including denying You access to the Venue. Issuer assumes no legal, financial or other liability whatsoever for any lost, stolen or destroyed email confirmations. Electronic emails or Ticket(s) may be counterfeit and in all cases, such Ticket(s) shall be voidable and dishonored by Issuer.
The unlawful or prohibited resale or attempted resale of tickets is grounds for seizure of all or some of Your tickets and cancellation of this License without compensation to You. This Ticket may not be used for advertising, promotion (including contests and sweepstakes) or other trade purposes without the express written consent of Issuer. Issuer also reserves the right to investigate orders suspected to be in violation of these Ticketing Terms and Conditions and shall be the sole and final arbiter regarding violations or potential violations hereunder. Your Ticket is not redeemable for cash. Upon Event cancellation by Issuer, Issuer may in its sole and absolute discretion elect to either issue a full or partial refund, not issue any refunds, or reschedule the Event. Once Venue opens, the Event, on the date of August 21, 2023 shall be deemed to have been delivered in its entirety and not subject to any refunds. Delayed Venue opening and your inability to access any parts of the Venue or Event due to Federal, state, municipal or other code regulations, Issuer's policy(ies), weight load restrictions, emergency and/or partial or complete Event set up, shutdown or evacuation, Event delays and inclement weather shall not entitle you to refunds or future credits. Upon the cancellation of the entire Event, including, but not limited to events not within Issuer's control, governmental acts, acts of God, riots, production delays, strikes, natural disasters or inclement weather (regardless of severity), Issuer may, at its sole and absolute discretion elect to either, (a) issue you a full or partial refund or (b) postpone the Event for a future date and/or offer a comparable "make good." Under no circumstances shall you be entitled to any type of refund or exchange due or contributed to by weather or governmental acts. If Issuer elects to issue a refund, the Ticket purchaser of record shall be refunded an amount up to the face value of the Ticket(s) only. If Issuer reschedules the Event for a future date, you shall not be entitled to a refund. Under no circumstances shall you be entitled to a refund of any shipping, handling or other processing fees.
ALL TICKET SALES ARE FINAL. THERE SHALL BE NO REFUNDS AND/OR TICKET EXCHANGES WITHOUT AUTHORIZATION FROM HEAVY LIES THE HELMET, LLC.
This Event is "Rain or Shine." Some activities and speaking sessions at this Event may be "Standing Room Only." As a condition to attend the Event, You represent and warrant that You are the "Minimum Age" or older. Minimum Age means 21 years of age or older on the date and time listed on the front of the ticket. Valid government issued photo identification of You ("ID") WILL be required at entry in order to gain entry to the Venue. Bearer or Holder of any Ticket represents and warrants that the information provided on the ID presented by them is valid, true, and correct. Issuer reserves the right, without the obligation to refund any portion of the Ticket purchase price, to refuse entry to any person not of minimum age.
TICKET REGISTRATION AND REDEMPTION
On the Official Conference Website, http://www.heavyliesthehelmet.com/cal/tickets you are given an opportunity to register for tickets via Eventbrite. Upon completion of ticket registrations, you will receive a confirmation email sent to the email you provided. Please make sure you print your confirmation email and bring it with you to the Registration Table for entry into the Event. You must also bring a valid form of identification. Failure to present printed tickets from our Site or third-party ticketing websites and without a valid form of identification will result in no entry. NO REFUNDS will be given for any reason. Once you redeem the ticket confirmation email, you will be given a wrist band for entry into the event.
TICKETING FROM THIRD PARTIES
From time to time, we may use a third party credit card processing company or ticketing company. You agree to access and read the Ticketing Terms on their websites and their policies, before any purchases. You agree to pay all charges incurred by you or any users of your account, including, but not limited to, any and all applicable processing fees and taxes, and you agree to only use payment methods that belong to you or others that have expressly authorized you to use such payment method. Website owners and Event owners are not responsible or liable for any issues or other claims that you may have related to purchasing tickets. We use a third party service to facilitate and process payment transactions. Please review such third party's terms and conditions and privacy policy before entering into any transaction.
YOU MUST BE 21 YEARS OF AGE OR OLDER TO ATTEND THE EVENT. IF BY PURCHASING TICKETS, YOU REPRESENT AND WARRANT TO US THAT YOU ARE OR WILL BE 21 YEARS OF AGE OR OLDER BY THE DATE OF THE EVENT. YOU UNDERSTAND THAT NO REFUNDS WILL BE GIVEN IF YOU ARE NOT ALLOWED ENTRY TO THE EVENT FOR BEING UNDERAGE.
You hereby assume any and all risks, whether expressly set forth herein, as well as any other risks or dangers incidental, or in any way relating to the Event, including those arising from or relating to the acts or omissions of third parties (including Speakers, Event attendees, Venue owners, operators, staff, employees or agents; or Event organizer, its affiliates, subsidiaries, officers, directors, employees, members, partners, agents or designees) including risk of loss or damage to Your personal property and risks of personal injury.
Issuer and their respective Indemnitees, designees, successors or assigns shall not be held responsible, financially or otherwise, for any personal property that is left, lost, stolen, destroyed, confiscated, damaged or misplaced anywhere in the Venue or at Venue access/entry points, regardless of fault or for personal injuries sustained by You. You hereby agree to defend, covenant not to sue, indemnify, save and hold harmless and forever release, Issuer, Heavy Lies the Helmet, LLC, Rustic Creek Ranch, Event organizers, sponsors, participants and artists, The City of Pine, The State of Colorado, and their respective subsidiaries, affiliates, officers, directors, principals, members, employees, authorized agents, predecessors, assigns, successors, licensees and designees (collectively "Indemnitees") from any and all injuries (whether personal injuries, property damage or otherwise), demands, suits and/or claims relating in any way to the Event. Issuer or its designee(s), successor(s), or assign(s) shall have the right to record, publish, print, display or otherwise publicly use, for purposes of trade or for any commercial or advertising purpose or any sale, resale or other distribution of visual, audio or audiovisual productions, including broadcast, re-broadcast, live stream or other reproduction, articles of merchandise or any other medium, whether now existing or hereinafter developed, Your name, image, portrait, photograph, voice and/or other likeness, without compensation or notification to or additional consent by You.
You further acknowledge and agree that Issuer or its designee(s), successor(s) or assign(s) shall be the sole and exclusive owner of any such work containing Your image, voice and/or likeness.
NON-DISPARGEMENT
You agree and covenant that you will not at any time make, publish, or communicate to any person or entity or in any public forum any defamatory or disparaging remarks, comments, or statements concerning the Event, Heavy Lies the Helmet, LLC, or its businesses, or any of its employees or officers, Rustic Creek Ranch, etc. now or in the future.
GOVERNING LAW; ARBITRATION
The parties agree to arbitrate solely on an individual basis, and that this agreement does not permit class arbitration or any claims brought as a plaintiff or class member in any class or representative arbitration proceeding. The arbitral tribunal may not consolidate more than one person's claims, and may not otherwise preside over any form of a representative or class proceeding.
In light of Your agreement to all the terms and conditions contained herein, You further agree, in conformity therewith that, in no event shall You commence a chargeback dispute with Your credit or debit card issuer relative to the Tickets or services purchased hereunder or regarding any amounts forfeited hereunder or similar charge reversal. You further agree that Issuer shall not have a legal obligation to mitigate any of its potential or actual losses sustained hereunder.
CODE OF CONDUCT
Issuer reserves the right to remove any attendee from the Event grounds for any reason deemed unsafe or harmful to others or for repeated failure to follow the rules. Issuer exercises the right to refuse tickets or entry to any person who does no abide by the Code of Conduct, or the moral and ethical agreements of the team behind Heavy Lies the Helmet, LLC. Issuer exercises the right to remove or restrict access to anyone joining the Event without warning.